Brussels' best booths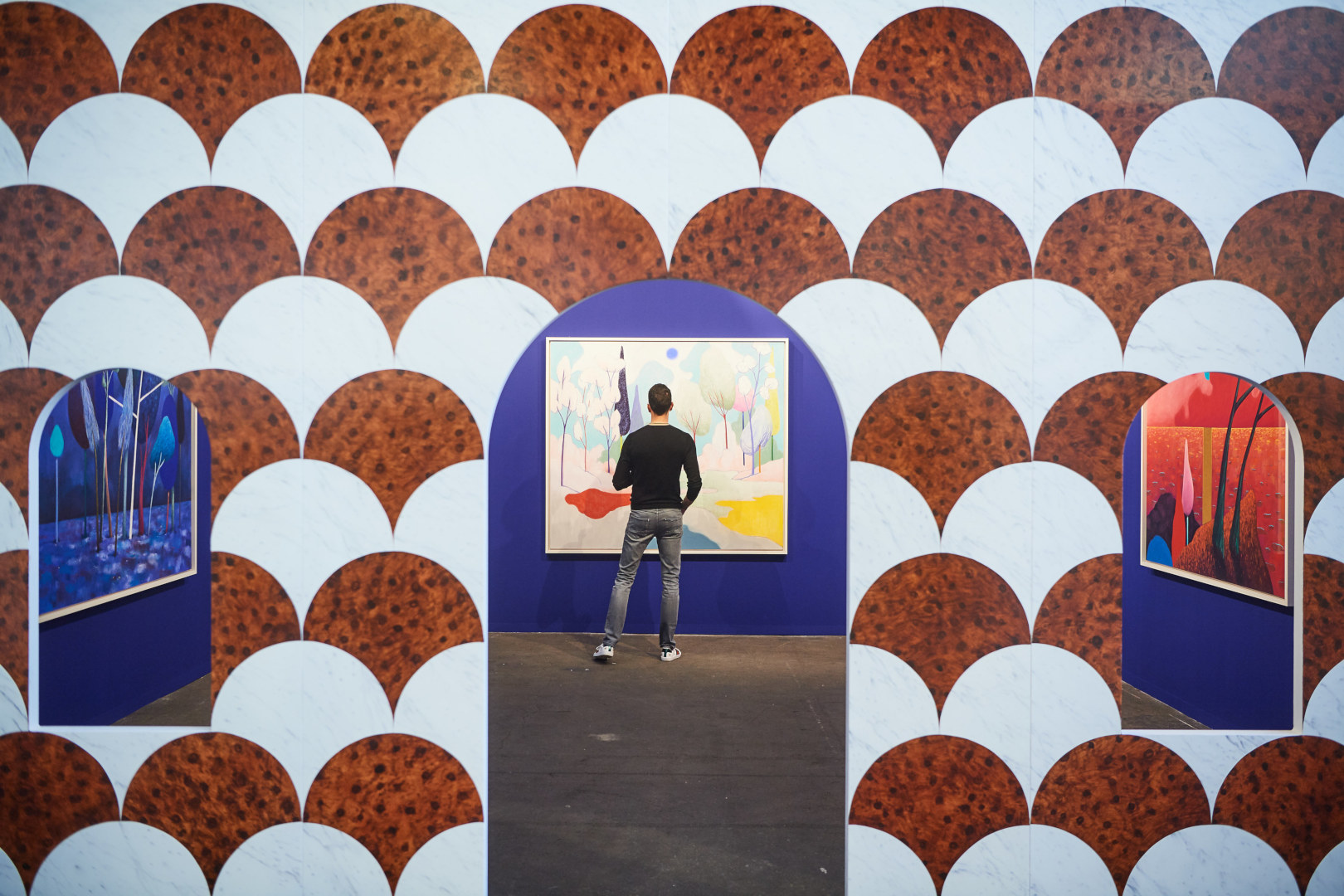 Upon one of the biggest weeks in the Belgian art calendar, I find myself back in the blisteringly hot capital, sweating my way through the art fairs Art Brussels and Poppositions.
19-22 April was the time of the year when the art world descended upon the city, with artists, collectors, gallerists, and keen art aficionados swarming Brussels' cobbled streets to visit the fairs and the exhibitions opening.
First on my agenda was Poppositions, an art fair that isn't really an art fair. It positions itself as a 'counterpoint to mainstream fairs' and delineates itself immediately by refusing to use the typical white-cube booths that you find at most.
In a similarly unique manner, each year Poppositions finds a new venue, and this year was held in the stunning Atelier Coppens in downtown Brussels. Formerly a banana warehouse before being home to a surrealist designer, the four floors of the art deco building played host to some 30+ galleries and off-spaces from around the globe.

MIRIAM HANSEN, COMFORT AND REASSURANCE, POPPOSITIONS 2018
I arrived the day after the preview, and wading past the bleary eyes at the front desk I was immediately met with a huge totemic installation by British artist Mat Do, presented by MAMA, Rotterdam. The installation examines contemporary society's insatiable desire and addictions, and was activated when viewers had their hair cut within the installation, by hairdressers from the salon DKUK. Indeed, much of Poppositions' fare held a similar society-based conceptual drive thanks to the curatorial framework based around alternative future existences. Podium from Oslo, and Laagencia from Colombia were highlights on this front. Perhaps thankfully, there were booths that provided a bit of aesthetic meat to digest in this concept-heavy presentation; Brigham Baker's awning paintings with Dienstgebäude (CH) and Charlie Godet Thomas' poetic drawings with VITRINE (UK) being good examples.
A personal favourite, and a project that in its DNA is inherently tied to Poppositions' ethos of existing alternatively, was Billytown. From The Hague, and showing Prosper Desmet, Billytown is a studio-provider-cum-art-gallery that is working towards being entirely self-sustainable. The dream for all small art spaces! They offer the freedom of experimentation of an off-space, yet also support their studio artists through exhibitions and art fairs. Getting that balance can be difficult, but they seem to be doing everything right so far.

ART BRUSSELS 2018, TOUR & TAXIS. PHOTO © DAVID PLAS
After leaving Poppositions, I prepared myself for what lay ahead. If Poppositions is at one end of the spectrum, Art Brussels is very much at the other. Art Brussels is the largest art fair in the Benelux region, hosting 147 galleries, and celebrating its 50th year. And I was off to the preview.
In my experience, there are very distinct stages that you experience at a big fair preview. At the beginning, in the maelstrom of energy and anticipation, you are awash with a sense of excited giddiness – amplified in this instance by being instantly greeted with a great little Michael Borremans painting at Zeno X, (and a waiter hurrying by with a trolley piled high with Belgian beer). After this stage, but still high on the exhilaration of mixing it with the great and the good, you become somewhat overwhelmed by the amount of art work on show. 'So many great things!', you think to yourself.
Or are there? Becoming accustomed to the situation and finishing off your third tripel, you begin to realise there is actually some quite bad work on show. This is the point – usually about two hours into the preview – that I call 'the crash'. What had originally been bypassed in the excitement to begin with, now becomes inescapable. The money.
Of course, money is what art fairs are really about. Galleries need to sell work to sustain themselves. But, I like to see galleries bring the same curatorial approach they would to an exhibition in their space. Too often you find the booths to be a lazy inventory of a gallery's artist roster, and that lessens the experience, personally. At this point in the evening, it is advisable to push on through and keep looking, because some great artwork will be just around the corner.

SOFIE MULLER, GEUKENS & DE VIL, ART BRUSSELS 2018. PHOTO © DAVID PLAS
Now you have reached the final part. The heat, the drinks, the art have all combined and as the preview comes to a close you are delirious. You have just seen Frog King Kwok's exhibition-cum- live performance at 10 Chancery Lane enthral and terrify visitors in equal measure, and you realise that art is mad, but ultimately glorious.
Despite this rollercoaster of emotional states, I was still able to keep my journalistic hat firmly on my head, and can report back on some of the best Benelux-based booths from the fair. Brussels' mega dealer Xavier Hufkens showed Nicolas Party with one of his trademark installations, and pastel works. Antwerp galleries Sofie van de Velde and PLUS-ONE joined forces to curate a mega show of some 20 artists, and Geukens and de Vil recreated the studio of emerging Belgian artist Sofie Muller. However, the winner of the prized Antoniak Award for best booth goes to Nosbaum Reding, the Luxembourg-based gallery whose booth featured charred black walls and centred around Damien Deroubaix's playful woodland hut. Fun, cerebral and immersive!
As I left the fair into the balmy night, I reflected on my whistle stop trip to the capital. They might not be Frieze or Art Basel, and I doubt they want to be, but Poppositions and Art Brussels offer something different. Every conversation I had with people throughout the day was thoughtful, knowledgeable and enthusiastic. Each was also accompanied with an assuring lack of pretension. There is a real passion for art here, and it is infectious. I cannot wait to go back.
Web: www.artbrussels.com
www.poppositions.com
TEXT: MATT ANTONIAK | PHOTO © COURTESY OF POPPOSITIONS AND ART BRUSSELS
Subscribe to Our Newsletter
Receive our monthly newsletter by email