Brewery De Koninck: The brewery of draughts and crafts
Text: Arne Adriaenssens | Main Photo: Stijn Bollaert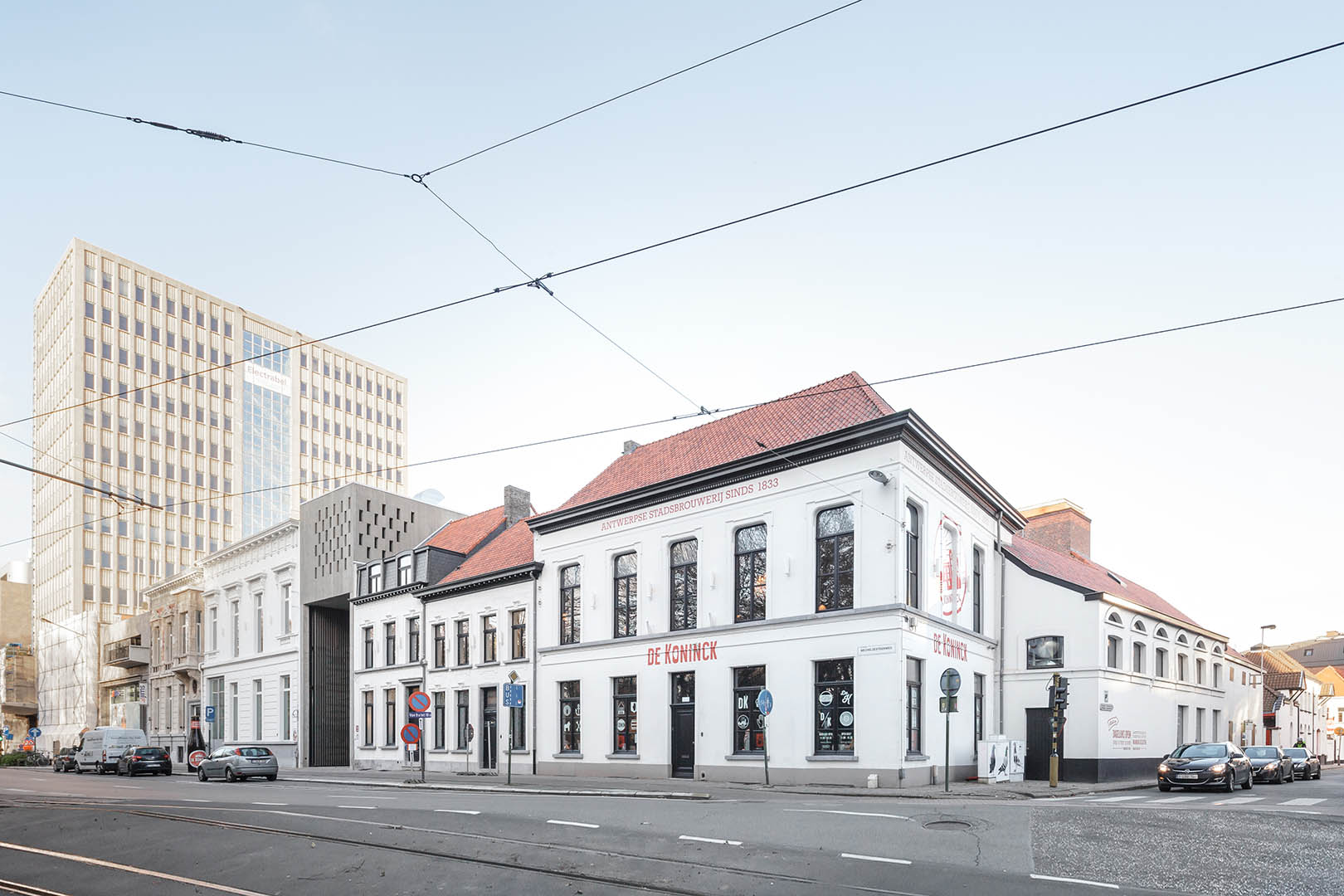 Known for their exquisite chocolates, golden-brown pints and finger-licking-good cuisine, the Flemish never fail to deliver quality and authenticity. At De Koninck, Antwerp's City Brewery, they have been brewing their 'bolleke' to perfection for 186 years already. Today, the brewer co-houses with some of the city's finest craftsmen, who have settled in the brewery.
"When Duvel Moortgat (one of Belgium's most important brewery groups) joined De Koninck in 2010, we moved the bottling of our beers to their plant," explains Sven Dekleermaeker, De Koninck's brewmaster. "As a result, we ended up with plenty of free space, which we embraced as a grand opportunity." First, they built a beer bar, a store and an experience centre where you can immerse yourself in the world of beer. Yet, even then, lots of space remained unused.
Today, these spots are filled in by craftsmen of all sorts. A bakery, a cheese refiner, a mixologist… one by one, they settled in De Koninck's new crafts centre. "Everyone who performs his trade with passion and authenticity can fit in here. Our only requirement is that the clients can see the artisans in action. At the chocolate store, you watch the sweet magic happen, at the butchery, you can peek inside the fridge, and the restaurant's chefs prepare your meal in front of your eyes."
To experience the magic of the brewery to the fullest, you must try the Meet the Crafts formula: a refined tasting where a beer sommelier matches the brewery's beers with cheeses, chocolates or meat from the complex's craftsmen. "All neighbours and fellow-craftsmen inspire each other by performing their trades. Therefore, City Brewery De Koninck is way more than just the sum of its many talents."

Meet the craftsmen

De Koninck Experience
Discover the trail your De Koninck beer makes, from hops to Tripel d'Anvers, at the interactive experience centre, set foot on the holy grounds of the brewery and sample the most exclusive beers. Read more on page 84.
Casual and cosy Michelin-star restaurant The Butcher's Son is the perfect spot to taste Belgian classics with a twist alongside a great glass of wine. Read more on page 85.
Enjoy the Flemish brasserie cuisine and a cold beer at the authentic tavern, De Pelgrim.
At The Bakery, you can find the most delicious day-fresh bread and pastries from all of Antwerp.
Atelier Paul Morel & The Noodle Agency
Atelier Paul Morel and The Noodle Agency combine their expertise in mixology and tea to create unique culinary experiences.
As one of the best butchers in Belgium, Butcher's Store is the place to go for the most tender piece of meat.
Only Cheese
Founded by cheese experts Van Tricht, Only Cheese has some of the world's best cheeses in stock.
This typical Belgian tavern serves great local dishes and a perfect De Koninck beer.
All handmade and with some surprising fillings, Jitsk's pralines are amongst the best you can find in the country of chocolate.
With both their barbecues and bartenders at the centre of attention, the temperature at Black Smoke is always through the roof. Read more on page 86.
Velodome
All you need for your bike, as well as the best maintenance, you will find at Velodome.
As the brewery's neighbour, the dynamic YUST hub reanimates the neighbourhood with new ways to live, travel and enjoy. Read more on page 87.


De Koninck Experience
The beating heart of the De Koninck complex is, of course, its brewery. Almost 80 per cent of the building is still used to brew their three marvellous beers. "Besides our classic 'bolleke' De Koninck, we also brew Tripel d'Anvers and Wild Jo," continues Dekleermaeker. "Tripel d'Anvers is our popular triple: a typically Belgian strong blond. Wild Jo is the result of an experiment of ours. Although it isn't very strong, it provides an explosion of flavour. And, as it keeps yeasting in the bottle, its flavour changes over time."




To allow beer lovers a glimpse behind the scenes of the brewery, De Koninck created a modern and interactive experience centre amidst its walls. The tour takes you from one room to the next where interactive screens and fun activities tell you how De Koninck became a synonym for Antwerp, why every beer needs its proper glass and what the road from the hop fields to your 'bolleke' looks like. As a magnum opus, you enter a bridge above the brewery from where you can gaze at the beer in the making. "You can even pour your proper draught beer here, just to experience how hard it is."




In the De Koninck Bar downstairs, you can try all beers De Koninck and Duvel Moortgat brew and pick the brains of the beer sommeliers. When craving for something special, you can exclusively taste some experimental brews which De Koninck bottles on a minuscule scale. "Yet, most exclusive is our unfiltered 'bolleke' De Koninck. Only here, we serve this 'unfinished' beer straight from the brewing tank. At this stage, the beer has yet to pass the final stages of the brewing process and is still cloudy."




And you can even take it home with you. In the De Koninck Shop, you can purchase yourself plenty of nice merchandise, including a crowler: an empty can, available from one litre upwards. At the bar, they fill it up with the beer of your preference and seal it. This way, you can take these exclusive brews back home, to share them with friends (or to enjoy them all by yourself).
www.dekoninck.be




The Butcher's Son
After having quenched your thirst, you will want to sit down for a nice meal. Mere metres away from the experience centre, you enter the carnivores' paradise of The Butcher's Son. In 2018, the restaurant of chef Jan Michielsen and sommelier Luc Dickens received its first Michelin star; and nobody was more surprised about that than they were. "Having a star above our door was not our main aim," explains Dickens. "We have created a homely restaurant with fantastic food for affordable prices. Yet, long tablecloths and crystal glasses, you won't find here. So, the fact that Michelin granted us with this honour, prooves that we are on the right track."




And your taste buds won't disagree. On the menu, you will find traditional Belgian meat dishes with a modern twist. Some of them are seasonal, others can be ordered all year round. "Our vol-au-vent is one of our most popular plates. In a big, homemade pastry, we serve a chicken-mushroom ragout for two people, with mousseline sauce and crunchy pieces of sweetbread on top. On the side, you can find real Belgian fries, fried in beef tallow." Despite what the name might suggest, vegetarians are also welcome at The Butcher's Son. The menu does not include any meatless options, but on request, Michielsen whips up a fantastic vegetarian meal for you.
Founded by a chef and a sommelier, The Butcher's Son is a perfect marriage of food and wine. On its extensive wine list, you will find something for every dish and palette. "Our assortment is rich in both flavours and prices. We serve traditional wines and more experimental ones, as well as bargains and exclusive bottles. As a sommelier, I don't only look at which wine matches the meal, but also at the preferences of the guest. Together, we always pick out the perfect bottle."
In the grand tradition of the De Koninck City Brewery, Michielsen's kitchen is located in the middle of the restaurant. While dining, you can watch the chefs chop the fries and dress the plates. "You can see everything apart from the dishwashing," laughs Dickens.
www.thebutchersson.be




Black Smoke
Meat-lovers who prefer their steak a bit smokier can head to Black Smoke, the complex's barbecue restaurant which takes the art of grilling to the next level. "We use two traditional ways of barbecuing," explains founder Kasper Stuart. "On the one hand, we use the American 'low and slow' technique, where we smoke our meat on oak, beech, cherry, apple and other sorts of wood for six to 18 hours. This keeps the meat tender and gives it a heavenly smoked aroma. On the other hand, you can find the 'hot and fast' technique, which is inspired by the Argentinian parrilla. By briefly exposing our meat to very high temperatures, it gets this typical grill flavour and a crunchy bite."




By using meat from the neighbouring Butchers Store – one of Belgium's best butcheries, they guarantee a phenomenal meat experience. "Our client's absolute favourite is the Texan brisket tostada: two crunchy corn tortillas with Texas-style chopped brisket, adobo barbecue sauce, a spicy salsa, lemon cream and avocado. Yet, what tickles a carnivore's imagination even more, is our selection of one-kilogramme club steaks. They are the perfect option when craving for a hedonistic moment. Most people share them per two, yet, some attack these meals all on their own."




Nonetheless, Black Smoke is more than just a barbecue restaurant. Apart from the restaurant on the third floor, they also have a cosy bar on the first floor and an atmospheric rooftop on the sixth. Here, you can enjoy your drinks and snacks with a spectacular view. "Our bartenders are experts in preparing you the perfect drink. Apart from serving you a nice wine or a beer from De Koninck, they prepare the most intriguing cocktails in a heartbeat. Our drinks list is an international journey on its own, during which we pair up different flavours, drinks and – on occasion – even a touch of smoke." Once a month, you can experience these delicious drinks in perfect circumstances during a nice club night or an amazing concert during which food, drinks and music elevate each other to perfection.
www.blacksmoke.be




YUST
Right across the street to the lively De Koninck City Brewery, the equally vibrant YUST site stretches out: a cross-over between a living-, travelling-, working- and relaxing-hub. "YUST is the most flexible and modern housing project in the city, and probably in the entire country," explains Louis Claes, YUST's general manager. "When real estate agency Realis and project developer Gands noticed the pressing need for affordable housing in the city without any strings attached, they collaborated to create YUST." Of this five-storey building, the four top floors house compact, modern, furnished lofts. These, you can rent for a period of one to 12 months. "This attracts plenty of demographics. PhD students, expats, families who are renovating their houses, recent divorcees… For them, YUST is a flexible, affordable and cosy place to live."




On the ground floor, YUST offers plenty of facilities to its tenants. They can use the laundry machines and printers, have a meeting in the boardroom or relax with a coffee in the lounge. "They can also rent bicycles for a reasonable price and are entitled to half an hour of free car-sharing every month." On the rooftop, they even organise parties and events from time to time.
If you don't plan on staying an entire month, you might want to book a room at YUST's hotel on the first floor, which offers double rooms, suites, family rooms and dorms. "Some people think we are a hostel, but that is not true. Just like any other hotel, we make the beds and provide fresh towels and an amazing breakfast. Yet, our prices are very attractive. Plenty of businesses and globetrotters adore this hybrid concept, combining luxury with affordability." As a hotel guest, you can also enjoy the nice rooftop terrace.
Yet, you don't have to stay at YUST to enjoy it. Next to the common room, you can enter a restaurant in which sharing is key. With plenty of small dishes on offer, you make your selection and share them with your company. Alongside the restaurant, there is a business centre where you can rent boardrooms and a multipurpose hall for meetings, celebrations and anything in between. "The neighbourhood of Oud-Berchem is experiencing a renaissance right now, and we are very happy that YUST helps to make that happen."
Subscribe to Our Newsletter
Receive our monthly newsletter by email