Bij Jef Restaurant & Hotel: Michelin-starred luxury on Texel
Text: Maya Witters | Photos: Bij Jef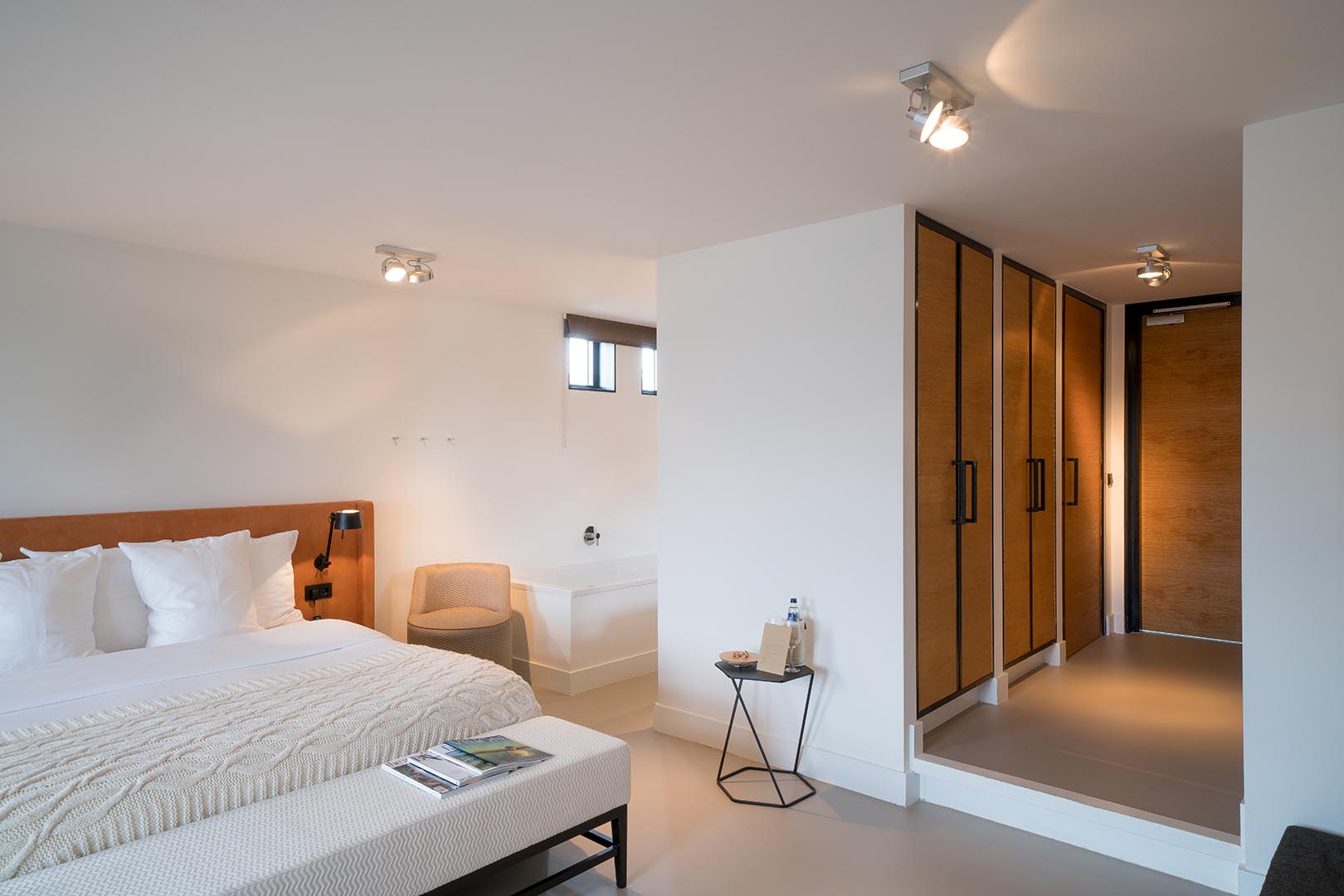 Texel harbours some surprising gems for those who make the trip to this peaceful haven. Despite its rural outlook, the island is home to Michelin-starred restaurant Bij Jef. Those who come to experience chef Jef Schuur's magnificent cooking, are advised to stay the night in the eponymous hotel: breakfast is just as impressive as dinner, and served in as many courses. "We are truly spoiled on this island."
Texel, the biggest of the Wadden Islands in the very north of the Netherlands, is a quiet paradise for those seeking solitude, space and calm. As a UNESCO World Heritage Site, the islands are shielded from high-rise builds and big hotel chains. This, however, has not stopped the locals from developing an offering of luxurious boutique hotels, bringing visitors the highest level of comfort in addition to a restorative environment. Bij Jef is foremost among these.
"Our business has been developing steadily over the last 24 years, going through plenty of changes along the way," reminisces owner and chef Jef Schuur. "I was born on this island, and even as a kid, my dream was to own my own restaurant here one day. That dream materialised when I was 25, and I haven't looked back since."
Recognition for hard work
In 2009, chef Jef's delectable cooking was awarded with a Michelin star, which the establishment has managed to keep for the past ten years. Unsurprising, given Jef's insatiable thirst for progress. "To me, stagnation means decline. I always want to make things even better, more refined, more vibrant. We never stop working to improve," he attests.
Does the Michelin star add extra pressure on top of his own ambitions? "Not at all," shrugs Jef. "It's a nice recognition for the work we do, and it brings us joy to be appreciated. It also helps us reach a wider, international audience. But I don't feel any additional pressure because of that title."
Vibrant local produce
Chef Jef's cuisine is centred around local products: an easy decision. "We don't use Texel products just because they're from here – we use them because they are of excellent quality. The sea brings us the best shrimp and cockles, we love using Texel lamb, and the local cheese is outstanding. We are truly spoiled here."
"With these local products, I like to cook food that is light, fresh, and easy to digest. I want people to come away from my table feeling replenished and recharged – exactly the reasons why most people come to the island in the first place. My food needs to reflect that."
Jef's partner, sommelier Nadine Mögling, takes care of the service and the impressive wine list of over 300 bottles. "Nadine is a total wine freak, who makes the most brilliant pairings. She really manages to lift the dishes with her wine choices. One plus one equals three when she has a hand in the menu," Jef beams.
Breakfast of kings
Bij Jef isn't only a restaurant, it also offers 12 luxurious suites for guests to relax in. The rooms boast comfortable beds, modern design and high-end bathrooms, but the crowning glory has to be chef Jef's magnificent breakfast.
"As a luxury hotel, we don't want guests to have to serve themselves, so we don't offer a buffet like most hotels. Instead, we cook up a different breakfast every day, which we serve in several courses. I find great enjoyment in impressing our guests with a daily parade of delicious breakfast dishes. In a Michelin-starred restaurant, they expect to receive a feast in the evening, but in the morning, they are always hugely surprised," smiles Jef.
Special packages
Bij Jef offers plenty of special package deals for those looking for a combined culinary and overnight experience, including weekend and midweek packages that allow you to savour both the succulent dinner and sumptuous breakfast Jef has to offer.
Another particularity is an arrangement that includes a walk with the 'duinboer', Benno, who oversees Texel's beautiful dunes and the horses that populate them. He will take guests on a guided tour of the hidden gems of the island, offering explanations on its natural beauty and UNESCO protected status. A unique experience to top off an already extraordinary stay.
Savouring the island
As for what the future brings, Jef can't give an answer, but he is always looking ahead. "I am incredibly happy with what I do, and I have come further than I could ever have dreamed. I have no big plans that I feel I need to fulfil – but I am always looking for chances, and if an opportunity arises, we will grab it with both hands. We never lean back on the sofa and look at our work, thinking it's done. We will keep pushing for more."
"Ultimately, we are only a small part of this island, and we are very lucky to be here," Jef concludes humbly. "The island is insanely beautiful and full of riches. All we have to do is work with that, and respect it. The island does everything else for us."
Find more information about Bij Jef and book your table and/or room online at: www.bijjef.nl
Subscribe to Our Newsletter
Receive our monthly newsletter by email