L&L Plaquette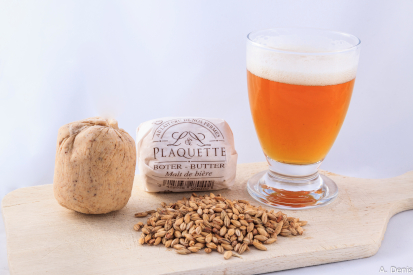 Good taste never goes out of fashion
TEXT: MARTIN PILKINGTON | PHOTOS © L&L PLAQUETTE
Lionel Plaquette believes that anyone not getting a buzz when tasting butter is buying the wrong brand. He is passionate about the product made for generations by his family, nowadays with some additional gourmet options that elevates it to new levels.
When a business has been established by your great-great-great grandparents, it is definitely a family affair. "I'm the sixth generation of my family to run our farm," says Lionel Plaquette, who now heads L&L Plaquette. "It is in the Ardennes in the South of Belgium, an area famous for its forests, but which also has very rich pasture land, perfect for feeding dairy cattle naturally, and thus for producing the wonderful milk at the heart of our butters and yoghurts."
Tradition and innovation
He is thankful for the generations of expertise behind his product: "I am very aware of the ways my parents and grandparents, in particular, worked their extremely high standards – it is great to have that heritage going back so many years," he says, "and we pay tribute to that with the traditional packaging, the butter papers, that we continue to use today."
But Lionel has been determined to take that legacy and build on it – hence the enticing and innovative range now offered by the company to tempt chefs and family cooks alike. So along with the traditional salted and unsalted butters, they now offer truffle butter, butter with shallots and tarragon, with garlic and herbs, with brewing malt, and ginger and onion, among others. "The ginger and onion one pairs superbly with oysters," he says, "and the truffle butter transforms plain pasta."
The way the butters are supplied has changed too: one clever new example – a world first – being the 10 gramme 'butter bonbons'. These are small pieces of butter wrapped like sweets, aimed especially at the high-end hotel and restaurant market. With some famous names among Plaquette's clientele, it is important to the business. They sell 30 gramme ingots too, as well as the more usual 100 gramme and 250 gramme packets.
It is all about flavour
"There are plenty of products around with clever marketing and fancy packaging, but not much else to recommend them," says Plaquette, "but what consumers want is great taste, and that is what we give them. When one of our butters hits your taste buds, you know instantly that it is well-made, it is unctuous, full of flavour."
They mainly offer butters made from unpasteurised milk, which he believes brings greater depth of flavour, and a major part of his work in developing the new products has been sourcing the very best raw materials from producers dedicated like him to offering the finest quality. A case in point is the delicate fleur de sel, fine flakes of sea salt, that Beurre Plaquette obtains from Gruissan on the French Mediterranean coast.
Partnership
When asked about how he works, Plaquette stresses that partnership is the core of his personal philosophy. "The new products have been developed by working with partners in the markets we supply – top food stores, chefs and so on – and with the people who supply us with the raw ingredients."
The same outlook applies within his own organisation. "I work with a small team, and they work with me rather than for me – the company has a very horizontal rather than hierarchical structure, we take each person's views and their lives into account in what we do. It is perhaps a different way of working to most enterprises, but it is what I believe in, and believe is most effective for us."
Awards and recognition
The pursuit of quality – and above all, of flavour – has paid off for the company, as evidenced by some of the names they can cite as customers or partners – La Grande Ėpicerie Paris, ROB Market Brussels, Julien Ricail, Julien Hazard, the Academie Culinaire de France and Euro-Toques Belgique. And their products have won prizes too, notably in Wallonia's prestigious Coq de Cristal culinary event.
Plaquette has put enormous effort into developing the company's range, which now includes yoghurts, and other products like traditional Belgian waffles and pancakes. He is rightly proud of the links his company has built with some big players in the gourmet world – as far afield as Japan. But nearer to home, he also keeps a very close eye on every aspect of production at the company's base in Mesnil-Saint-Blaise (Houyet) – it is a passion, and it is in his blood.
Web: beurreplaquette.com
Subscribe to Our Newsletter
Receive our monthly newsletter by email