Benelux's best wine bars
TEXT: PAOLA WESTBEEK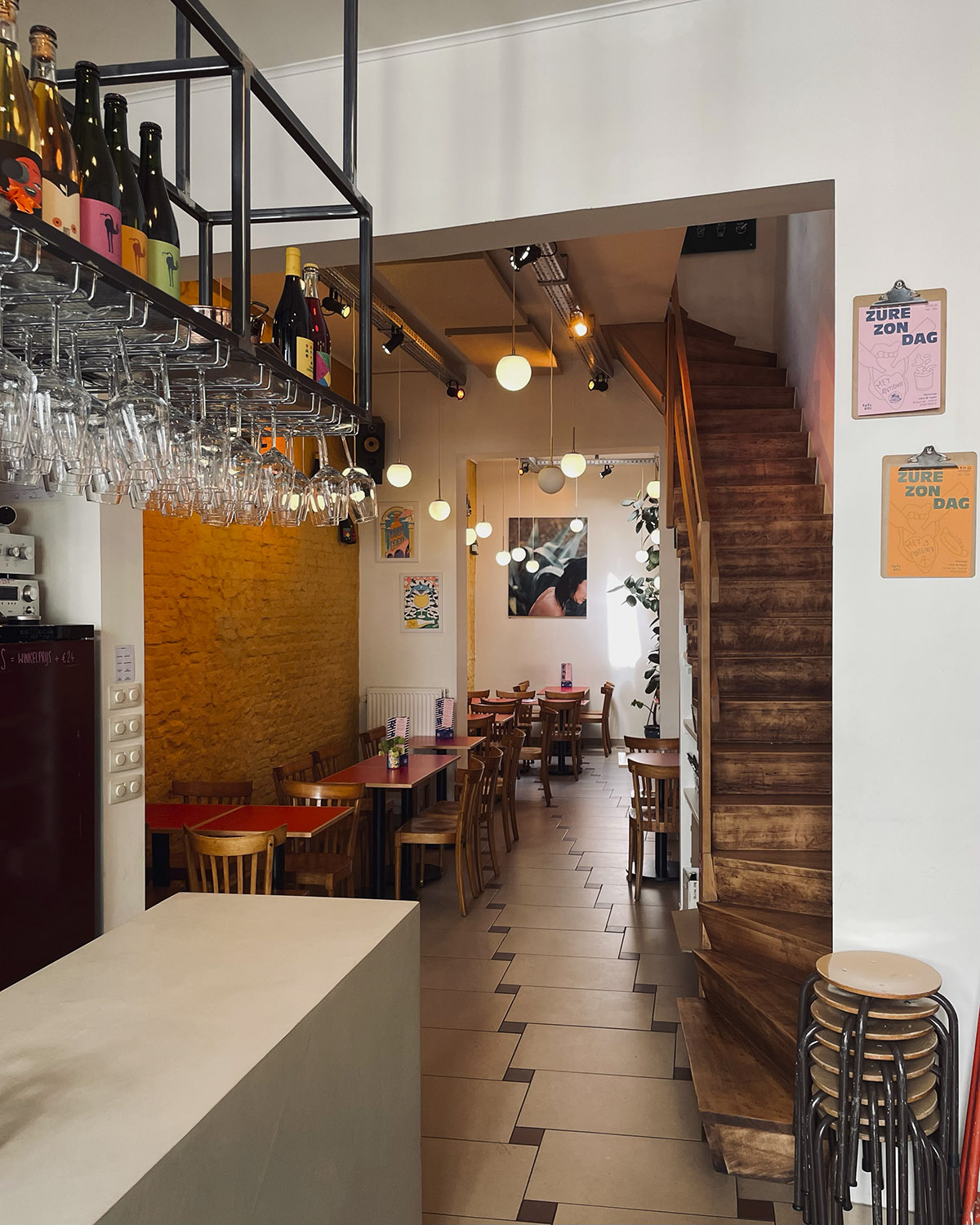 Wine connoisseurs, rejoice! Benelux offers a plethora of wine bars and restaurants with stellar wine lists where you can swirl, sniff and sip everything from the finest vintages to hip-and-happening natural wines – all meticulously paired with exquisite gourmet creations and served amidst an inviting atmosphere. Get ready to indulge all your senses and discover new favourites the next time you're in town!
The Netherlands
Auberge Jean & Marie (Amsterdam)
With French cuisine as the main source of inspiration for their delectable menus, Auberge Jean & Marie is a restaurant and wine bar where diners can revel in a traditional culinary repertoire guaranteed to transport them to la douce France. Guests are welcome for lunch and dinner served in a relaxed and comfortable atmosphere akin to that of a French inn. Expect nostalgic dishes served with a modern twist, a good glass of wine (there are 80 available per glass) and friendly service. Auberge Jean & Marie was voted the finest French restaurant in the Netherlands last year.
4850 (Amsterdam)
Wine lovers visiting Amsterdam will definitely want to book a table at 4850, a wine paradise located in the city's Oosterparkbuurt neighbourhood and boasting an incredible selection of well over 700 references. There's a small dinner menu, but you can also stop by from 9 a.m. to 3 p.m. for a well-prepared cup of coffee with a sweet bun or a cheese sandwich.
Het Eigendom (Rotterdam)
Located on the bustling Witte de Withstraat and housed in a historic building dating to the 1940s, Het Eigendom has been a success since its opening in 2011. On offer are 135 Old and New World wines, of which 35 can be sampled by the glass. Pair your choices with a selection of approximately 20 small dishes, finger foods and cheese or charcuterie boards, all temptingly prepared by Chef Etienne Kool.
Wijnbar de Avonden (Rotterdam)
Of course, we couldn't be more enthusiastic about the fact that Wijnbar de Avonden boasts a list with choices that will appeal to both wine newbies and seasoned drinkers, but what makes this cosy wine bar so special is the relaxed atmosphere, green terrace and attentive, knowledgeable owners, Robert van Driesten and Miranda van Driesten-Bijl. Having a hard time deciding on which wines to try? Opt for the mini-wine tasting (three glasses of white or red, which can be served with three cheese pairings). The appetiser menu offers a selection of Spanish bites such as 'patatas bravas' and prawns with garlic. Don't hesitate to bring a bigger appetite as they offer an always delicious monthly menu (with vegetarian options) that includes two starters, two mains and two desserts.
Belgium
Belgian Wines (Antwerp)
There's no better place to discover Belgium's viticultural gems than at the aptly named, Belgian Wines. The website not only presents clear information about the country's wine regions, but is your one-stop-shop for purchasing and tasting wines. At their handsome wine bar, located at the edge of Theaterplein, you can sample by the bottle or glass along with regional cheeses, charcuterie and Belgium's famous prawn or cheese croquettes. Stop by for some memorable sips after visiting the vibrant Saturday market.
Edel Rot (Ghent)
If you're looking for one cool place to spend time with friends while satisfying your curiosity about the world of natural wines (made with unadulterated fermented grape juice and typically produced by small-scale winegrowers working sustainably, organically or biodynamically), head to Edel Rot, a wine bar and shop conveniently located in the centre of Ghent. The wine bar's interior exudes laid-back Parisian vibes, but if the weather's good, you can also enjoy your tipple on the small terrace. Besides natural wines, there are also beers, cidres, cocktails and kombuchas to choose from. In the mood to grab a bite? Sink your teeth into finger foods, soups, sandwiches and cakes.
Le Wine Bar des Marolles (Brussels)
Both a wine bar and bistro, this excellent address is the ultimate spot for wine lovers and those who relish the pleasures of the table. Situated in the heart of Brussels' Marolles district, expect to be delighted with a stunning selection of fine wines and a menu that shines with well-appointed choices to pair them with. Le Wine Bar des Marolles is the brainchild of Vincent Thomaes, who was sommelier at the two-Michelin-starred Château du Mylord in Ellezelles. The next-door shop, Le Marché du Wine Bar, is a treasure trove of delights for those who love wine, art and unique finds.
Le Jardin du Sommelier (Brussels)
Situated in Brussels' European Quarter, Le Jardin du Sommelier serves up a superb array of wines (of which more than 20 by the glass) along with classic brasserie dishes, vegetarian options and regularly changing seasonal selections. Expect top-notch service, artfully prepared dishes and even a lunch menu with colourful salads and healthy homemade juices. With fine weather, their charming terrace is a little oasis where you can raise a glass to the good life!
Luxembourg
Wine Not? (Luxembourg)
From a midmorning cup of coffee with a beautiful pastry to a post-work apéro, if the question is "Are you up for a drink?" the answer is always "Wine Not"! Aristide Spies and Pascal Carré's Cave des Sommeliers offers more than 300 bottles to choose from, as well as a fine selection to sample by the glass. Order a hearty 'planche' (charcuterie and cheese board) to share or mix and match with some of their tasty bites. Wine Not! is not only a wine bar, but also a caterer serving sandwiches, salads, soups and more, which can be enjoyed on their sunny terrace or at home. Discovered a new favourite vintage? Their bottles are also for sale. Wine Not! hosts free tastings every month, so check out their Facebook page for upcoming dates.
Barrels (Luxembourg)
Both an international wine bar and restaurant, Barrels will appeal to the entire spectrum of wine drinkers, whether you've just started developing an interest in wine or consider yourself a connaisseur. The extensive wine list features bottles from every corner of the globe as well as a selection by the glass (with fine choices from Luxembourg). Choose from a varied range of tapas, a sumptuous cheese and charcuterie board, two mains and two desserts. The restaurant also serves a moderately priced lunch dish from Tuesday to Friday. Bonus points for the wine-inspired decor, which truly heightens the wine tasting experience!
Subscribe to Our Newsletter
Receive our monthly newsletter by email