Baut, C and Zuid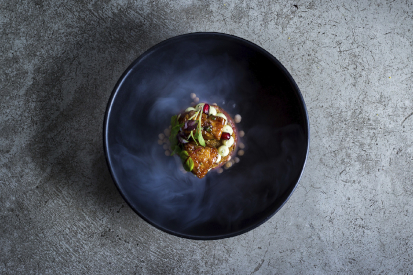 Raising the bar of fine dining in Amsterdam
TEXT: MYRIAM GWYNNED DIJCK | PHOTO: DISHTALES
He earned his stripes working at star restaurants and putting together culinary concepts. Now, chef Michiel van der Eerde has combined his business knowledge and passion for food to open his own restaurants in Amsterdam. After the runaway success of Baut, he has added two more concepts to his portfolio and will not rest until every guest of his goes home feeling satisfied.
Well-known in the Dutch culinary scene for his appearance on the television show Masterchef Holland as a judge, Van der Eerde has incredible drive for his work. This is visible in the way he runs his three restaurants, Baut, C and Zuid. "They are my own restaurants, I don't have any partners so I make sure I am present every day, either stopping by or being in the kitchen."
From dinner to an evening experience
After working at multiple star restaurants in the Netherlands, and setting up culinary concepts at IQ Creative for 12 years, Van der Eerde decided it to take matters into his own hands. "I wanted to be able to make the final call on things, and you can't do that with a boss," he says.
In 2012, this resulted in the opening of Baut – a temporary bar and restaurant combining fine dining with a cultural experience. Originally located on the Wibautstraat, in a former office of a national newspaper, this project was Van der Eerde's baptism of fire in the competitive Amsterdam restaurant scene.
"We opened at the height of the crisis with a pop-up concept that was the first of its kind in Amsterdam. It turned out that this really attracted people and within half a year everyone knew about it," he said.
A culinary circus on the move
The strength of Baut lies in its straightforward menu of classic dishes with unusual twists that are perfectly suited for shared dining. This, in combination with an unusual setting, music and cultural events, makes a dinner at Baut a unique experience. After one to two years, Baut packs up, changes locations and reinvents itself somewhere new.
"Every year we are located in a different part of Amsterdam in an unusual, unused building. We have been in a vacated V&D department store, a former Citroen car garage and an empty conference building." This January, the 'moving circus' of Baut relocated in an old chapel in Amsterdam West.
Turning up the heat
From Baut, Van der Eerde went on to opening restaurant C three years later. The name stands for 'Celsius', as guests are taken through different cooking temperatures. The menu is grouped into different temperature ranges, to allow guests to discover how little changes in the preparation affects flavour, texture and taste.
"It was something that didn't exist yet," says Van der Eerde, "It starts at the bar really, which is in the middle of the restaurant alongside the big open kitchen. Here, guests will be served directly by the chefs, involving them in the whole process. C has a international appeal, and we serve star-worthy food."
Heading south
Then, most recently, Van der Eerde added restaurant Zuid to his portfolio. Located in Amsterdam South, which gave it its name, the restaurant offers visitors a glimpse behind the scenes into Van der Eerde's style of home cooking. Designed like a cosy living room, the restaurant immediately gives you a feeling of being at home.
"The restaurant is like an extension of my home. We serve accessible, recognisable dishes at an excellent price-quality point. It is a very friendly, warm place, and this level of fine dining wasn't around before in this neighbourhood."
A team effort
Van der Eerde has found that the team is the most important factor in making a restaurant a success. Constantly aiming to improve, Van der Eerde tries to involve every one of his 120 members of staff in the success of the business. "Many of the team managers started at the bottom as food runners and worked their way up," he says.
He says that this approach trickles down to the dining experience of the guests: "One of the best compliments we can get, is when guests say that they can see how much the staff are enjoying their jobs. When the team is happy, this releases such a huge amount of positive energy, that our guests feel it too."
You can find Baut on the Spaarndammerstraat in Amsterdam West, book a table at C on the Wibautstraat in the east of the capital, or have a meal at Zuid on the Stadionweg in Amsterdam South. Visit the websites for bookings and more information about their culinary and cultural events.
www.bautamsterdam.nl
www.c.amsterdam
www.restaurantzuid.amsterdam
Subscribe to Our Newsletter
Receive our monthly newsletter by email