Bastacosi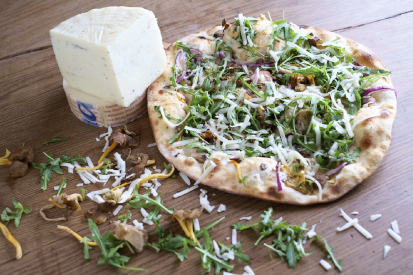 Fresh wood-oven pizza in a cosy setting
TEXT: KARIN VENEMA | PHOTO: BASTACOSI
When entering the Bastacosi restaurant on the Bilstraat, guests can spot the wood oven straight away. They might see a member of staff flipping pizza dough or sprinkling fresh ingredients, or guests helping themselves to a drink from the fridge. With its informal, friendly atmosphere, Bastacosi is the perfect place to recharge after exploring Utrecht.
"Bart van Aalderen and I have known each other since we were little and, in 2011, we decided to open our own wood-oven pizza restaurant in Utrecht" says co-owner Onno Roberts. And so, Bastacosi was born. Seven years later the business is flourishing with three locations and a mobile wood oven for events.
The venues have a dynamic feel to them, with approachable, enthusiastic staff. According to Roberts, working at Bastacosi is fun, "Here you get to talk to guests, work with amazing fresh ingredients, make and bake pizza and much more. Our staff really enjoy their work and making it a pleasant experience for the guests, and it shows."
Bastacosi means 'that's enough' in Italian, but in this case it can be explained as: 'what else could you want?' With good reason; its unique concept certainly makes Bastacosi both a relaxing and satisfying experience.
On the menu is a maximum of 15 different pizzas, guaranteeing the quality expected from a traditional Italian wood-oven pizza. Guests can also enjoy a homemade dessert or Italian coffee, and there is a wide selection of cold drinks, Italian beer and wine available. Buon appetito!
Subscribe to Our Newsletter
Receive our monthly newsletter by email