Bakery van Hoorick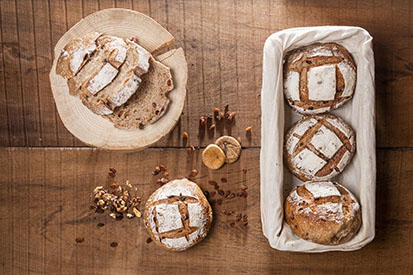 Belgium Bakery van Hoorick is a true family business where bread and pastries are made with love and a lot of knowledge. Yet, it also could well serve as a bright look into the future.
With its delicious classic pastries – some filled with the famous Belgium chocolate – and tasty, crispy bread made from scratch, Bakery van Hoorick offers up the perfect mix of craftsmanship and experience.
"Our strength lies in the fact that we work with only the best of ingredients. Our aim is to make each pastry a delicious and goodlooking treasure," co-owner Jade Strobbe explains. Known for its long heritage, the bakery was originally founded in 1855 before it was passed on to the family, who has been running the bakery for eight generations.
And with time comes knowledge and, of course, craftsmanship. "You could buy bread in the supermarket. But you could also get bread at a bakery, which is crispy, delicious and made with love. This makes a big difference, we differentiate ourselves with this," Strobbe explains.
Just a stone's throw away from the bustling city of Antwerp, customers with a sweet tooth or a love for bread can find the cute little bakery in the town of Melsele. The mouth-watering pastries in the shop's window, the authentic history and their way of working creates a unique atmosphere in the bakery situated in the Belgium countryside.
Furthermore, the bakery is run by Strobbe and her partner Thomas, alongside a team of passionate bakers. "We have a clear vision for the future, we would like to reunite different kinds of craftsmanship under one roof. For example, working with a butcher, so we can offer healthy lunches where even the smallest details are made with the greatest love for the profession. Reuniting craftsmanship, that's our goal."
Subscribe to Our Newsletter
Receive our monthly newsletter by email