Amsterdamse Ketels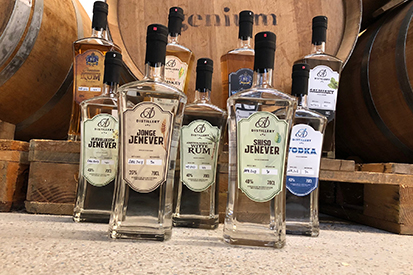 Flavours of the world distilled in Dutch barrels
TEXT: ARNE ADRIAENSSENS | PHOTOS © AMSTERDAMSE KETELS
Amsterdamse Ketels proves that locally produced products need not always taste local. The artisanal distillery in the Dutch capital combines its know-how of native spirits with tastes and products from all corners of the world.
"I have travelled a lot," Alberto Tijhuis, director of Amsterdamse Ketels, begins. "Along the way, I have discovered many fascinating flavours and drinks that we simply don't know here." In 2014, Tijlhuis took over an artisanal micro-distillery in Amsterdam to blow a fresh wind through the aisles of cauldrons and barrels. The traditional spirits made room for an exciting fusion of Dutch craftsmanship and exotic products and techniques which are sold under different labels.
The crown jewel of their collection is their pure corn whiskey. "In America, they use around 80 per cent corn. We, however, choose to use nothing but that. Hardly anyone has ever done that. We let it age in barrels made of oak from Amsterdam's Vondelpark, the city's biggest oasis. This makes our drink extra local." For their coffee liquor, they also found inspiration on Dutch soil. They brew their coffee exactly like the sailors of the iconic Dutch East Indian Company did it in the 16th century. "The exact process is our best-kept secret. Yet, we can reveal that it is brewed cold." Because of this technique, the coffee preserves its scent, which you notice as soon as you open the bottle.
Amsterdamse Ketels also produces three jenevers: one with elderberry, a very young one which is comparable to a gin and one with the Japanese shiso leaf. Equally surprising are the vodkas they create. "While travelling through the former Soviet Union, I met many people who distilled their own vodka at home. Weirdly enough, they did it with green peas and tomatoes. The result was so amazing and pure, that I brought the recipe home." Amsterdamse Ketels now uses these same ingredients. As an extra surprise, their premium vodka ages on pine seeds, giving it a nice, brown colour. "Since the drink is very pure, it won't give you a headache. Regardless of how much of it you drink."
One of their special labels, Mokum Moonshine (street slang for 'illegal alcohol from Amsterdam') takes you back to the powerful distillates of the 1930s. The bottles show a building of the Amsterdam School, an important architectural style from that period. Businesses can also count on Amsterdamse Ketels for their own private labels. "We create personalised brands from just 60 litres upwards. This way, smaller companies or even families can afford to have their very own drink."
Subscribe to Our Newsletter
Receive our monthly newsletter by email