Amsterdam Farm Lodge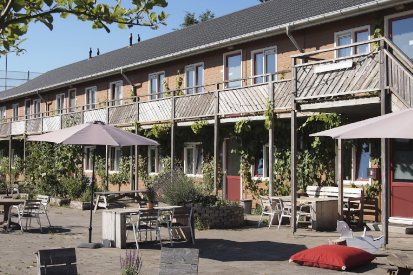 The greenest place to stay in Amsterdam-North
TEXT: MICHIEL STOL | PHOTO: AMSTERDAM FARM LODGE
Whether coming for the agricultural community or just to get away from the hectic city life, there is no quieter, friendlier or greener place to stay in Amsterdam-North than the NoordOogst urban agriculture project and the Amsterdam Farm Lodge. "Who doesn't want to wake up seeing the chickens roam free on the terrace?" says owner Nicole Schuil, who runs the lodge with her partner Rogier.
NoordOogst is a unique urban agriculture initiative in the city, where vegetables are grown. It will run for ten years, until 2027. Located on the old Melkweg Sports area, this project is fully self-reliant. "We always wanted to do something here in the city. Then we came across this special project and started renovating the building in April 2017," Nicole explains.
The Amsterdam Farm Lodge is in a former asylum centre. "In total, we have seven apartments, fully equipped with three bedrooms, a bathroom and a kitchen. Each room is different, because we decorated them with recycled materials and second-hand furniture, to be completely sustainable. Apart from the beds, those are new. There's nothing more important than getting a good night's sleep," smiles Rogier.
NoordOogst is the perfect place for families to visit, or to enjoy a stay at the Amsterdam Farm Lodge. Here, visitors will find pigs, a butterfly garden, a natural playground, a vegetarian take-away, a brewery, fields with crops, a food forest, a beekeeper, vineyard and a pancake house. Nicole: "We treat our guests as family. As friends, who love the green beauty of the city and NoordOogst as much as we do."
https://www.amsterdamfarmlodge.com
Subscribe to Our Newsletter
Receive our monthly newsletter by email