American Hotel Amsterdam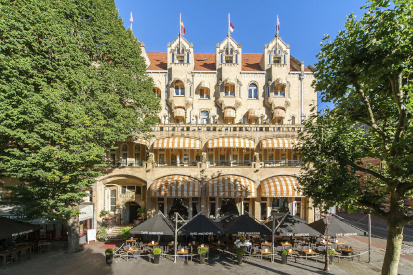 Travel to 1920s Amsterdam
TEXT: MYRIAM GWYNNED DIJCK | PHOTOS: AMERICAN HOTEL AMSTERDAM
As one of Amsterdam's last purpose-built grand hotels, the American Hotel Amsterdam offers a unique journey back in time. The stunning turn-of-the-century building is richly decorated and has a spectacular Art-Deco interior with contemporary touches. For over 100 years, the hotel has turned a visit to Amsterdam into an unforgettable stay.
Léon Dijkstra, CEO of Eden Hotels who own the American Hotel, says: "For guests who buckle under the hectic pace of Amsterdam, we want to offer an escape; a place to rest, relax and eat and drink well. The American has everything to meet these needs, and more."
Located on the Leidseplein, the hotel is close to the Rijksmuseum, the Van Gogh museum, the Vondelpark and the centre. Dijkstra says "It is the perfect starting point for all Amsterdam sights. You step right onto a tour boat at the front of the hotel, shopping is possible in the Leidsestraat and PC Hooftstraat, all the museums are nearby and the most famous theatres and (pop)music venues are right next to the hotel."
Completed in 1902, the building was Amsterdam's first hotel with modern architecture in Art-Nouveau style. The geometric facade was decorated with eye-catching tableaux of animals and plant life, and has kept its charm for over a century.
After many refurbishment and upgrades over the years, the rooms now include all the modern comforts and have a striking interior mixing Art-Nouveaux and contemporary design. He adds: "The American is the Grand Old Lady in a new dress. The hotel is steeped in history and in this setting, at the same time we want to offer guests a contemporary experience."
The hotel cafe, still at its original location, features a stunning decor with geometric Art-Deco lampshades and original 1930s oil paintings. Dijkstra explains: "The Café Americain is so unique in Holland because almost everyone has a story with it. Many people's parents met here for the first time, or had their first student dinner here."
With a strong focus on personal service, no request is too much for the hotel. He says: "Our starting point is that we renounce the word 'no'. We try to read every guest's needs, and how we can best serve them. A nice example is the personalised cocktail. If a guest wants it, we create a cocktail for them just the way they like it."
https://www.amsterdamamericanhotel.com
Subscribe to Our Newsletter
Receive our monthly newsletter by email