Ambassade Hotel – Intimate luxury at the waterfront
Text: Arne Adriaenssens | Photos © Ambassade Hotel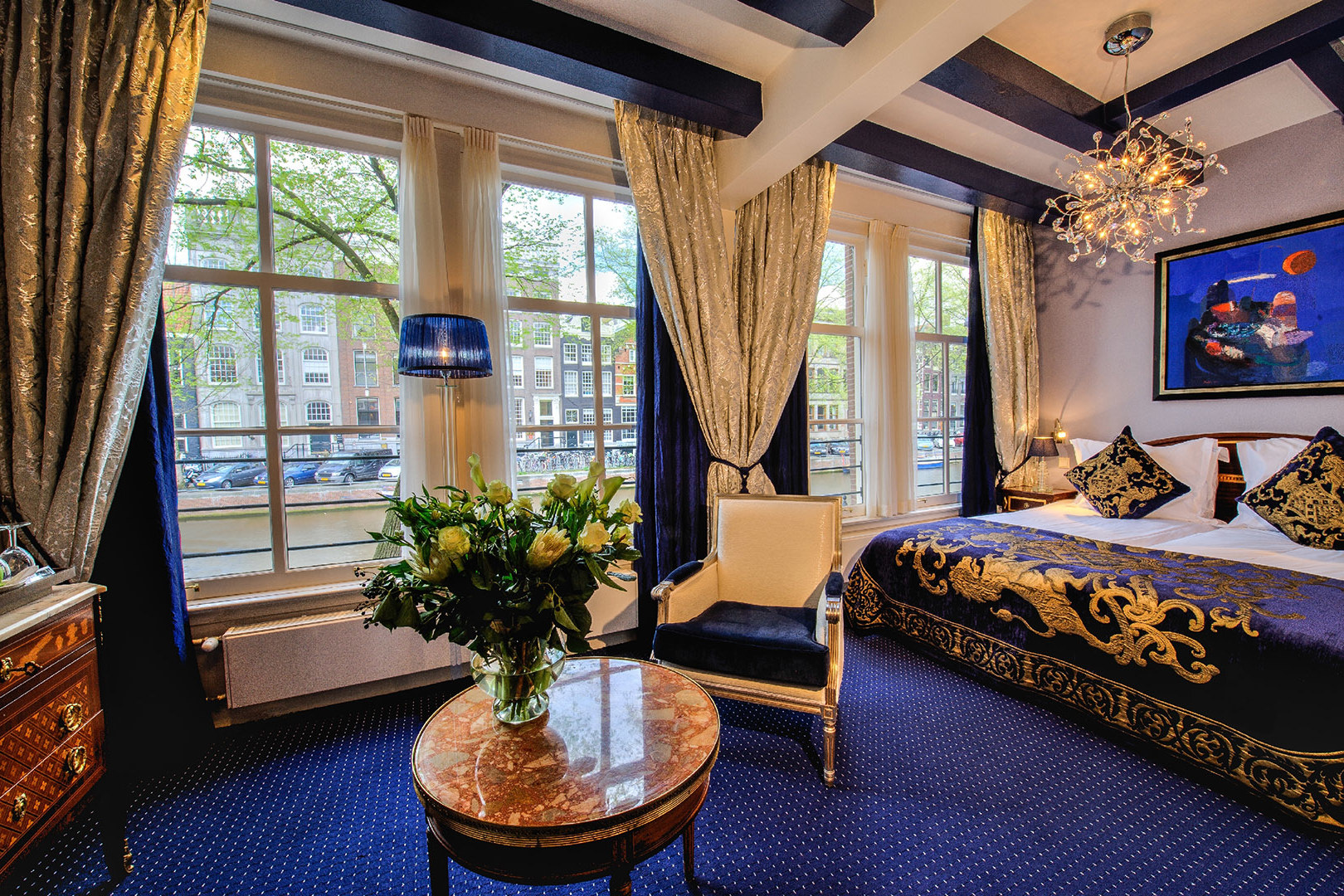 B ehind the facades of 16 authentic canal houses, concealed from the naked eye, stretches the snug, privately-owned Ambassade Hotel. With its inspiring rooms, relaxing floating centre and finger-licking-good gastronomy, the hotel is a homey oasis in the middle of the vibrant Dutch capital.
"The Ambassade Hotel saw the light of day in 1953," explains managing director Lucas Schopman. "Back then, it was settled in just one canal house. Throughout the years, we were lucky enough to buy some adjoining homes when they became available. Today, our hotel consists out of 16 picturesque houses." While strolling through its corridors, the small differences in level remind you that these used to be separate mansions with different heights once upon a time. Inside the rooms and suites, comfort meets character. "All our rooms are unique and decorated with warm colours, ornamental fabrics and real CoBrA art against the wall."
CoBrA is an acronym of 'Copenhagen, Brussels and Amsterdam' and refers to a group of avant-garde artists in those cities during the aftershocks of the Second World War. Their work stands out with its bright colours and almost-childish simplicity. "My father, Wouter Schopman, started this CoBrA collection which now counts over 850 paintings, statues and ceramics at which you can marvel in all corners of the premises. In combination with the preserved structure of the old houses, these little touches constantly remind you that you are in a lush Amsterdam canal house."
Downstairs, you will also find about 5,000 autographed books of writers who have stayed in the hotel. Alongside almost all Nobel Prize winners in literature of the last three decades, celebrated authors like Salman Rushdie, Umberto Eco and David Sedaris are represented. On request, the staff will happily show you the precious volumes.
Pleasant, warm atmosphere
Nonetheless, it isn't just the art and the welcoming colours that give the Ambassade Hotel its unique warmth. Its biggest value lies in the staff who bring the houses to life. "A warm and respectful reception is crucial," says one of the reception assistants, Ewout Smit. "It is so important that guests feel welcome from the moment they arrive." Schopman: "We are there for our guests for whatever it is that they need but we are also open for a chat. In Dutch, we know the word 'gezelligheid'. It is impossible to translate in any other language, but it means 'a pleasant, warm atmosphere in which everyone feels at ease'." That, however, doesn't interfere with the professionalism of the service of the Ambassade staff. In their endeavour to make your stay as perfect as possible, they go all the way. The reviews on sites like TripAdvisor don't lie about that. Compliments like "the staff were all extremely attentive and went over and above on service" and "the whole experience was a delight" flood the comment section in high numbers.
Floating and massages
With almost all hotspots within walking distance, the hotel is a great hub to start your daily journeys from. For a moment of relaxation in between discoveries, you can go to Koan Float, the Ambassade Hotel's float and massage centre.
Located a few houses from the hotel, it is the perfect spot to escape the city noise for a minute. "Floating had already existed for decades but never really broke through in Europe. During a session, you lay down in a closed capsule with very salty water at body temperature. Because of the salt, you float on top of it in the dark, soundproof basin." As simple as it may sound, the method is proven to be incredibly relaxing. An hour of it relaxes you as much as five hours of sleep would. Furthermore, it also helps you to fight your jetlag.
Refined French cuisine
Those who rather relax with a gastronomical masterpiece in front of them, are always welcome in the hotel's brasserie. Given its popularity among locals, it is wise to book a table in advance. As specialists in refined French cuisine, they serve nothing less than the finest seasonal products. Their bisque, steak tartare and (highly-praised) confit du canard are just a few of the exquisite delicacies you can find on the diverse menu. In combination with a view over Amsterdam's picturesque channels, these courses become a unique culinary experience. The same counts for the elaborate breakfast buffet the hotel guests stumble upon every morning. With the chef preparing the hot dishes on the spot, everything gets served warm and fresh. The Brasserie is open for breakfast, lunch and dinner for seven days a week. "The fine food, the beautiful rooms, the art, the view over the channels… all these aspects attribute to our guests having a perfect stay with us," says Schopman. "Yet, what matters most for us is that our guests feel at home at the Ambassade and enjoy the warm and sincere interest we have in every single one of them."
Subscribe to Our Newsletter
Receive our monthly newsletter by email