Ali Ocakbaşi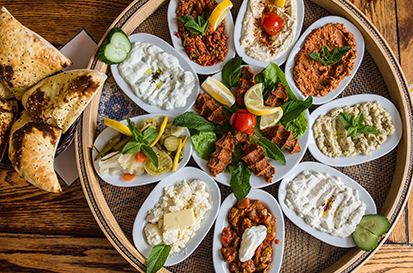 When talking about Turkish food, most people will think about a kebab after a night out. But the Turkish cuisine has so much more to offer, which is what restaurant Ali Ocakbaşi wants to show. "You will taste the rich culture in our food," promises Orhan Demir, chef at Ali Ocakbaşi in Amsterdam.
The rich, unique and luscious Anatolian cuisine culture, which has existed for thousands of years, still manifests itself in different flavours throughout every corner of modern Turkey. "It's all about high-quality meat dishes prepared by hand with typical Turkish herbs and spices, that give our food its unparalleled taste," Demir continues. "That's why we don't order anything pre-prepared. I prepare all the dishes myself, so I know that our guests will get the best."
Ali Ocakbaşi (in front of the grill) opened its doors in Amsterdam in 2015, on the corner of the Herengracht and the Utrechtsestraat, just a stone's throw away from the famous Rembrandt Square. "This is one of four restaurants. We have two in Istanbul, one in London and this one. We place our restaurants at high-end locations, so that people understand what we stand for: high quality," explains Demir. And the quality is well recognised. Holland's most famous food and restaurant critic, the late Johannes van Dam, awarded Demir with 9.5/10 points for his quality food. "I will keep on working to uphold the honour that Mr. Van Dam gave to me."
Most guests that come for the first time are pleasantly surprised about the richness of the Anatolian cuisine. "When you dine at a grill restaurant, most of the time you will only be served meat. Not in our establishment. Vegetables like paprika and onions are a big part of the cuisine. As well as bread. You can't eat Turkish dishes without bread," proclaims Demir. That is why he always serves it with his speciality: shashliks, prepared with his homemade sauce.
"Our goal is to represent the genuine Anatolian cuisine outside of Turkey as perfectly as we can with delicacies mostly from the heart of Anatolia. Our Amsterdam restaurant serves as the ultimate proof of our dedication," Demir explains. "This location is our perfect corner of Turkish deliciousness," he smiles.
Subscribe to Our Newsletter
Receive our monthly newsletter by email