Afrikan Gourmet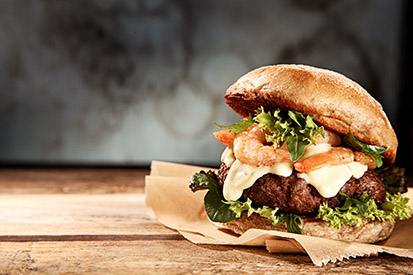 Ask any foodie where to find the most innovative cuisine around the world and food trucks will almost certainly be mentioned. No less so in Luxembourg.
One truck in particular – Afrikan Gourmet – has fast been gaining a reputation as one of the best in the city, producing top-quality, highly original cooking. Afrikan Gourmet – as the name suggests – specialises in African cuisine and is Luxembourg's first African food truck, using locally sourced, high-quality ingredients from Luxembourg to create tantalising African dishes.
The truck is the brainchild of Regine Welter, originally from the Ivory Coast, who realised that the African cuisine she had grown up with was relatively unknown in Luxembourg. Having seen the success of the African food trucks in Paris, she decided to launch a truck of her own in Luxembourg and, after train ing at the Atelier des Chefs cooking
school in Paris, did just that.
Arikan Gourmet's speciality is the ostrich burger. Ostrich meat is a regular staple of West African cooking and is low in calories and cholesterol. The red meat (similar in colour to beef) is not only exceptionally tender, but, above all, flavoursome.
"Ostrich meat," says Regine, "is the standout ingredient which makes our food really special. Although we source our meat in Luxembourg, the ostrich is a native of South Africa and has amazing gastronomic and nutritional qualities. Above all, it's the meat's tenderness which makes it so delicious."
Other Afrikan Gourmet dishes include the best-selling Senegalese classic Yassa Chicken – succulent chicken with
caramelised onions and mustard, Mafé de Bœuf du Sénégal – a beef stew with tomatoes and carrots in a rich, peanut
sauce and, Chakalaka d'Afrique du Sud – a spicy vegetable casserole with green pepper, cabbage, chilies, carrots, curry powder and beans.
There are also veggie burgers as well as a wide selection of salads. All the ingredients are sourced locally in Luxembourg whilst the ostrich meat is provided fresh from quality Luxembourg ostrich farm Straussenfarm de Contern.
Afrikan Gourmet's dishes can be eaten in situ near the food truck or taken away in specially provided, eco-friendly, biodegradable packaging. Afrikan Gourmet's distinctive, elegantly designed, black and white truck can be found at different locations across central Luxembourg Monday to Friday.
Subscribe to Our Newsletter
Receive our monthly newsletter by email