YOOTHA WONG-LOI-SING: Thinking outside the box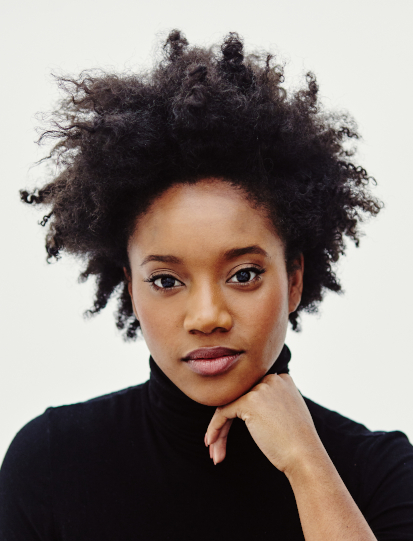 Having earned a name for herself starring in one of America's most talked-about television series last year, rising Dutch actor Yootha Wong-Loi-Sing is making waves on both sides of the Atlantic. The 31-year-old Rotterdam native first caught the public's attention playing house slave Mini-Mini in the 2013 Dutch period drama The Cost of Sugar (Hoe duur was de suiker), a striking performance which earned her a Golden Calf nomination at the Netherlands Film Festival. This cultural polymath is also a talented musician and fashion icon, not to mention her degree in sociology from the prestigious Erasmus University Rotterdam. Principled, profound and oozing charisma, Wong-Loi-Sing is undoubtedly one to watch.
A huge hit on the Oprah Winfrey Network in the States when it aired last summer, romantic drama series Love Is___ is set in 1990s Los Angeles and explores the ups and downs of falling in love. Wong-Loi-Sing portrays Ruby, the on-again, off-again girlfriend of lead character Yasir (played by Will Catlett). It is a role the actor has loved sinking her teeth into: "What attracted me to her was the fact that she's not like me at all, but at the same time she is…Okay, I have to explain that!" laughs the star.
"She's a very caring and loving person, but she doesn't always show it right away. She's the type of woman that builds a wall. So in the first couple of episodes, you don't really see her sensitive side, you see a woman that's been left behind by the love of her life and can come across a little bitter – which I'm not – but at the same time I do have a way of masking my feelings. So I kind of saw that. When I read the script for the first two episodes, my imagination started running wild! I was like, 'okay this seems like the bitter ex – how can we turn this around and make this a multi-faceted woman?'
"I created this whole background story and just kinda transformed into Ruby and figured how I would feel, how I would act, and what my motivations would be. I was like 'oh, i can add this layer in and that layer', and I got excited about the character. That to me is always a good sign – it challenges you to be the best you can be."
Character building
Finding satisfying roles is not easy for a female actor: and the lack of complex parts for women is a hot topic in Hollywood. Has Wong-Loi-Sing found it tough to find parts that inspire her?
"Personally, as a black actor, I only came across a couple of those parts in the Netherlands," she reveals. "Now I'm on a show where I've had the opportunity to build this arc around a character. For a black female I think that's a little more rare in the Netherlands, for sure. But the market is way bigger in the United States so there's a big audience for a show like Love Is___.
"I'm not sure that's the only reason, but I think that's one of the main reasons why there is that opportunity for me, or any black female actor in the United States. There's just a lot more freedom in building characters, building shows, writing scripts and not being focused on colour all the time.
"To be honest, the Ruby part could be any female, she's not essentially someone black. All the stuff that she's going through is universal. The fact that it's a black cast in Love Is___ just gave me the opportunity to play her. I just hope that it opens doors and opens eyes to the fact that things don't have to be so rigid.
"We should get more comfortable to not only see more diverse women on screen, but actually hear them regardless of their background. By showing the 'roundness' of a character it's almost like saying that they deserve to be shown as equal – as complex human beings. And giving them a voice that's telling a story, just like their male counterparts."
Role model
Wong-Loi-Sing's eclectic resume includes acclaimed Dutch director Joost van Ginkel's drama The Paradise Suite, which follows the lives of six immigrants in Amsterdam and was the 2016 Dutch Oscar submission, not to mention lead roles in Dutch friendship comedy Alles voor elkaar (2017) and the horror Sneekweek (2016). The actor chooses her roles wisely, especially since realising her status as a role model for aspiring black female performers.
"I wasn't always aware of it, but all of a sudden I noticed people see me as a role model. Besides the fact I've done nice stuff in the Netherlands, a lot pf people are like 'gosh you're also going to the States!' I get a lot of emails and messages on social media from girls that are wanting to do the same thing but weren't quite sure if it was possible. They see me doing it and think 'okay, maybe there is a way to get there.' Before, they felt they were restricted, but now they feel like there's hope – that's a beautiful thing!"
Being an inspiration for so many younger black woman is particularly touching for Wong-Loi-Sing as she recalls the lack of diversity in acting when she was growing up.
"I had the opportunity to either go to university, or I was also interested in going to music school or theatre school. I ended up studying sociology because I felt I didn't have a lot of black role models in the Netherlands. I was like, 'yeah, it's impossible for me to go into acting the way I look'. I perceived the acting world as hard to penetrate," she recalls.
Intellectual
As it happens, choosing to study sociology over drama could well have put Wong-Loi-Sing at an advantage over her peers. Not only did her degree satisfy Wong-Loi-Sing's intellectual inclinations, her in-depth knowledge means the actor is able to enter into the minds of her characters.
"I'm passionate about the human mind and the psyche – how we interact with people," she muses.
Another of Wong-Loi-Sing's interests is fashion, something that is easy to see when scrolling through her Instagram page. From high-fashion shoots including an appearance in Dutch Vogue last September to her own candid selfies, Wong-Loi-Sing has an accomplished style.
"I look like a tomboy 90 per cent of the time," she grins. "I really like fashion, but not in a way that I'm trying to emphasise labels or a specific look. To me, dressing up – or dressing down, depending on the day – is a reflection of how I feel. It's a big part of my identity – but not the only part."
Multi-talented
One thing which forms a huge part of Wong-Loi-Sing's identity is her love of music. An album has always been on the cards, although getting it made is proving tricky.
"In 2013, right after I graduated in sociology I was like, 'okay, this is the moment that I'm gonna start recording my album'. But the universe was like, 'no, you're gonna do this acting thing first!'" she laughs. "Every time I think I'm finally gonna start doing it, something else comes along. It's still something that I'm working on, but I'm very particular about what I want it to sound like.
"I'm just taking my time, I feel like I don't have to make a choice [between acting and music]," she points out. "Especially after coming back from the States and seeing how Americans have a way of just grabbing everything that they like to do and just doing it.
"Music and acting are my primary focus, but who knows what else may cross my path," she muses. "I mean, why would you restrict yourself and just put yourself in a box?"
The bigger picture
Looking forward, Wong-Loi-Sing hopes to use her platform to help bring about significant changes in society. "I feel a responsibility to not only tell stories on screen that are meaningful, but also use my platform to add something good to the world. I hope that I can get to a point where I can use my voice for more things that matter," she concludes. "I feel like I need to add something more to this world."
Subscribe to Our Newsletter
Receive our monthly newsletter by email