Richard Long Walks into the Rijksmuseum Gardens
TEXT: MELISSA ADAMS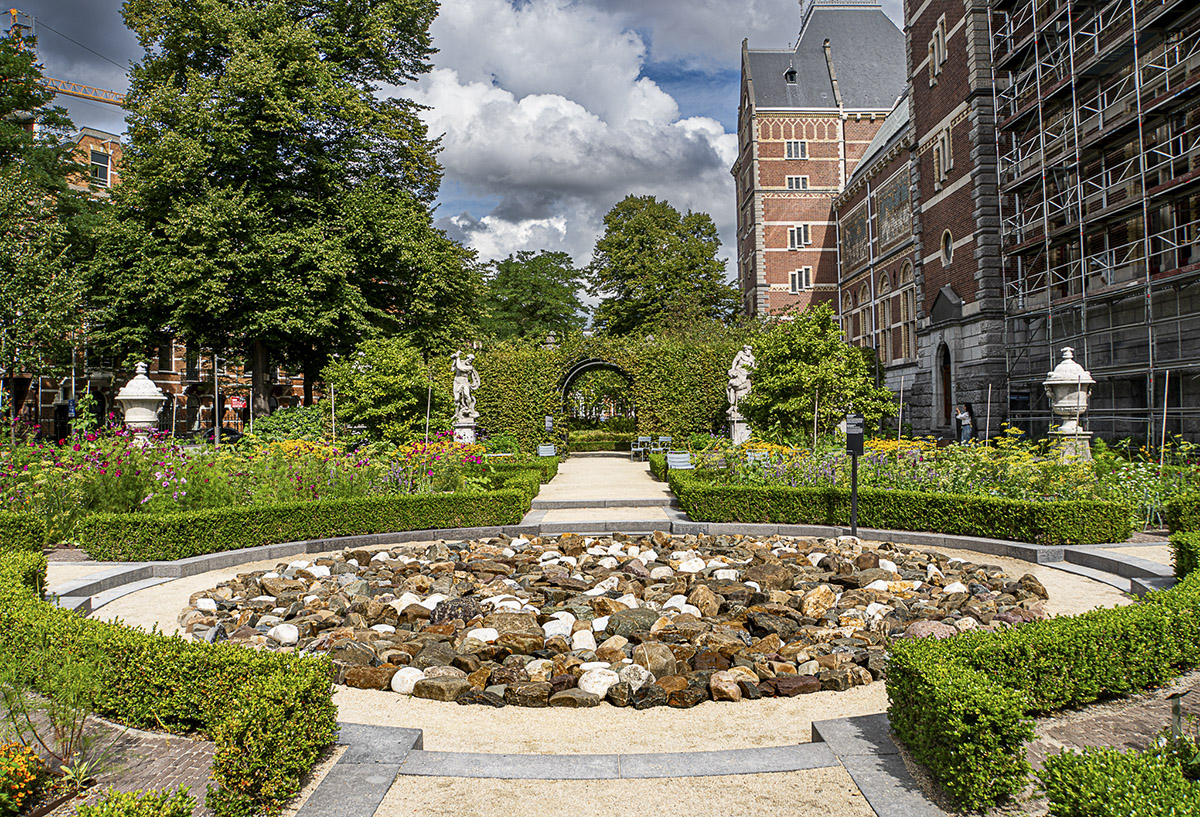 When Richard Long repeatedly walked a straight path in tall grass until it formed a visible line, he unwittingly took the first steps of a contemporary art career that now spans more than a half-century. The 10th edition of the Rijksmuseum Gardens' free outdoor sculpture series celebrates the contemporary British artist who rose to prominence with A Line Made by Walking.
According to an ancient Chinese proverb, "A journey of a thousand miles begins with a single step." Whether that Taoist wisdom inspired Richard Long to take the first of many steps that would eventually form a straight line in tall grass is unknown. What's certain is this: it was the initial move of a signature piece that launched him into artistic prominence in the 1960s.
Born in Bristol, England in 1945, Long was a 22-year-old student at London's Saint Martin's School of Art when he boarded a train at Waterloo Station heading southeast to his home in Bristol. On that June day in 1967, he disembarked in Wiltshire, about 30 kilometres into his 171-kilometre trip. Here, he found the featureless field that would become the backdrop for A Line Made by Walking, his seminal work.
In the grass, Long walked back and forth again and again in a straight path. When sunlight finally revealed a line in the flattened turf, he took an angled black and white photo of his steps' impact. With no corporeal presence, the image reflects a sense of human action on the environment. The act of walking becomes an art form, suggesting art can be created by the foot, as well as the hand. Whether the performance or its documentation is the actual work is up for debate. Reflecting on his first piece themed around transient nature, Long notes, "it was also my own path – going nowhere."
Walking to connect
But the young art student was wrong. His fascination with walking as a means of connecting with the earth and leaving a trace of his journey behind foretold widespread interest in performative art. By challenging traditional notions through works created directly in and with nature, Long became a key figure in the land art movement of the 1960s. Rejecting museums and galleries as the only legitimate settings for paintings and sculptures, exponents protested the "ruthless commercialization" that had seeped into the art world.
Long's discovery of a visual language to express his concerns about impermanence also made him a darling of conceptual art. With landscape installations that capture his physical presence through a trail of meditative acts, he allows the concepts behind his works to supersede traditional aesthetic concerns. With striking simplicity, his minimalistic art reflects connections he establishes with nature and invites contemplation about humanity's relationship with the earth.
Long's first solo exhibition was at the celebrated Konrad Fischer Galerie in Düsseldorf, Germany in 1968. In 1989, he won the prestigious Turner Prize. His work has been showcased in major museums around the world, including the Stedelijk, Museum Boijmans Van Beuningen, Van Abbemuseum, Rijksmuseum Twenthe, Kröller-Müller Museum, and Museum De Pont in the Netherlands.
Now considered one of the world's foremost contemporary artists, Long is known for his introspective approach to art themed around human engagement with nature. Beyond the art world, his work has inspired conversations about environmentalism and sustainability. With subtle interventions in often inhospitable deserts, mountains and forests, he bridges the gap between art and the natural world, reminding us of the earth's fragile beauty. Through walking, Long has defined time and space in remote enclaves in Peru, Bolivia, Nepal and California's Death Valley.
Six new works
Richard Long in the Rijksmuseum Gardens runs through October 29. Of the eight works in the exhibit, six are new. Of these, four "grassworks" return to the dawn of Long's career, using natural materials from the landscape to fashion geometric forms and symbols from ancient civilisations. Created by mowing some sections of grass while allowing others to grow, the new sculptures form a crescent moon, a cross, an undulating plane and a zigzagging band. As the season progresses, they'll be absorbed into their surroundings and eventually disappear, leaving only a museum catalogue as tangible evidence of their existence.
In addition to the works in grass, Long created two sculptures in the gardens from boulders carried by the Maas River to its North Sea estuary near Rotterdam. Two large-scale stoneworks inside the Rijksmuseum complete the exhibition. In the Great Hall, red Indian stones meander across the floor mosaic designed by museum architect Pierre Cuypers in River of Stones 2023, echoing a 2021 work Long created in Jaipur, India. On an atrium floor, Black White Blue Purple Circle is clearly visible from the covered passageway that crosses through the museum.
The Rijksmuseum, partnering with the Centre Pompidou in Paris, has staged annual outdoor sculpture exhibitions celebrating modern and contemporary artists since 2013. With this anniversary edition, Richard Long joins nine other luminaries featured previously: Henry Moore, Alexander Calder, Joan Miró, Giuseppe Penone, Jean Dubuffet, Eduardo Chillida, Louise Bourgeois, Ellsworth Kelly and Barbara Hepworth.
In such an illustrious company, Long's work is distinctive for its horizontal, ground-level orientation. Unlike traditional vertical sculptures set on pedestals, his are literally down-to-earth. Personally installed, then left to the elements, Long's ephemeral sculptures will be reclaimed by nature after his journey to the Rijksmuseum ends. They will endure in Richard Long in the Rijksmuseum, available in English and Dutch, prepared in collaboration with the artist.
Subscribe to Our Newsletter
Receive our monthly newsletter by email