Yachtbroker Monnickendam: The Netherlands has the best used yachts in the world
Text: Michiel Stol
Yachting is becoming more popular than ever, but not everybody wants or can afford a brand-new ship. The market for used ships is therefore growing rapidly, and the Netherlands has a top reputation when it comes to finding used ships. "Nearly half of our clients come from abroad," says Daan Hamburger, owner of Yachtbroker Monnickendam, a subsidiary of eSailing.
"Dutch used ships are in very high demand. And luckily, there is quite a large selection of yachts that are in good condition. This is because most of the Dutch ships sail in fresh water. So, there is much less wear on the ships than on those that mainly sail on sea," elaborates Hamburger. "And we love our ships, so we tend to take really good care of them." A passion for ships and sailing has always been present in Hamburger, and it is what drew him into becoming a yacht broker. "I started as an insurance broker, but felt I wanted to do more with ships. I started working in the chartering and delivering of sailing yachts, as well as organising sailing trips with classical yachts, and even an America's Cupper."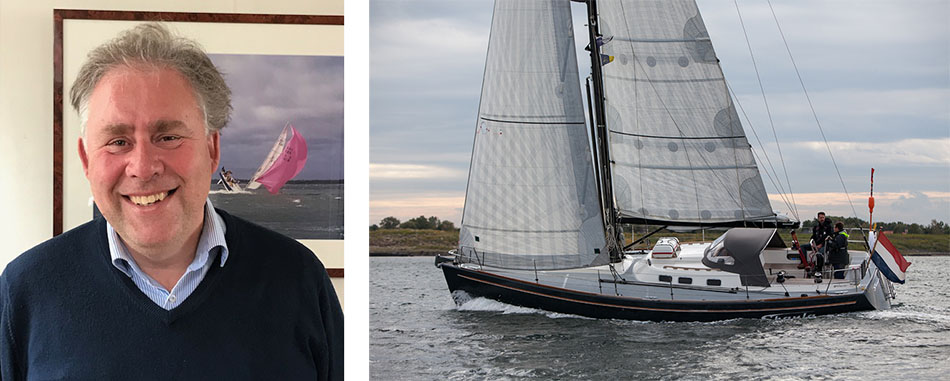 From appraisal to finalising the sale
Yachtbroker Monnickendam buys and sells used motor and sail yachts from their own marinas on the Markermeer and the IJsselmeer. "Since the financial crisis in 2008, a lot of new ships haven't been introduced, so the demand for used ships from after 2008 is very high," Hamburger explains. He has been a licensed appraiser and sworn yacht broker for over two decades and is also a board member of the Yacht Brokers of HISWA, the Dutch association for water sports companies. "We provide a full service, from the appraisal of the ships, to the sale and all the necessary paperwork and insurance." Yachtbroker Monnickendam is also the only Dutch reseller for Sentijn, a semi-custom luxury sailing yacht.
"There is definitely a difference in selling a motor yacht versus a sailing yacht. People who are looking for a motor yacht usually have a general idea of what they are looking for, whereas someone who is looking for a sailing yacht is more specific in their wishes. That difference makes it all the more fulfilling when we find the right ship for them. Because that is why we do it: developing a connection with people so we can help them to find their dream ship."
www.jachtmakelaarmonnickendam.nl
Subscribe to Our Newsletter
Receive our monthly newsletter by email