Xpooos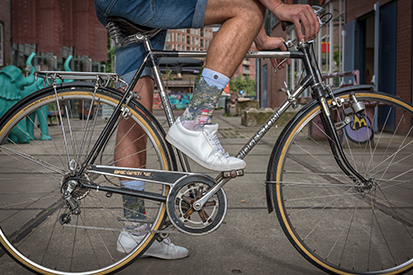 The art of socks
TEXT: ARNE ADRIAENSSENS | PHOTO © XPOOOS
Over the last few years, the colourful sock-revolution has reached millions of drawers worldwide. While marine blue used to be the most daring colour to wear to the office, leopard prints and Mickey Mouse now play the lead under many desks. As an expert in fun and comfortable footwear, XPOOOS cheers up all of Europe with their whimsical creations.
The name XPOOOS, spelled with its three Os – for original, outstanding and out of this world – is as vibrant and extravagant as the socks they produce. Their story kicked off in 2014 when a desperate need for unique footwear arose. "People were fed up with classic socks," sales manager Michiel Bierens explains. "We've introduced a photo printed alternative to spice things up."
This technology makes every colour and design possible, but many companies struggle with delivering a comfortable sock. "You can only print well on polyester, yet that isn't very soft. That's why we add a layer of cotton on the inside as a soft surprise. To top it off, we stitch on the toes by hand and add a real cotton heel for extra comfort."
Their foremost strength, however, is their limitless fantasy and wide range of styles. "Rather than using abstract prints, we tend to work with objects, animals and people; cars, bears and cyclists, for example. With our designers spread around Europe, we notice trends in a heartbeat and quickly catch up with them."
Recently, XPOOOS launched a charming bamboo yarn collection, to offer the best quality and softest feel with high fashion value. XPOOOS will continue to innovate and invent, so be sure to keep an eye on their latest products.
Subscribe to Our Newsletter
Receive our monthly newsletter by email