WE LIKE YOU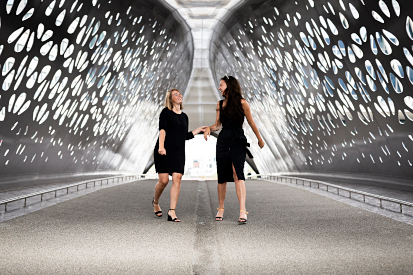 How to be social: the business edition
TEXT: EVA MENGER | PHOTOS © WE LIKE YOU
Despite it being as ubiquitous as this summer's heat, some Belgian businesses are still reluctant to jump on the social media bandwagon. Whether it is due to a lack of tangible profit or confusion around its actual impact: WE LIKE YOU, Belgium's first social agency, is here to change that.
"We were very young when we decided to just jump into the deep-end," founding partners Joyce Poelmans and Eva Ketels admit. They were both working for the same advertising agency when they realised they wanted to purely focus on social, and that is how WE LIKE YOU was born. Offering everything from strategy building to devoted community management and branded content creation, the agency is invested in showing clients just how much social media can do for them. "It's a common misconception that just being on social media is enough, but if no real thought goes into it, results will inevitably disappoint," Ketels says.
Having a plan in place is the key to success, as is being consistent in your branding. Customers should be able to recognise your brand from the copy you use to the memes you share – "and that's another thing people forget," Ketels continues, "that social media isn't free." Creating unique, quality content costs time, and so does actively engaging with your community. It's not something you can just do in addition to another full-time role – it needs a lot of attention.
Judging from the great success WE LIKE YOU achieved in its first two years, with clients ranging from Benecol to Kinder and Devos & Lemmens, this means that businesses are increasingly looking for expert agencies. For companies not sure if social media is for them, working with an agency that puts strategy first is essential. WE LIKE YOU's young and experienced team always make sure they know exactly what they are doing and what impact it will have. "It happens that clients ask for a light version of our proposal as they think our ideas are a bit extreme," Poelmans says, "but, however challenging, it is our goal to take away that restraint."
So why should a company be social? Firstly, it is one of the best ways to reach a specific audience due to various targeting options. Also, there is a channel for every industry: if not on Instagram, your clients will be somewhere else. And lastly, it is simply a boat you do not want to miss.
And if that is a boat that you do not just want to be on, but perhaps steering too, WE LIKE YOU is currently recruiting social talent!
Subscribe to Our Newsletter
Receive our monthly newsletter by email