Waterkant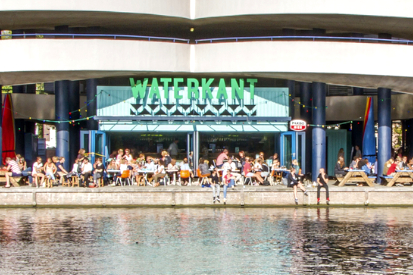 Tropical vibes in the centre of Amsterdam
TEXT: XANDRA BOERSMA | PHOTO: KIRSTEN VAN SANTEN
You will notice when the sun is out in Amsterdam – not just because of the sun itself, but because Waterkant will be packed. This is the largest sun terrace in the city centre, where locals and tourists hang out by the water – relaxing, enjoying a cold drink.
When visiting Waterkant, it may be hard to picture that this used to be abandoned territory. A place behind a petrol station where you would not want to be after dark. Now, it is quite the opposite. Colourful lights are dangling above the water, just like the legs of the people who are chilling by the edge.
"It was a shame that the area was neglected for so long," owner Brian Fernandes says. He discovered the location. "I used to go there with friends, bringing my own beer and food, and thought 'why not give more people the possibility to enjoy this'?" Fernandes visited Suriname on a regular basis. "They have a place there where different cultures come together. I wanted to create a place in Amsterdam where everybody feels welcome."
That place is Waterkant. The Surinam inspiration is well represented on the menu –roti, saoto soup and chicken masala – and beer to enjoy together at the long picnic tables. "We hoped that the communal tables would make people who don't know each other start talking – and they do." Penders ensures that there is something for everyone on the menu: "It's important for us that all cultures can come together here. That's why we also serve burgers, Heineken beer and bitterballen. We're not in Paramaribo, after all, we're in Amsterdam."
As of last year, Waterkant also has its own beer brewed by a fellow Amsterdam based business: Brouwerij 't IJ. The beer is called Biri and has a tropical taste. According to Fernandes, it is "a craft beer that's sweeter and lighter than a regular craft beer – perfect for hot summer days."
Every Friday and Saturday night after 11, we push aside all tables and a DJ will spin some records.
This September, Waterkant celebrates its fourth anniversary with a three-day festival called Friyari. "The vibe is amazing; it's going to be a great party!"
Subscribe to Our Newsletter
Receive our monthly newsletter by email