Bourgogne des Flandres: Innovation and a case of déjà brew
Text: Chérine Koubat | Photos: Clifford Lucas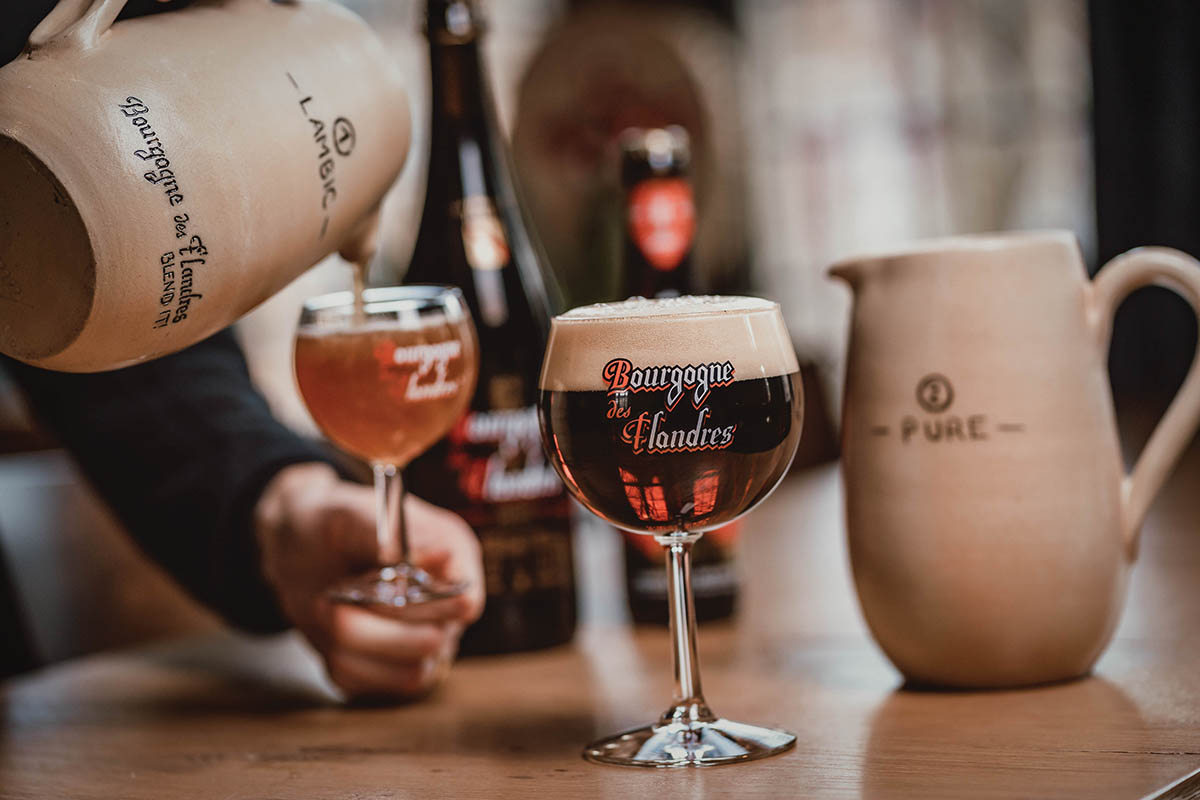 The eponymous, flagship beer of the Bourgogne des Flandres brewery is a special one. Despite being a century old, this local favourite, now a true classic, continues to surprise with its tangy taste and blend of two unique brewing techniques. True to the spirit of innovation that was at the very heart of its creation, the brewery is back where it all began, with an intoxicatingly playful approach to beer making.

A beer with nine lives
"It is one of only two breweries left in Bruges today," explains brand manager Matthias Deckers, "though the city was home to over 30 active breweries at one point." Bourgogne des Flandres may seem like a relative newcomer, but its story dates back to a farm-brewery in Loppem in 1765. The brewery only opened its doors, under a different name, in Bruges in the 1800s, and its famed concoction was created just before World War I. Despite an eventful journey and the closure of the brewery, the beer lived on, and eventually ended up in the hands of the oldest lambic brewery in the world, Timmermans.
"It is brewed in keeping with ancient Flemish traditions," explains Deckers. "It is a mix of two different styles of beers. The Bruinen Os is a top-fermented dark beer which is brewed on site and blended with lambic from Timmermans, a beer aged in wooden barrels for a year." The result is a reddish-brown drink with a complex flavour and a sour mouthfeel. According to Deckers, "it is best savoured with a cheese platter and is the ideal drink for aperitif."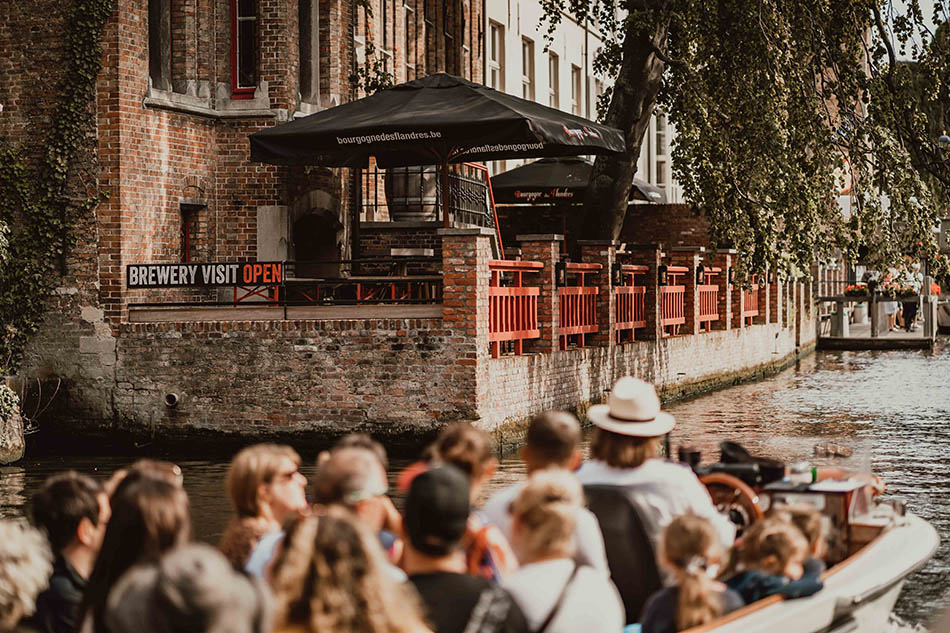 Old techniques, new haunt
It has been dubbed the most romantic brewery in the world, and it's easy to see why. Set in the centre of the medieval city, a mere 80 metres from the belfry, it is housed in a historic brick building complete with a modern and characterful glass walkway. Post-visit tastings are held at the bar, which is open from 11 am in a bid to quench the thirst of passers by, and boasts a beautiful terrace overlooking the canals. The loft, where the Bruinen Os beer is currently brewed, exudes malty and hoppy aromas.
The space has a cool, trendy feel, combining an eye-catching mix of brewing apparatus and warm, playful touches. The staff wear minimalist graphic black t-shirts stating 'brew crew'; funny slogans, like 'save water, drink beer' are peppered around the interactive tour, and a birds-eye view of foamy, fermenting wort in an open cooling basin comes with a warning: 'Beware the power of yeast'.
The visitor-friendly approach is palpable throughout, and a sense of pride permeates each visit. The informative, interactive tour allows visitors to meet the brewer in the loft, tap a beer digitally and take selfies that can be printed on a bottle to take home.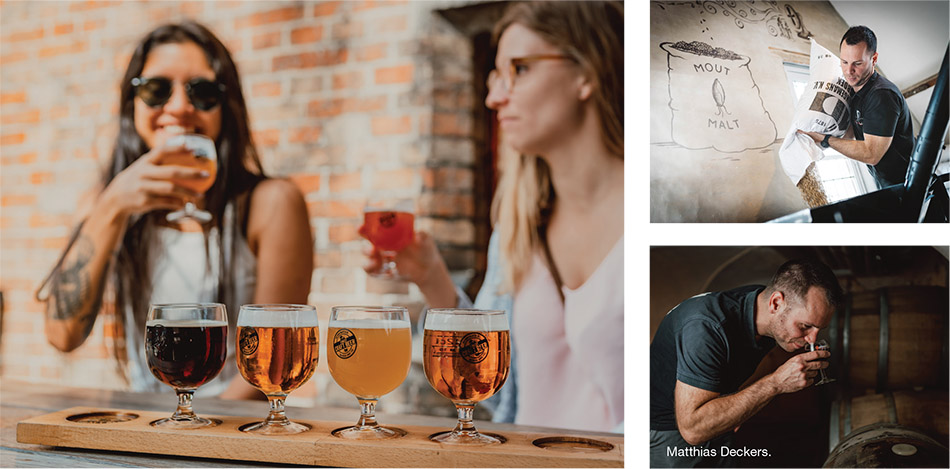 The new frontier
The same spirit pervades the production side. Young master brewer Thomas Vandelanotte, born and bred in Bruges, is the man behind the brewery's adventurous production. A series of ephemeral beers, called Brewer's Playground, allows him to let loose while exploring new techniques and processes.
His creations, all named after songs, are exclusively available at the brewery for a period of three months. Kilning in the Name included oats Vandelanotte kilned himself in the visitor centre kitchen. Love potion N4 was a floral blend of chamomile, mistletoe and violets with a kick of jalapeño and habanero, while Orange Crush, with rosemary and fresh blood oranges, was a fruity and vibrant session IPA.
Honing his skills and feeding consumers' appetite for novelty in one go, Vandelanotte is brimming with ideas. "Today, there are no real limitations. Even recycling a Christmas tree in a creative way is an option," he enthuses. The sky's the limit.
Visit Information Visitors can choose to visit the brewery on their own or with a guide. All texts are available in Dutch, French, English and German. Audio guides are also available in Spanish, Italian, Japanese, Portuguese, Chinese and Russian. Bourgogne des Flandres has a lift, making the brewery and bar easy to access for wheelchair users and people with reduced mobility. Web: www.bourgognedesflandres.be
Subscribe to Our Newsletter
Receive our monthly newsletter by email