Versuz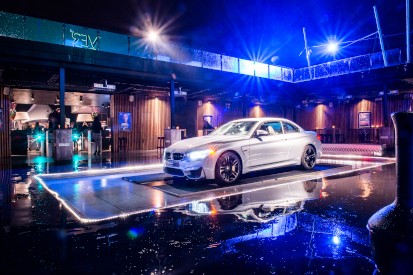 Belgium's premier club is the best place for your event
TEXT: MICHIEL STOL | PHOTOS © VERSUZ
Whether you want to create a spectacular product launch, organise a seminar or have the best afterparty you can imagine, there is no better place for all these events than Versuz in Hasselt. "It's not just DJ Mag's number 49 club in the world, it is a unique venue with endless possibilities," says Yves Smolders, general manager of Versuz.
Versuz is located on the outskirts of Hasselt, close to Antwerp and the Dutch border. "From 2002, you could find us in the city centre near the Albert canal. That area was reallocated and in consultation with the municipality, we relocated to Park H," Smolders explains.
Park H is one of the biggest event venues in the Benelux, with two major event halls, a theatre, a restaurant and, of course, club Versuz. It is an ultramodern and stylish complex with several multi-purpose halls and Belgium's biggest club that can hold up to 3,000 people. "Each room has its own unique atmosphere and can be adapted to your wishes and the needs of your event."
Each room has its own style
You immediately feel a unique atmosphere from the moment you enter Versuz and walk on to the patio with its relaxed vibe. "It's perfect for a casual drink with colleagues or as a reception area for your event, no matter what season it is," continues Smolders.
The patio has its own heaters and can be partially covered, should the rain try to interfere with your event. "It's no problem getting yourself and your guests in the right mood with our fantastic sound system. And, of course, there's a fully equipped bar and an on-site snack bar."
Inside Versuz there are different rooms, each with their own theme. The eye-catcher is undoubtedly the main room where everyone can party to their heart's content during the evenings on which Versuz is open (Thursday, Saturday and Monday every week, plus special events on other days).
"On Thursdays, Saturdays and Mondays, the biggest DJs play here for up to 2,000 party-loving people. On other days, the venue can be used for your B2B-events, from product launches to conferences," Smolders continues. "The room is equipped with a mobile stage, large LED screen and more than 200 moving lights, so you don't have to organise your own technique. It is already here, ready to use."
Whiskey, beer and cocktails
For large groups, it is possible to open the balcony, giving a superb view of the spectacle below. In addition to the two bars in the main room, the balcony also has its own fully equipped bar. "Adjacent to the balcony you can find the VIP-room with cosy armchairs and a sleek interior. Guests in the VIP-room can have their own cloakroom and toilet facilities."
At Versuz, you will also find an exclusive whiskey and cigar lounge, a Belgian beer café and the patron room, perfect for medium-sized events. It has its own sound system and bar, so it can be used as a separate venue.
"In the summer months, we also open Ipanema, the coolest pop-up summer beach club. Along with the patio, it's a great venue for a summer wedding or corporate barbecue, for instance." In the winter months, the beach club transforms into the legendary Moose Bar, a realistically decorated après-ski lodge. All these areas have their own style and unique feel. "Don't just take my word for it: take the virtual tour on our website and see for yourself," Smolders smiles.
A complete event for everybody
Because Versuz is located at Park H, you can organise any event you want. You can hold a conference in the Ethias Theatre, dine in the superb Ristorante Crudo and have your afterparty at Versuz. Yves Smolders and his team will help you organise your event from A to Z, if needed.
He concludes: "We are a flexible partner, which means that you can organise your event yourself and hire Versuz just as a venue, or we can plan the entire event with you, from styling to catering services and hotel arrangements." With the help of a wide array of concepts, you can create the perfect event, no matter if you are a multinational corporation, a local business owner, a family or a group of friends. Versuz is the perfect venue for everybody.
Subscribe to Our Newsletter
Receive our monthly newsletter by email