Scaling the sandstone of Berdorf, Luxembourg
TEXT: LIAM GREENWELL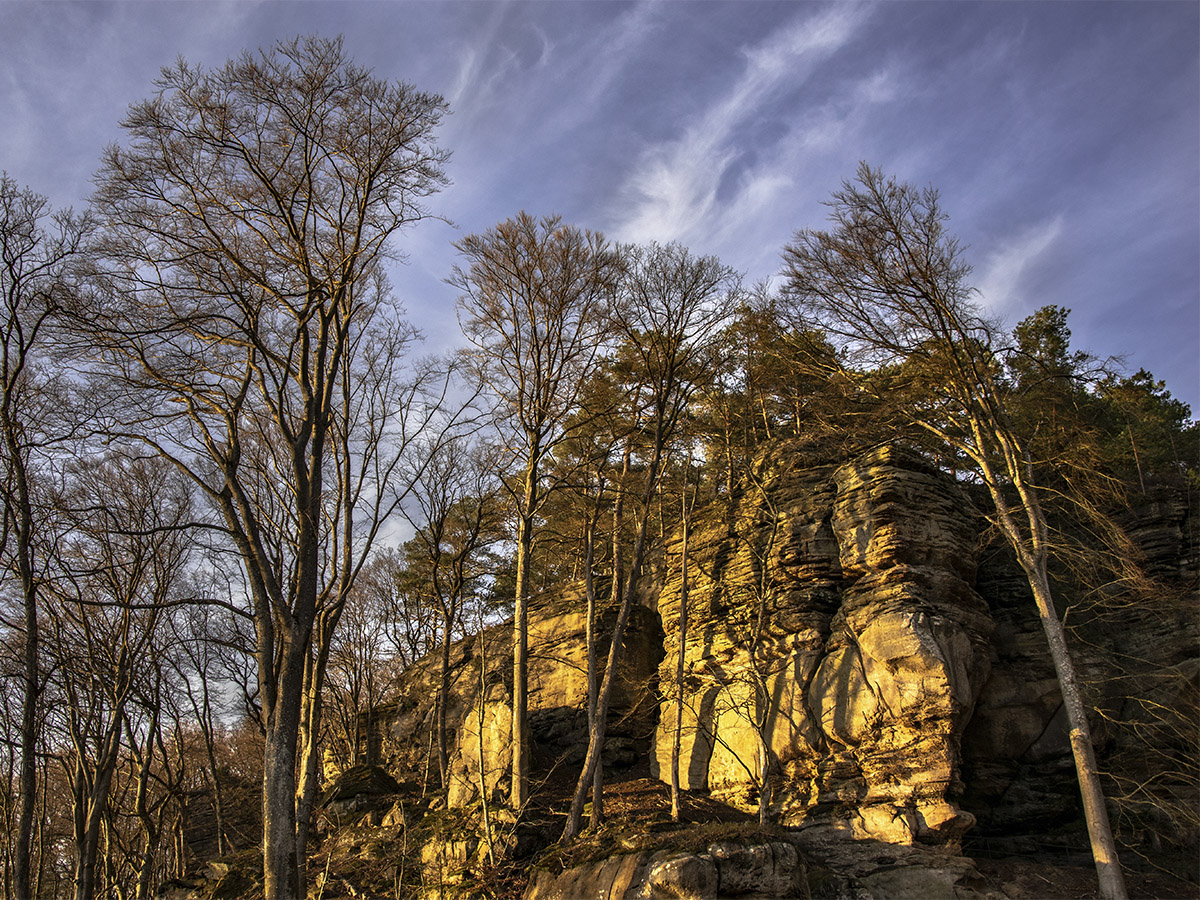 Nestled in the northeast corner of the Grand Duchy of Luxembourg, the seventh-smallest country in Europe, the town of Berdorf is a haven for adventurers. The surrounding region, called Müllerthal, is known as Luxembourg's 'Little Switzerland' thanks to its craggy landscape and fairytale forests. Here, visitors scale sandstone rocks that require a high level of technical skill – and thoughtful preservation.
On the crags
When pulling into the Berdorf climbing area, the first thing you'll see is the monumental Wanterbaach rock face. The ridged stone rises into the sky and offers a playground to rock climbers across Northern Europe. In total, there are around 170 routes along the rock face, a number that grows every year.
Bolt in with your buddy and make your way up the faces, most of which reach around 30 metres off the forest floor. Though Berdorf can be fun for multiple skill levels, the majority of runs are between 6a and 7c ratings, which means that they are best for climbers with high-intermediate experience. The runs reward patience and practice. With enough time and a 60-metre rope, visitors make it to the top and turn around to see sweeping views over the Moselle River and beyond Germany.
While taking a rest, explore deeper into the rock formations. The area is full of narrow gorges formed by centuries of water carving through the soft sandstone, leaving high, curvy towers in its wake. The area is a veritable labyrinth of stone, unlike anything else in the region.
Sandstone spectacle
Berdorf is one of the most remarkable spots in the world for climbing on sandstone, but visitors should know that the environment requires a special set of rules to preserve its integrity. Climbing on rock that is wet or damp can lead to its disintegration, so make sure to wait at least one day after rain, and possibly up to three following a major storm. That can make the rock 'chossy' (a climbing term that means 'loose and unstable'). Even if the rock is dry, make sure to clean your shoes well before each climb in order to avoid further erosion of holds and grips. Finally, try to use a minimum of chalk as the buildup of the common climbing substance can also damage the routes.
Follow these rules, though, and you'll be treated to a climbing experience that feels unique, compared to other outdoor and indoor ascents. Sandstone is easy to maintain a grip on because of its gritty texture, so that lack of chalk may not be a huge problem.
The trip does require some planning. Though climbers are no longer required to get a permit, they must be a member of a climbing organisation that is affiliated to the UIAA or IFSC (which many international organisations are). Once you check those boxes, though, you'll see why Berdorf is one of the top climbing destinations in the Grand Duchy.
Rest days
There's plenty to do around the Berdorf if you're not a climber or you're taking a day off. Start in the storied town of Echternach, the oldest settlement in Luxembourg and home to a Benedictine abbey founded all the way back in 698. In 2008, the town was also named a 'European Destination of Excellence' for its longstanding role as a cultural capital of Luxembourg.
For visitors who prefer hiking to climbing, the Müllerthal Trail winds for 112 kilometres through the entire region of Little Switzerland. Make your way through sheltered forest glades, past cascades, and end in small towns that provide a peek into the region's past.
Visitors also shouldn't miss exploring more of the spectacular geology of the region. 'Hohllay', which means 'hollow rock', is an amphitheatre-shaped cave whose undulating curves are reminiscent of the inside of a seashell. This isn't a normal cave, though; it is actually man-made, having been used as a quarry during the Roman Empire over 2,000 years ago.
Whether visiting Berdorf to make a pilgrimage to one of the best sandstone climbing walls in Europe or if you happen to be more attracted to the region's history and culture, travellers will find a unique place whose natural beauty and opportunities for adventure are much larger than its size would suggest.
Subscribe to Our Newsletter
Receive our monthly newsletter by email