Van Abbemuseum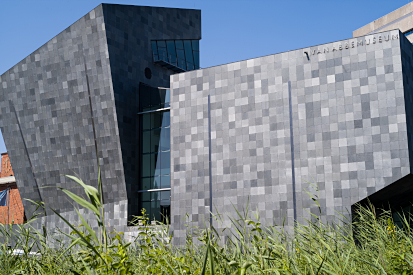 30 years of award-winning art
TEXT: XANDRA BOERSMA | PHOTOS © BOUDEWIJN BOLLMANN & PETER COX
With an extensive collection of over 3,000 works of art, the Van Abbemuseum in Eindhoven is one of the most renowned museums of modern art in Europe. The museum, with its distinctive architectural design, lies on the edge of the city centre and is filled with works of art by world famous artists such as Pablo Picasso, Oskar Kokoschka and Joseph Beuys, to name but a few.
From 14 July until 30 September, the museum also features the 30th anniversary exhibition of Dr. A.H. Heineken Prize for Art. It includes more than 75 extraordinary pieces by the 16 laureates of the Dr. A. H. Heineken Prize for Art. From the first laureate in 1988, Toon Verhoef, to Erik van Lieshout, whom the prize has been awarded to this year.
The works range from paintings, sculptures and photography to graphics, video installations and design. They offer an overview of the Dutch artistic landscape in recent years, filled with contrast and diversity. New works by Erik van Lieshout and Yvonne Dröge Wendel have also been created especially for this occasion.
It is not a coincidence that this exhibition is shown in the Van Abbemuseum. Director Charles Esche explains: "We have a long relationship with the Dr. A. H. Heineken Prize for Art. Our former director Rudi Fuchs and conservator Steven ten Thije have both been members of the jury and the art of eight of the former winners belongs to our permanent collection."
With more than 3,000 works of art in its collection, a visit to the museum might appear overwhelming to some. So the Van Abbemuseum has created the 10+1 tour, composed by its own curators. It highlights 11 beautiful pieces that summarise the collection and show how artists experience the world around them. A great way to discover the museum!
Subscribe to Our Newsletter
Receive our monthly newsletter by email