True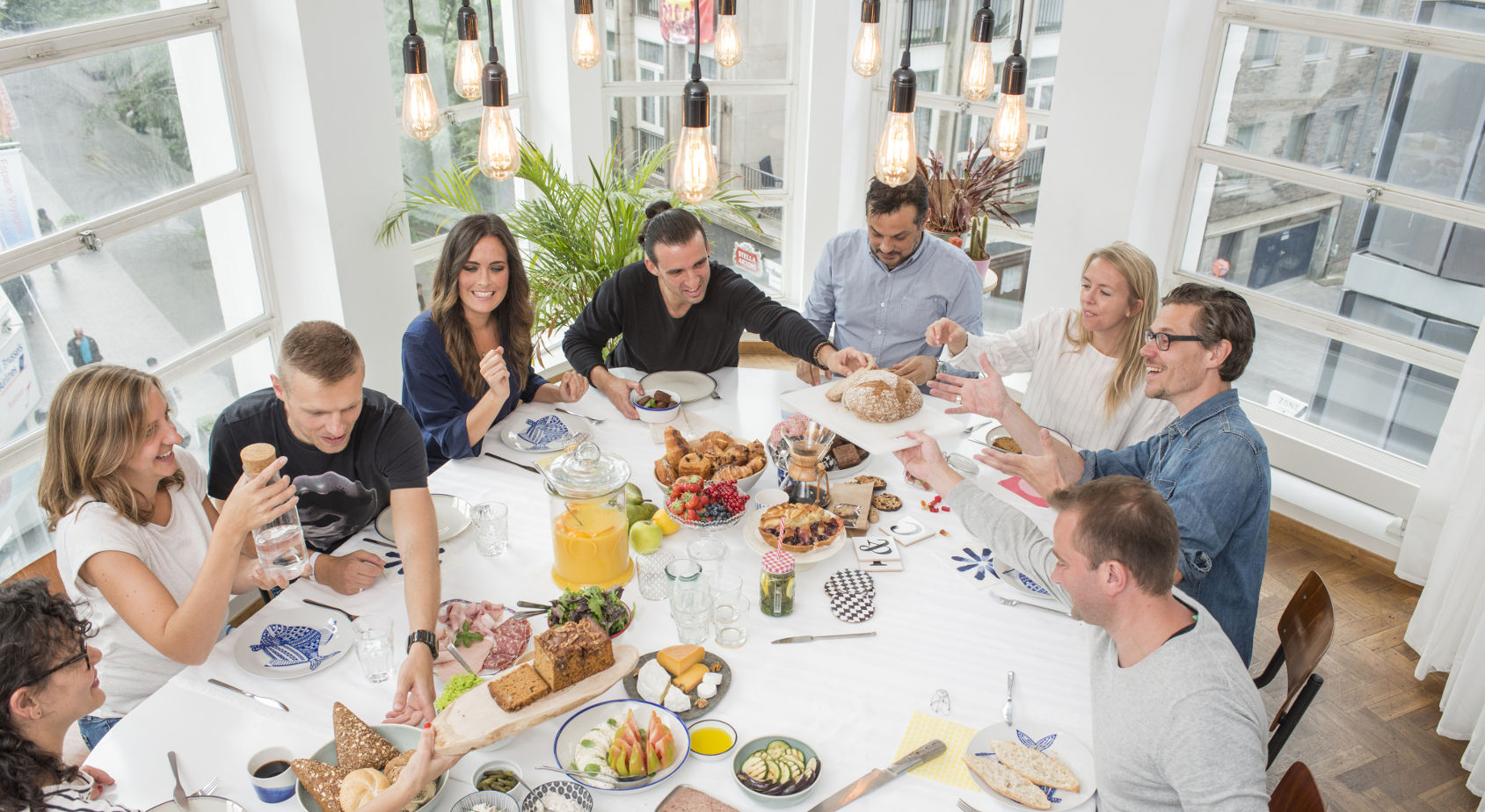 An appetite for food branding

TEXT: MYRIAM GWYNNED DIJCK | PHOTO © TRUE.
What happens when you put together a team of passionate foodies with a talent for branding? The answer is: true. This marketing and communication agency is Belgium's specialist in the food and drinks industry, and it has a real hunger for branding excellence.
Covering all aspects of marketing and communication, true. taps into Belgium's rich food culture. Its clients range from independent bakeries and restaurant popups, to the food service industry as well as major brands such as Haribo, Heinz, Galbani, Farm Frites and Waldkorn©.
true. helps its clients develop strong brand cultures. Senior account manager Joana Rodrigues: "A brand is something you buy. A brand culture, however, is something you truly experience. To build such a brand culture, we first define its DNA and brand story. Then we develop the visual concept, which we consistently apply on every touchpoint, to get the full brand experience across to customers, but also to suppliers and staff."
At true., a full brand experience is so much more than visuals and slogans. Mike Beyers, strategic and creative copywriter says: "Food impacts all of your senses, so food branding should do so too. We get that full sensorial experience across to various target groups, with photography, copywriting, video, packaging materials… that do not only appeal to your sight or hearing, but also to your sense of smell, taste, or even feeling."
Agile expertise
With a team of ten creative and strategic experts, true. has the agility of a small agency but – assisted by an extensive network of professional contacts – they can provide expertise in every food branding project. "At true. everyone has a passion for food," Rodrigues continues. "We all have our own interests, from food styling to healthy eating."
The company was set up by David Claeys and Robin Manso in 2002, initially called thepubagency. This was soon changed to true., a short but meaningful name that reflects their values, says Claeys. "Because we are dealing with products that people eat and drink, sincerity and truthfulness about the product are essential. We help brands to be truthful to their own values and identity."
Rodrigues adds that this also reflects back to themselves. "It's about knowing your own identity and being consistent, honest and true to yourself."
The taste of success
In order to achieve the best results, true. works with its clients on a partnership basis and fosters these relationships even after a project is completed. "This is not a one-sided client-supplier relationship," explains Rodrigues. "Instead, we will work together with the client, jointly come up with ideas and work out strategies together."
As a food brand, making choices is imperative. With an abundance of products, brands have to set themselves apart and appeal to their target audience. She continues: "You need to decide: who is your customer? The next step is making sure they will recognise you."
Claeys says: "When it comes to food, people make very conscious decisions. Thanks to recent food crises, people are more cautious. Thus, it is key for brands to be honest in their communication."
From auction to retail
Amongst other inspiring projects, true. is proud of its work for BelOrta, the largest cooperative auction in Europe for fruit and vegetables. BelOrta wanted to diversify into setting up an A-brand. Under their tagline, which translates as 'surprisingly pleasant', true. crafted a refreshing layout with stunning photography, focusing on the fun of fruit and vegetables.
Rodrigues: "Most fresh fruit and vegetable brands focus on one product only. BelOrta, selling dozens of products, is an atypical brand. So we created a new visual identity together with a five-year strategic plan."
A new brew from the abbey
A completely different project involved the beer, cheese and bread of Averbode Abbey. To create a meaningful and resonating brand for the abbey's product range, true. delved into its history.
"After an intensive process, we build a truthful brand story and appealing style guide for Averbode abbey," says Claeys. "And we did it successfully: sales figures for the brand new range were far higher than anyone predicted."
Subscribe to Our Newsletter
Receive our monthly newsletter by email