Trideus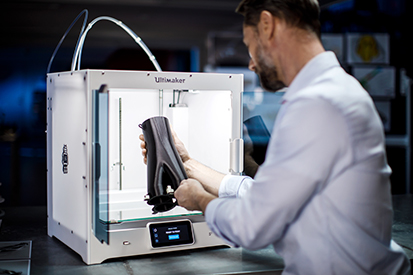 The innovation-supplier
TEXT: ARNE ADRIAENSSENS | PHOTOS © TRIDEUS
Buying a 3D-printer is not as easy as it looks. The big and diverse market knows massive differences in price, quality, type and complexity. Trideus, Europe's biggest all-round supplier of 3D-printers, helps you pick out the model that suits your business like a glove.
'A 3D-printer is a 3D-printer', you might think. Yet, Jesse Buteneers, founder of Trideus, respectfully disagrees. His massive online and offline business is specialised in providing companies with the best printer for their needs. "The world of additive manufacturing is very diverse," he explains. "You can find basic models for just 200 euros and professional machines with a price tag of over three million. The trick is to find the one that does what you want it to do, but not more." Though Trideus only offers printers from 2,000 to 300,000 euros, the variety is still dazzling. To ease up the selection process, they offer you the help of their specialised consultants. "First, we get to know our clients, their businesses and their aspirations. Then, we pinpoint what features they are likely to use and from which they won't benefit. That already narrows it down a lot."
For many sectors
With 12 different brands of printers on the shelves, Trideus is the biggest autonomous supplier in the Benelux. "Our clients benefit from that," Buteneers emphasises. "Those brands aren't direct competitors of each other, but all offer their own, patented product. Therefore, it is very interesting for businesses to get advice from someone who isn't linked to any of those specific brands, but wants to sell you the ideal machine instead." Their client base surpasses the borders of sectors too. Not only factories like car or plane manufacturers use it: plumbers, for example, use it to print specific shapes of pipes and old-timer devotees can even print those car parts that are not available anymore. The possibilities are endless, yet, you need the right printer for your specific goal. "Our arsenal exists out of plastic-, metal- and ceramic printers. What suits you best depends on your plans. Will you make pretty prototypes to show to clients or should your result resist the heat of a car engine running nearby?"
A promising evolution in additive manufacturing is its use in the medical sector. Trideus has a special department for the dental industry with specialised consultants. "The big advantage of 3D-printing over the classic methods of manufacturing is that you can quickly and cheaply create unique pieces. A prosthetic tooth is a good example of that, since it will only fit in one mouth. With special printers and biocompatible materials, we can already print temporary crowns as placeholders until the final crown arrives. If this technology keeps developing, we might be able to print the real crowns in a few years." This could make dental care considerably more affordable in the future. Today, the production of night braces costs about 180 euros. If printed, this could be pushed down to just three euros, or one and a half per cent.
Print on demand
Naturally, the implementation of additive manufacturing in your company is a process. The model you buy today to experiment with will not necessarily be the one that sticks. "We always follow our clients on their journey. Usually, companies start by buying a smaller, cheaper model to experiment with. Half a year or a year later, they come to buy a second or third printer, or they decide to scale up to a more advanced model. We advise them on their path of growth by evaluating their needs and rethinking what is best for them." Those who want can also lease a printer from Trideus, giving them more flexibility.
If you only have to 3D-print every now and then, you can consider asking Trideus to print it for you. In their professional print shop, they manufacture their clients' objects on demand. "Some companies, like designing offices, only need a printed prototype a few times a year. For them, it can be more economical to outsource this task to us, rather than buying a printer themselves. We also specialise in printing in industrial plastics, which can resist heat, for example, and making sizeable prints, like objects of a cubic metre."
In the future, Trideus aims to become the number-one reference for additive manufacturing in the Benelux. "Our service sets us apart from other suppliers. We understand what companies are going through while implementing 3D-printers in their plants. Therefore, we provide trainings for working with the specific hard- and software, and assist with maximising the positive impact the technology can have on your company. More than just a supplier, we are a partner and ally in lifting your business towards the 21st century."
Subscribe to Our Newsletter
Receive our monthly newsletter by email