Digital Dot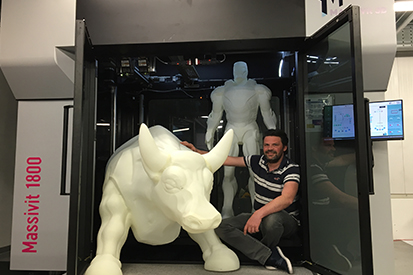 A new dimension for professional print service providers
TEXT: MYRIAM DIJCK | PHOTOS © DIGITAL DOT
It takes just one phone call and a printer running into issues will be working again within a day. That is the strength of Digital Dot, a professional service for emergency repairs, maintenance, inks and consumables for super-wide format digital printers. "As soon as we hear about a machine with issues, our technical team jumps in the car to fix it," says Sofie Demeyer, co-manager of Digital Dot.
Super-wide format digital printers contain many delicate components that can cause unexpected problems. To minimise the impact of this, Digital Dot in Belgium delivers a one-stop-service to resolve them, usually on the same day.
Demeyer says: "Clients want to have a single number to call in case of a problem or a need. We offer that service, from ink top-ups to technical support and regular maintenance schemes. We also have a large stock of spare parts as well as second hand equipment."
Setting the bar for the industry
Digital Dot was founded in 2007 by Nico Desmedt, who, by then, had already earned his stripes in the digital printing industry for several years. He found that the fractured and costly technical support offered by the printer manufacturers was often not responsive or flexible enough, especially in case of an emergency.
Filling that gap in the market, Digital Dot set out to offer a quick, reliable and personal service to many businesses in Belgium, the Netherlands, France and Germany.
Super-wide format digital printers
Digital Dot focuses on super-wide format digital printers, with a printing width of two to five metres. "They typically produce billboards, adverts, shop interior elements, truck tarpaulins or printed panels, canvasses or any other surface you can print on," Demeyer says.
Digital Dot also offers 'Digital Dot Certified' printers. She adds: "We completely recondition second-hand machines so they are effectively as good as new, but for a far lower price. It can be a great solution for a printing company that does not have the budget to buy a brand-new digital printer."
Taking on a new dimension
Recently, the company has ventured into a new field. In 2017, Digital Dot became the official Benelux sales partner of MASSIVit, a company that builds large 3D-printers aimed at the visual communications market.
"These printers are the only ones in their class," says Demeyer. "Instead of using the well-known plastic filaments, the machines print with a liquid, semi-transparent gel that instantly hardens under UV exposure. The gel does not need any support construction and its opaque nature allows for light to shine through."
Bespoke 3D retail design
Demeyer: "The mission of print service providers is to make their customers stand out. Imagine how adding a 3D element to a 2D campaign can boost the visibility of a customer."
There are endless applications for product displays, fairs, promotional campaigns and event props.
Another impressive feature is the speed at which the machines print. Demeyer: "A life-size perfume bottle of 1.20 metres tall can be completed in about two hours. You can also print custom channel letters, as you can use any font, shape or form imaginable, soft signage frames or thermofolding moulds."
Having sold the Benelux' first MASSIVit 3D-printer to 3D Next Level last year, Digital Dot is proud to announce the sale of a second machine in the Netherlands. "As we are based in Belgium, we are also really happy to announce the first sale in Belgium to 3Motion. These early adopters of this innovative 3D-technology are well aware of the added value this will bring to their current business. Demeyer is looking forward to a busy year. "Besides being the official Benelux sales partner of MASSIVit, we are now also honoured to host a dedicated European demo centre which MASSIVit opened last month"
Subscribe to Our Newsletter
Receive our monthly newsletter by email