TOM LANOYE: The eclectic writer with the spectacles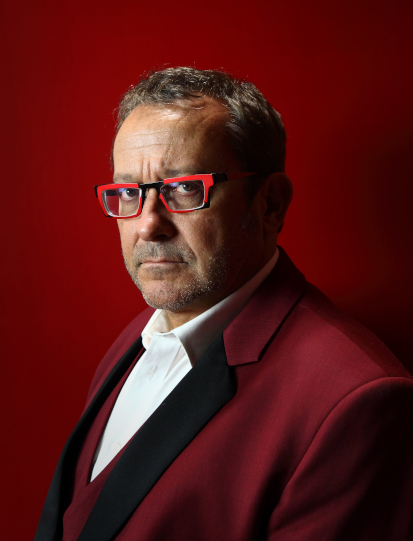 With his trademark spectacles, Tom Lanoye is a jack-of-all-trades who has turned his hand to plays, poetry, novels and more. Celebrating his 60th birthday this summer, the eclectic and culturally engaged author has only gotten more fired-up in his trade. "I want to go down fighting," he says.
This year was a year to remember for the Flemish writer. Aside from his 60th birthday, he also celebrated a 40-year career and having been married for 30 of those. "All in the same year," he says proudly. To commemorate these milestones, he published a full-colour scrapbook called Lanoye 60 – Groepsportret met Brilletje (group portrait with spectacles). With stories, letters, lists, poetry, columns and photo material, the book is an appropriate snapshot of Lanoye's work so far. "It is all very unexpected," he says. "You never know what you are going to get next when you turn the page."
Lanoye insists that this is not exactly a scientific overview of his life. "I want to stick around for several more decades, so it's not a biography," he says. One of the elements illustrated in an original way, is Lanoye's work as Belgium's first city poet for Antwerp. In this capacity, he wrote a declaration of love for the cathedral of Antwerp, which is featured in the book. "Just like the centrefold of a pin-up magazine, there is a fold-out of Antwerp's most famous tower in the book, and it features a strophe of the poem on a big banner."
A group effort
The book was also made to honour the people around Lanoye such as directors, actors and scene arrangers who have helped him realise his work: in particular, editor Anni Van Landeghem and designer Gert Dooreman, who he has worked with for many years. "It is a really big team. The romantic idea of a writer who sits alone in his attic is everything I have always fought against."
Lanoye describes the book as kaleidoscopic, hysterical and hectic. "Just like thing always are with me," he comments. Lanoye explains that his way of working happens in phases, and he is about go from a relatively quiet period to a busy two-year writing phase in which he will complete three plays.
"I need good deadlines," he says, as he admits to being someone to put-off his work to the last minute. "You prepare yourself, then start slowly and then it goes increasingly fast. The final week is always one of pure euphoria and adrenaline to the max."
Poetry weeks
Having relocated for the winter to South Africa, where he spends four months of the year, Lanoye will travel back to the Benelux for a short while at the end of January. From the 31st of the month, the Netherlands and Flanders are hosting the Poëzieweek (Poetry Week), a counterpart to the Boekenweek, which promotes and celebrates new and old literary works.
For the occasion, Lanoye wrote a set of ten poems as the 'poëzieweekgeschenk', a free gift book that everyone receives when they spend 12.50 euros or more on poetry during that week. "Almost no one on this earth believes this great tradition of the boekenweekgeschenk in the Netherlands, and this is a parallel for poems," Lanoye says. "This is a real enrichment for the language area. Being Belgian, I can safely say that this is a particularly Dutch tradition which we are only slowly catching up on."
Cultural engagement
The theme of this year's Poëzieweek is 'freedom', which is fitting for Lanoye who has always been keen to use his freedom of speech to engage in the discussion of current issues. "I think every writer should follow their own temperament, and mine is to be a public intellectual. This means that in my columns, interviews and discussions, I will mingle in the public debate, continuing an old tradition of writers to partake in this," he says. "I would be disappointed in myself if I didn't."
Lanoye also keenly follows the world of politics. Not just to be able to comment on relevant topics, but also to enjoy the ways in which politicians carry out their profession. "Politics is a fantastic arena in which human life, la condition humaine, is wonderfully illustrated," he says. "We sometimes blame politicians for the compromises they make, even though in our day-to-day lives, we also deal with inconsistencies and compromises."
He also finds it interesting to follow individual politicians and watch how they fare in their work while constantly being pressured with public scrutiny. "I admire the engagement of politicians but not everyone has a talent for it. So you see many tragedies and tragicomedies," he says, and adds: "I find it interesting and inspiring."
Real-life inspirations
Many of Lanoye's stories find their inspiration in real-life events. When asked whether real life is stranger than fiction, he replies "it often is". In his books, he sometimes even tones down the absurdity of real life to make his stories more believable. He says: "Occasionally, things happen in life and if you'd write them down, people would simply think that you are pulling their leg. Sometimes, you just can't make it up."
Lanoye explains that this also forms a split between the way the Dutch and the Flemish read his stories. "For example, the things I wrote about my parents and my youth and the area where I grew up. The funniest thing is that the Dutch, with all due respect, often think it's aggregated. While many Flemish know that was just the life at that time. It included plenty of misfits and stutterers in a small community with big inequalities and many carnivalesque characters who seem to have walked out of a Bruegel painting."
Not going down without a fight
One of his most famous novels is a semi-autobiographical work based on the life and death of his mother. In the book, he mixes truth with fiction as he recounts how his mother lost her capacity for speech and language from aphasia and her slow decline from thereon.
He admits that writing this book has made him consider his own life in a different way. He says: "It's brought death really close to me, and at 60, I am no longer the youngest, I realise that, and I feel it in my body. It only pushes me to try all kinds of new things, and I have a much stronger sense of urgency."
Referring to the publication of his book this summer, he adds: "It is an important celebration but also a regrouping to battle against the unfair decay of things, and the fact everything has to disappear. I want to go down fighting, and continue to work as long as I am alive."
Lanoye 60 – Groepsportret met Brilletje is available now.
Subscribe to Our Newsletter
Receive our monthly newsletter by email