Thermae Boetfort: Where wellness meets heritage
Text: Maya Witters | Photos: Thermae Boetfort
W hether you need something to warm you during the cold winter months, are looking for that perfect Valentine's date spot, or simply want to soak up the health benefits of a trip to the sauna: Thermae Boetfort has you covered. This spa complex boasts all of the features you could possibly wish for in a wellness centre, plus a unique location: the grounds of a 400-year-old castle. "We want wellness to be accessible for everyone."
Visitors to Thermae Boetfort get a free dose of culture served up with their wellness trip: inevitable, given its prime location in the 17th-century Boetfort castle. "The treatment centre and restaurant are located within the castle, which still features original tapestries and decorations," explains marketing manager Ellen Van De Wijgaert. "The other wellness facilities are in the castle gardens and adjacent buildings. Wherever you are, a spectacular view is guaranteed."
Wellness for everyone
The health benefits of wellness treatments are well-publicised, and Van De Wijgaert believes that everyone should have access to them. "Warming up in a sauna and subsequently cooling down promotes a healthy blood flow and boosts your immunity – something we can all use in winter," she explains.
"Seasoned sauna visitors usually go nude, but we also want the benefits of wellness to be accessible for those who, for whatever reason, do not feel comfortable with public nudity. That's why we have two completely separate wellness areas, one where bathing suits are mandatory and one where they are not allowed. That way, everyone can enjoy the various saunas, pools and steam rooms in comfort."
Whichever area visitors choose, they will be able to attend a host of additional experiences, all of which are included in the entry ticket. "We offer Aufguss sessions, scrub sessions, guided meditations with sound bowls, hammam rituals, halotherapy and more," attests Van De Wijgaert. "All of these are aimed at helping our visitors relax and de-stress. People have such busy lives today; it is really important to tend to our physical and mental wellness and to charge our batteries every so often."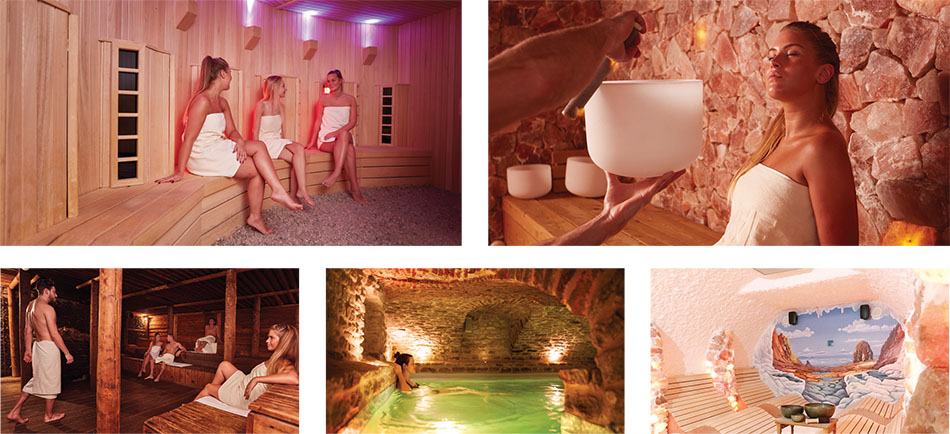 Room for romance
Spa centres are of course a popular date spot, and Thermae Boetfort is no exception. The wellness centre happily caters to couples with a variety of arrangements, including the option to rent one of two private sauna suites. "Our private suites both include a pool, Jacuzzi, sauna and steam room, all completely private. While these are popular with couples, one suite can accommodate up to eight people and the other up to 12, so they can be rented out by groups, as well."
The private saunas are especially in demand around Valentine's Day, but couples who have missed the opportunity to book a private wellness slot still have plenty of other options to choose from. "We also run a hotel, with some rooms in a building on the castle grounds and some across the street," explains Van De Wijgaert. "We offer special Valentine's arrangements that include spa access and an overnight stay, as well as single day packages with some treatments included."
Spotlight on sustainability
Running a wellness centre inevitably requires a lot of electricity and water, but Thermae Boetfort makes a conscious contribution to sustainability wherever possible. "We have just transitioned to a PET-free operation: single-use plastics are banned from the site entirely. We offer reusable drink bottles at a low price and our customers can fill them throughout the premises. We also use LED-lighting everywhere to reduce our carbon footprint."
The Boetfort premises also boast a restaurant within the castle, where hungry visitors can revive over anything from small snacks and daily specials to extensive dining menus, all cooked on the spot. The kitchen caters to all diets and preferences, whether you're after a healthy meal, a filling pasta or even a glass of the spa's very own Boetfort beer.
In addition to its top-notch facilities and décor, Thermae Boetfort is ideally located a stone's throw from Brussels Airport, allowing weary travellers to make a pit stop before or after an exhausting flight. "We are open until midnight every day, so those with late flights can come and rest up before their departure," concludes Van De Wijgaert.
Thermae Boetfort is open every day of the year apart from Christmas Day, from 10.30am to 12am. Its sister location Thermae Grimbergen offers a similar wellness experience in a peaceful, green setting. Thermae Boetfort Sellaerstraat 42 1820 Melsbroek For more information, visit: thermae.com
Subscribe to Our Newsletter
Receive our monthly newsletter by email