The Media House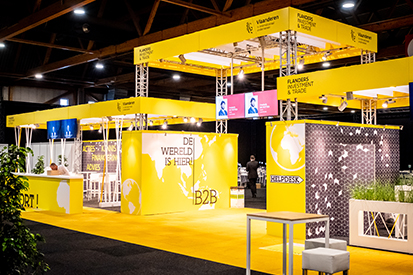 Turning sales events into immersive experiences
TEXT: EVA MENGER
Sales-driven events and exhibitions have always been vital to commercial success, but for Belgian 'Live Communication' agency, The Media House, there is more to it. In creating immersive experiences that leave long-lasting impressions on their client's customers, they know how to help generate measurable returns time and time again.
"It's all about experiences these days," founder Christopher Van Hemelryck-Bray says – a realisation that made him stand out when starting his business back in 2008. Slap bang in the middle of the financial crisis, it was a time when many other events companies were disappearing, but The Media House was here to stay: "Constantly asking ourselves how we could reach our customers' clients in a creative way is what made us survive in a time where others didn't," Van Hemelryck-Bray admits.
Another reason for their success was being part of a larger international group. Partnering with Turret Media – a company mostly active in the Middle East − allowed Van Hemelryck-Bray and his team to help execute event communication plans for Arabic clients in Europe and vice versa. "Having this close relationship has always been a huge selling point for us, as it allows us to ensure that European, Belgian and Flemish partners are appropriately received and experienced by local cultures in the Middle East," says Van Hemelryck-Bray.
A motivated and experienced team of event managers, The Media House specialises in planning events and exhibitions from start to finish. Bringing a brand to life is the company's core value, and making sure that this is done through a solid, creative action plan focussed on driving emotion is second nature to all employees. What's more, they are experts in helping their clients raise awareness of upcoming events by creating eye-catching logos, creative invitations, online registration systems or any other administrative tasks needed to enhance the overall impact.
A particularly impressive achievement is the launch of the biennial FIT-Exportbeurs, an award-winning exhibition where knowledge is promoted and experiences are shared. "The first edition was a tremendous success," Van Hemelryck-Bray confirms. "We flew in dozens of international experts collectively filling up 36 educational and inspiring seminars and workshops, plus an additional 3,600 one-on-one meetings, attracting 1,500 Flemish professionals who all came to learn about international business. Being able to bring such ideas from paper to reality is what I would say defines us as a company."
In addition to corporate, sales-driven events, Van Hemelryck-Bray and his team are also devoted to charitable causes. In close collaboration with Dr Michel D'Hooghe and other partners, The Media House has been organising fundraising events for Casa Hogar since 2015. Founded during the World Cup hosted by Mexico in 1986, this charity was initiated by the Belgian football union who was overwhelmed by the countrY'S child poverty and thus started looking into providing shelter for Mexican street children.
A few decades later, Casa Hogar has offered support to 500 homeless children, and thanks to a large network of sports and business professionals, that number is still growing every day. "Last year, we organised a large gala dinner for the charity's 30th anniversary. It was a wonderful evening, during which we also held an auction including signed football shirts of Cristiano Ronaldo and Lionel Messi. I'm proud to say that hosting events which make guests feel good while also helping the less fortunate comes naturally to us," says Van Hemelryck-Bray.
For the future, The Media House is hoping to experiment even more. Van Hemelryck-Bray: "We have recently launched WoWPark, a mobile water fun park that can be installed in various open waters throughout Belgium. It's proven to be a great asset to family and team building days, which we'd like to see much more of. Another rapidly growing trend is the integration of technology and events, and virtual reality, in particular. For some clients, this is an absolutely crucial element, and we have already worked with augmented reality, robots and bespoke apps quite a bit, but I am incredibly keen to make this a focus point over the next few years."

www.themediahouse.be
Subscribe to Our Newsletter
Receive our monthly newsletter by email