The 11 Fountains of Friesland: Daring to Dream Big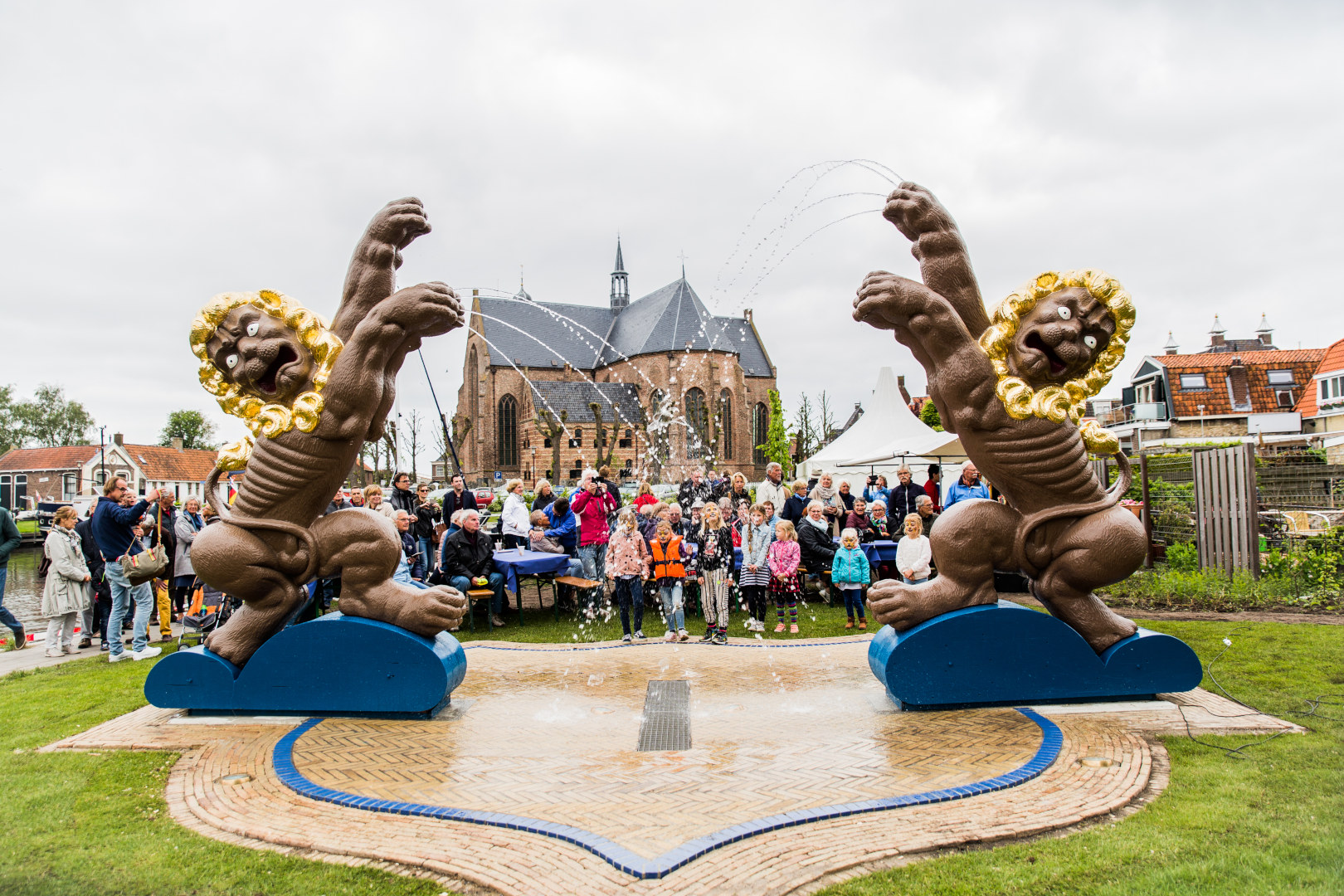 In the winter of 2012, the Netherlands anticipated the announcement of an ice-skating race known as the Elfstedentocht. At the last race in 1997, a crowd of around two million watched speed skater Henk Angenent cross the finish line in under seven hours. For the race to take place, the ice of the entire 200-kilometre canal route around the 11 cities of Friesland must be at least 15 centimetres thick. That year, it was decided conditions were inadequate and the Dutch would have to wait for another particularly cold winter. They are still waiting.
The Elfstedentocht is a rarity, since 1909 it has been held 15 times. With the consequences of climate change, how many more cool winters will douse a skater's feverish optimism? Friesland needed a new way to link its 11 cities. So, as part of their bid to become the Capital of Culture 2018, the region commissioned 11 acclaimed artists to create 11 distinctive fountains.

AT THE 11FOUNTAINS OPENING CEREMONY, BIRTHE LEEMEIJER CARVED INTO A LARGE CHUNK OF ICE IN DOKKUM. HER ICE FOUNTAIN WILL BE UNVEILED LATER THIS YEAR | PHOTO © KAREL JONGSMA FOR LEEUWARDEN-FRIESLAND EUROPEAN CAPITAL OF CULTURE 2018.
"The project was primarily conceived as a new, sustainable way to link the 11 cities where once the 11 Cities' Skating Tour fulfilled this role," says Claudia Woolgar, creative producer of the Leeuwarden-Friesland European Capital of Culture 2018. Sustainability and the environment are both concepts embraced by the 11Fountains artists. In Sloten, Lucy and Jorge Orta crafted a tower of bronze buckets and tubs overflowing with water. Balancing on top is a bronze boy and girl clutching a peewit, an endangered bird. For Dutch artist Birthe Leemeijer, creator of Dokkum's fountain, the big issue of climate change will be presented on a human scale to make it relatable. Her concrete sculpture is inspired by a photo of an ice formation in the winter of 1963 when even the North Sea froze over. Innovated by the Delft University of Technology, the water of the fountain will freeze and thaw with the weather to create a sculpture that transforms every day with the help of solar energy.
Although the gap since the last Elfstedentocht widens, the environmental message of the fountains is not necessarily foreboding. "You know you don't have to sit around and think about how horrible it is with the planet, that's not the intention," says Anna Tilroe, artistic director of 11Fountains. Chinese artist Shen Yuan has created a fountain representing Hindeloopen's coat of arms: a tree with a stag and doe. This legendary 'tree of life', recreated by the artist, has been surrounded by locally made giant wooden antlers that act as benches. Similarly, Leemeijer wants to explore our connection with the elements. Therefore, she also proposed to replant the oak trees on Dokkum's Market that were cut down by Saint Boniface to vanquish the city's pagan beliefs and establish Christianity in Friesland. "The legends tell that Boniface was cutting the oak down to prove that there was no power in nature and I think you can see this also as a gesture of cutting the very strong connection people had with nature," she says.

THE LEEUWARDEN FOUNTAIN DISPLAYS THE FIRST HEAD OF A BOY JAUME PLENSA HAS CREATED | PHOTO © RUBEN VAN VLIET FOR LEEUWARDEN-FRIESLAND EUROPEAN CAPITAL OF CULTURE 2018.
The fountains are connected by one element: water. "It's the source of all life, water is where life begins," says Tilroe. For Spanish artist Jaume Plensa, the mist over the Frisian fields inspired an unconventional water effect for his fountain in Leeuwarden. "I was very, very touched by the landscape and the strange and beautiful relationship between not only water and air, but the sky and air," he says. As well as bringing his monumental figurative sculptures to Friesland, installed around the world, Plensa brought his knowledge of fountain making. His Crown Fountain in Chicago's Millennium Park displays 1,000 Chicago residents spouting water from their mouths on huge LED screens. "It was my wish to introduce again water in the public space, not as something to be seen but as something to really interact," he says. Judging by photographs of children playing in the mist at his fountain's opening in May, this was certainly achieved.
What also unites the fountains is held dear to the Frisians and part of their Capital of Culture programme: Community. Each artist was allocated a city and could work with a Fountain Commission consisting of members of the community, or 'mienskip' in the Frisian language. "This idea of Frisian identity is very strong here," says Tilroe. "Here, nothing is anonymous, everybody knows each other." In Plensa's case, he initially did not know how to achieve the mist effect. But thanks to a team of volunteers and engineers from the municipality, Leeuwarden beheld the mist engulfing Plensa's resin and marble heads at May's opening ceremony. Technical hurdles were faced by Leemeijer, which is why her ice fountain will be ready later in the year, but there were additional challenges from the community over concerns that partially replacing the Market's car park with the fountain prevents customers from accessing local businesses. "Not everyone was happy with my proposal, but there are many people who are really excited about the idea that there will be ice in Friesland and in Dokkum," she says.

MARK DION'S FISH FOUNTAIN IN STAVOREN | PHOTO © WIETZE LANDMAN FOR LEEUWARDEN-FRIESLAND EUROPEAN CAPITAL OF CULTURE 2018.
Tilroe believes she understands these concerns considering the tight-knit community of the cities, one with a population under 750. Fountains after all, in Tilroe's opinion, are a place for community. Therefore, it was important for her to find artists willing to communicate with the Frisians. "All the artists loved to meet the people and to talk with them and present their concept to them and talk about the location," she explains. "People are very warm and open to strangers as long as you don't touch their idea of identity." Choosing Plensa for the project seems obvious given his experience of creating public art in major cities. "I love to work in the public space, from my point of view it's a kind of a very democratic way to introduce art in the everyday life of people living in the areas," he reveals. Plensa explains that it takes time for a community to embrace a project like this, but "it's really beautiful when people feel that this piece belongs to them and they protect and enjoy." This is a view shared by Johan Creten, renowned ceramic artist and creator of Bolsward's fountain. "There's no guarantee that people will adopt the work, that's always the big question," he says.

JOHAN CRETEN'S BAT SCULPTURE IN BOLSWARD SPEWS WATER FROM ITS MOUTH OUTSIDE THE BROEREKERK | PHOTO © HOGE NOORDEN FOR LEEUWARDEN-FRIESLAND EUROPEAN CAPITAL OF CULTURE 2018
For Creten, it was important to retain control of his fountain and not have to compromise. "I think in art, one of the worst things to do is to compromise. So when I accepted to participate in the 11Fountains, it was under the basis that I could make an artwork that I think would fit and would dialogue with the local history and the building." The church on Broereplein, now in ruins, is where Creten saw the shape of a bat on a façade of the building that inspired his sculpture. His approach may seem risky for creating public art, considering the mixed response to his bat sculpture, but in his view: "that's the idea". Yet the artists' outsider view of the 11 cities combined with the commitment of the municipalities in the realisation of the project has been a unifying factor. "In addition, the residents of the cities have said they are learning more about the history of their sister cities through the project," says Woolgar.
The history of each city is rediscovered through many of the fountains. In Workum, British artist Cornelia Parker enlarged the lions of the city's coat of arms and placed them on the marina. Made of Accoya wood by a local artist, water spouts from their claws. German artist Stephan Balkenhol's fountain depicts a bronze man holding an overflowing 'Horn of Plenty' on his shoulder, representing Sneek's history of prosperity and decline. Harlingen's fountain by Jennifer Allora and Guillermo Calzadilla is a lifelike sperm whale near the Zuiderpier that spouts water from its blowhole. American artist Mark Dion chose to explore Stavoren's fishing history and created a fish sculpture big enough for an adult to stand in its mouth. Japanese artist Shinji Ohmaki found inspiration in IJlst's stinzen plants, referring to the city's horticultural history. Tilroe was often asked why she did not choose Frisian artists for the project, but she theorised that "the eyes of a stranger see different things the people who live there have no knowledge of anymore, they discover how rich their own history is".

ANNA TILROE (MIDDLE), ARTISTIC DIRECTOR OF THE 11FOUNTAINS PROJECT | PHOTO © RUBEN VAN VLIET FOR LEEUWARDEN-FRIESLAND EUROPEAN CAPITAL OF CULTURE 2018
This emphasis on history bears another fruit. Tilroe says that the fountains could intensify in meaning and encourage people to create their own stories. In Creten's particular case, his fountain uncovered a truly unexpected story in Bolsward. Underneath the asphalt where his bat sculpture is now placed, human remains from as far back as the 13th century were discovered during the preparatory digging. This prompted an excavation by archaeologists to uncover the secrets of Broereplein. That a bat will now forever be perched on this site is a fantastic coincidence. In Mayan culture, a bat symbolises darkness, but in Asia it means wealth, and many know of the righteous force of Batman or the terrifying Dracula. It is a creature of many faces. All these elements combined may create what Creten hopes will be a strange location. "Nobody in Bolsward will go to that spot again and not speak about the fact that we're gliding our cars over the graveyard. And that's the kind of thing I love," he says. The story may evolve further due to the sculpture being made of bronze. "Bronze is a material that if people just leave it alone it gets a beautiful greenish patina over the years. If people touch it, it becomes golden and copper-like," he says. This is a transformation Creten is certainly excited to see in the future.

JEAN-MICHEL OTHONIEL'S OORT CLOUD FOUNTAIN IN FRANEKER | PHOTO © XANNE VERA FOR LEEUWARDEN-FRIESLAND EUROPEAN CAPITAL OF CULTURE 2018
Who knows what future these permanent fountains will see? For us mere mortals, we must not only wait for the future but should also dream of it and dream big. Astronomer Jan Hendrik Oort, the inspiration behind Jean-Michel Othoniel's fountain in Franeker, was a big thinker. His hypothesis, that a 'cloud' made of billions of comet-like objects rotate our solar system, inspired the fountain's design. The 11Fountains project is part of the 'Dare to Dream' aspect of the Capital of Culture programme. "'Dare to Dream' is about Friesland daring to dream big, to position itself on an international level, despite its size!" says Woolgar. "It is also the storyline with our children's events, since we should let them dream. The future is theirs." This was a central theme in Plensa's fountain depicting a boy and a girl. "They have something that for me is very important, which is a kind of silent conversation with the eyes closed in a kind of dream state attitude," he says. "They are dreaming surrounded by the mist."
The Elfstedentocht may be an irreplaceable part of Dutch culture, but what now stands in each Friesian city are the results of community, dreams and discovery. The 11Fountains project presented challenges commonly found in the creation of public art. But, as Plensa explains, "many times when you are working on a new piece, it's better to dream before even to know if it is possible – because if the dream is fine, it's always possible".
To explore each fountain, visit: www.11fountains.nl

AMERICAN AND CUBAN ARTISTS JENNIFER ALLORA AND GUILLERMO CALZADILLA CREATED HARLINGEN'S FOUNTAIN OF A SPERM WHALE | PHOTO © BART LINDENHOVIUS FOR LEEUWARDEN-FRIESLAND EUROPEAN CAPITAL OF CULTURE 2018
TEXT: ISA HEMPHREY| TOP-IMAGE © JANTINA TALSMA FOR LEEUWARDEN-FRIESLAND EUROPEAN CAPITAL OF CULTURE 2018
Subscribe to Our Newsletter
Receive our monthly newsletter by email