Take a trip to the Middle Ages at Vianden Castle
Text: Elodie Noël | Photos: Vianden Castle
B uilt more than a thousand years ago, this Luxembourgish fortress has undergone some major renovations to bring it back to its original magnificent state. It is now considered one of the 21 most beautiful castles in the world (CNN).
Located in the north of Luxembourg, Vianden Castle is a witness to history. One of the largest fortified castles west of the Rhine, it is set on a rocky promontory, overlooking the town of Vianden and the River Our. With a long and tumultuous past, the fortress has recently been fully restored and now attracts visitors keen to learn about its history. "The castle is almost a thousand years old," explains Jessica Ersfeld, chief of staff at Vianden Castle. "It was constructed between the 11th and 14th centuries on the foundations of a Roman castellum and combines the Romanesque and Gothic styles. During the Renaissance, the castle went through great changes, with some renovations and new rooms being built."
In 1820, under the reign of King William I of Holland, the castle was acquired through auction by a businessman who then sold it piece by piece. As a result, it fell into a state of ruin. In 1827, William II bought back the ruin. In 1977, its last owner, Grand Duke Jean of Luxembourg, sold it to the Luxembourg State, and then the reconstruction started. Since restored to its former glory, the castle now ranks as a monument of not only regional but European importance. "It was difficult to reconstruct the castle identically because we do not have photographs, but we do have a copper image dating from 1643 providing evidence of its original appearance," says Jessica Ersfeld. "There have also been excavations that provided more information and helped us to rebuild the castle as it once was."
What not to miss
With a total length of 90 metres, the castle is surrounded by a long and beautiful fortified wall hosting four gates, one of which had a drawbridge. Once you have passed the courtyard, its information centre and shop, the castle can tell you all its secrets. "20 rooms are open to visit, showcasing Romanesque, Gothic or Renaissance architecture. It's a patchwork of different eras," Jessica Ersfeld adds. Among the most notable parts, don't miss the Upper chapel, dedicated to St. Anthony, which has been restored to reflect its original Gothic appearance, the Archaeological crypt, the Grand Kitchen or the two seigniorial lodgings. "We work in collaboration with the National Sites and Monuments Service, who takes care of the work that takes place perpetually in the castle."
To help you make the most of your visit, audio guides are available in ten languages. It is also possible to scan a QR code to obtain the audio guide on your smartphone. "On request, staff members can give guided tours of the castle, especially for groups."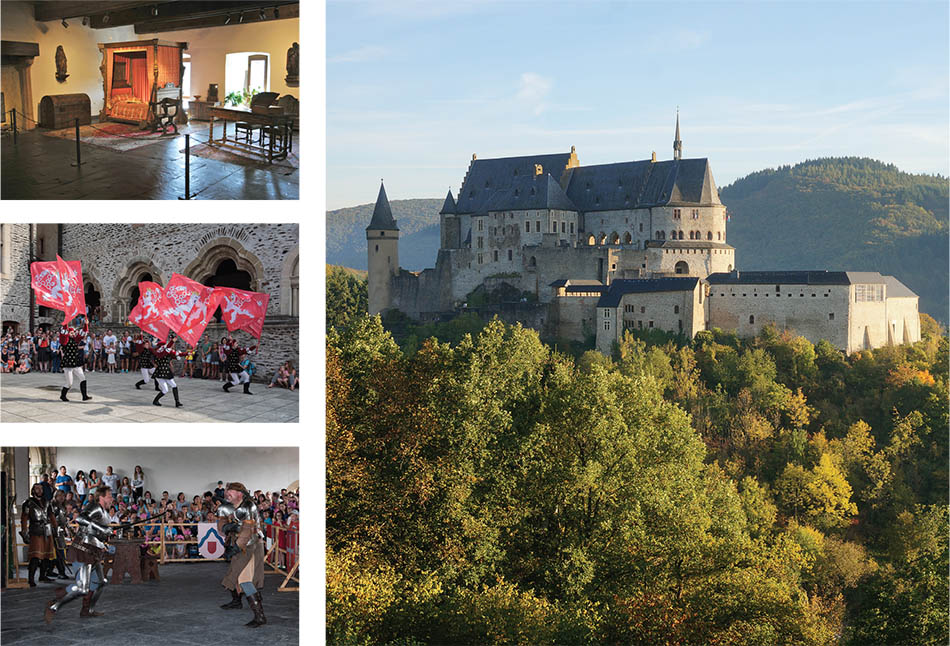 An international point of interest
With such a rich history, it's no wonder the number of visitors increases every year. "In 2018, we welcomed 190,000 visitors, and 219,280 in 2019. The Dutch represent nearly 30 per cent, followed by Luxembourgers, and then by neighbouring countries, French, Belgian and German. But visitors come from all over the world: China, Russia or even from New Zealand." The castle welcomes families and has become a main attraction for children who come on school trips. "We are working on an interactive book about the history of the castle that will make it more accessible for children," the expert adds.
What's on at the castle?
Alongside regular visitors, the castle regularly welcomes guests for historical, musical or even literary events, taking place throughout the year. "We organise numerous concerts during the year, mostly classical music. We have 18 already scheduled for 2020." In June, Portae Temporis takes visitors back in time during a special weekend of activities, with stalls, craftsmen wearing period clothes and a lot of showcasing life in the Middle Ages. In July, the Medieval Festival is a nine-day event with daily entertainment: knights' camp, demonstrations of sword fighting, musicians, fire-eaters, jugglers, entertainers, presentations of raptors and demonstrations of calligraphy. "The festival attracts about 30,000 people each year. You can find things to eat, the atmosphere is friendly and it's very popular with families." Vianden Castle also hosts the Book and Paper Festival in September.
The castle is open every day from 10am. For more info, visit: castle-vianden.lu
Subscribe to Our Newsletter
Receive our monthly newsletter by email