Summer in the city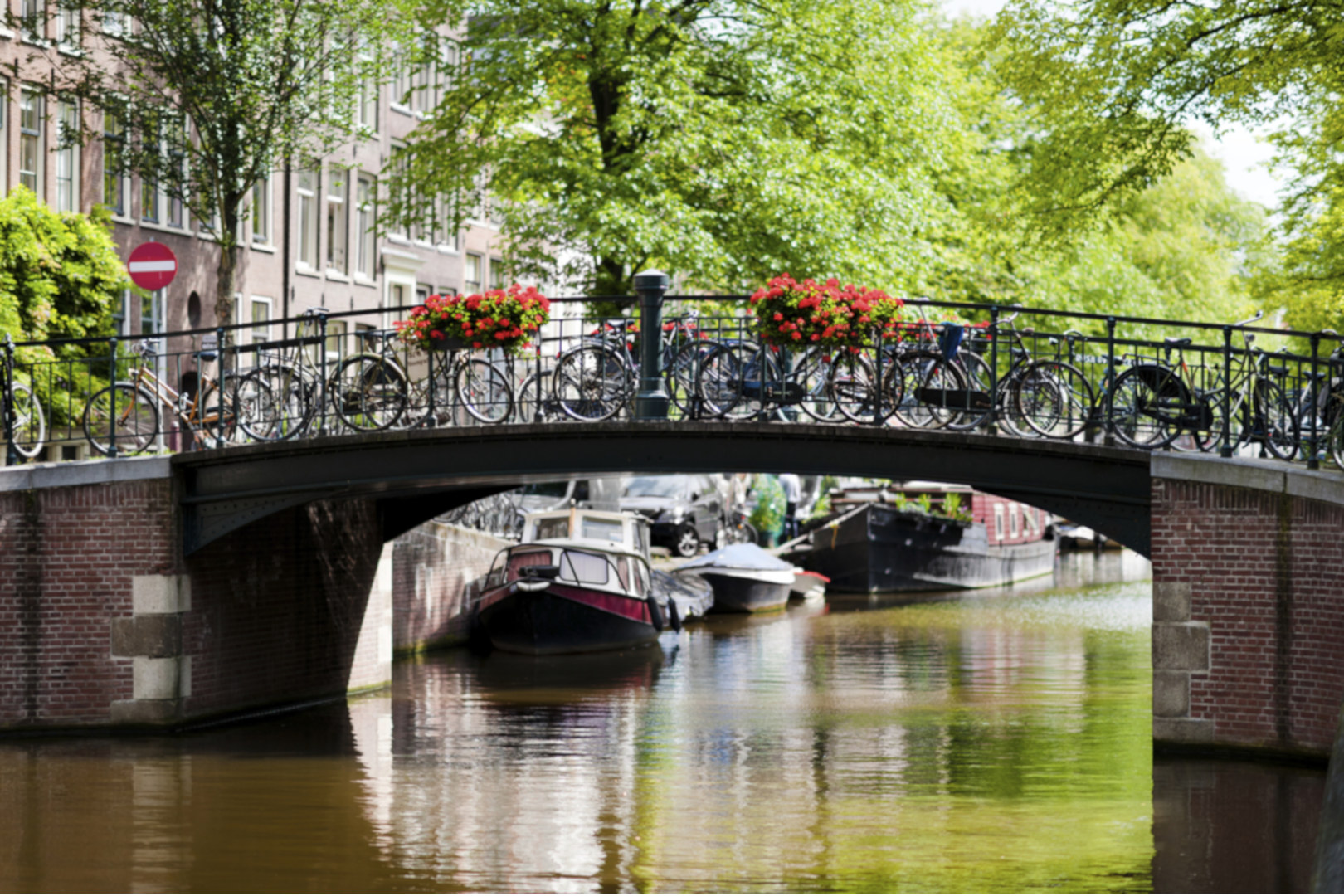 Never is Amsterdam more alive than in the summer. With its cobbled streets and scenic canals bathing in sunshine, the centre of the Dutch capital is the perfect setting to lose yourself in a maze of cafés and restaurants, world-class museums and peaceful parks.
Dam, Nieuwmarkt and Waterlooplein area
The areas around the Dam Square and Nieuwmarkt are the oldest parts of the city, dating back to the 13th century. Nowadays known as the Damrak, the proximity to the port made this spot popular with seamen, merchants, scholars and regents in the Golden Age as they got together and discussed their adventures overseas. Fast forward 400 years, and the area has lost none of its liveliness. While this part of Amsterdam used to be mainly known for its (in)famous Red Light District (De Wallen), many streets have undergone major transformations and are now home to some of the country's most prestigious hotels and restaurants. Although Dam Square is often overshadowed by some of the more scenic places, it hosts famous and unmissable sites such as the Royal Palace, De Nieuwe Kerk and the National Monument.
A mere stone's throw away and located in the heart of Chinatown lies Nieuwmarkt. Once an open canal, Nieuwmarkt's location just inside the old city gate made it a desirable spot for merchants and tradesmen. Nowadays the square is a vibrant marketplace with coffee shops, a daily market, restaurants, and loads of quirky shops.
Keen to do some bargain shopping? Leave behind the chain shops and crowds at the Kalverstraat near Dam Square and head to Waterlooplein. You are guaranteed to find some hidden treasures at this square, which holds the largest daily flea market in the city. Unlike Dam Square, Waterlooplein still draws lots of locals, and stepping into any café in the area will immerse you in a true Amsterdam vibe.

LEFT: BEURS VAN BERLAGE, RIGHT: REMBRANDT HOUSE, AMSTERDAM
Where better to start when exploring Amsterdam than Dam Square? With its stunning classical facade, the Royal Palace (Koninklijk Paleis) dominates. Originally built as the town hall, it is used for various royal events but remains open to the public most of the year. You can learn all about the square's dramatic history at Amsterdam Museum (Kalverstraat 92). The New Church (Nieuwe Kerk) is also located on Dam Square, next to the Royal Palace. Despite its name, the church was actually built in the 15th century, and is no longer used as a church but rather as an exhibition space.
Another not-to-be-missed square is Rembrandtplein, particularly if you want to witness, or partake in, some serious partying. This vibrant square with its numerous outdoor cafés and street performers is renowned for its nightlife, as is Leidseplein with its famous nightclubs and the iconic city theatre (Stadsschouwburg). When the Dutch football club AFC Ajax have a big win they can often be seen on the theatre's steps to celebrate and enjoy the applause of their supporters.
Amstel, Rembrandtplein and Canal District area
Rembrandtplein is a majorly popular square and considered to be one of the centres of Amsterdam's extensive nightlife, with busy cafés, clubs and the renowned Tuschinski theatre nearby. Although the locals often skip the Rembrandtplein for the less crowded spots, the square is an unmissable stop when visiting Amsterdam. Fun fact: originally being a dairy market place, Rembrandtplein was known as the Botermarkt (Butter Market) until the establishment of Rembrandt's statue in 1876.
For those who cannot get enough of Amsterdam's scenic waterways, the river Amstel flows just minutes away from Rembrandtplein. With its stunning boulevard full of elegant cafés, restaurants and exquisite theatres such as Carré, walking along the Amstel on a warm summer evening is the epitome of enjoyment.
Need a breather from the busy city streets? Somewhat east of the Rembrandtplein lies the Plantage neighbourhood. Often dubbed as Amsterdam's most green central area due to the spacious parks, wonderful boulevards and waterside terraces, it is the ideal spot to seek more peaceful grounds. Do not miss city zoo Artis, the Portuguese Synagogue and Hortus Botanicus, one of the oldest botanical gardens in the world.

LEFT: REMBRANDT SQUARE, AMSTERDAM
The Canal District is everything people expect of Amsterdam: a watery wonderland of iconic canals. Being a remnant of the Dutch Golden Age, the picture-perfect canals have always been of great historical and cultural value, originally created for transport of residents, water management and defence. The city has over 100 kilometres of canals, the main three being Prinsengracht, Herengracht, and Keizersgracht. Besides guided canal tours, there are many companies that rent out private boats. So take your picnic basket, cold drinks and sunscreen, and enjoy Amsterdam in the best way possible – from the water.
DATES FOR YOUR DIARY:
Julidans
2-15 July
There are more than 300 festivals held in Amsterdam every year, so there truly is something to suit all tastes. Julidans is a festival for international contemporary dance which takes places annually at various venues in Amsterdam.

GAY PRIDE, AMSTERDAM
Amsterdam Gay Pride
28 July – 5 August
Celebrate Dutch tolerance and diversity at Gay Pride Amsterdam: a huge celebration of devotion towards equality for the gay, lesbian, transgender and intersex communities. The Human Rights concert takes place every year at Dam Square.
Dam tot Damloop
22-23 September
This major event gathers thousands of runners and some top world athletes taking on either the ten or five English miles. They will be encouraged by some 250,000 spectators.
DO NOT MISS:
Rembrandt House Museum
At the height of his career, renowned Dutch Golden Age artist Rembrandt van Rijn lived in this house located just off Waterlooplein. Currently it holds a museum dedicated to both Rembrandt's life and his work.
Mozes & Aäronkerk
Located on Amsterdam's Waterlooplein, the Mozes en Aäronkerk (Moses and Aaron Church) has an incredibly rich history. The current church was consecrated in 1841, built next door to the site of a long-standing secret Catholic church. Definitely worth a visit!
Beurs van Berlage
This impressive building houses Amsterdam's stock exchange and is widely considered the Netherlands' most important example of 20th century architecture. Opened in 1903, it gets its name from renowned Dutch architect Hendrik Berlage who was responsible for the design.
Jazz at the Plantage
Summertime and jazz is always a superb combination. During the whole summer, the Hermitage Amsterdam and the Jewish Cultural Quarter organise weekly jazz concerts in the Hermitage courtyard and in the Orangerie of the Hortus gardens.
TOP TIP:
I amsterdam City Card: enjoy free unlimited transport, free entry to Amsterdam's best museums and attractions, and great discounts. Also usable for trips to neighbouring towns around Amsterdam. Prices depend on the length of your stay – choose from a 24, 48, 72 or 96–hour card. www.iamsterdam.com
Start planning your trip to Amsterdam now, at www.iamsterdam.com.
TEXT: MALIN NORMAN | PHOTOS © NBTC
Subscribe to Our Newsletter
Receive our monthly newsletter by email