Studio MAKS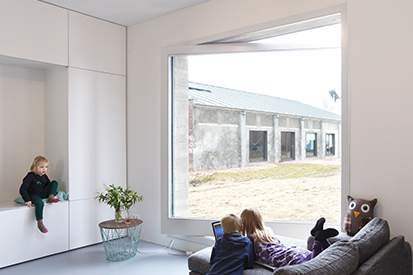 'Bringing nature, design and technology together'
TEXT:MICHIEL STOL | PHOTOS © STUDIO MAKS
"Our urban environments are growing and changing faster than ever before. Especially in the Netherlands, where buildable land is scarce, it is most important to carefully consider how we continue to shape our natural and urban habitats," says architect Marieke Kums, owner and founder of Studio MAKS.
An important part of the studio's current work focuses on new models for living. "The ideal of the single-family home in the suburbs is no longer a sustainable model: we not only lack the space, but traffic congestion and inefficient use of natural resources make the model increasingly untenable."
For the Westerpark-West area in Amsterdam, Studio MAKS proposes a new type of single family home. "The living areas are large open rooms and all functionalities – like the kitchen, closet space and bathroom – are incorporated in the walls, resulting in a maximum living space with a small footprint, similar to traditional Japanese houses. Balconies are large and have a double height, so that you can really bring nature to your doorstep."
Internationally acclaimed
Kums is used to working in an international context. Aged 17, she started at Delft University of Technology and finished part of her studies at the MIT in Boston. She worked at the internationally acclaimed offices of OMA/ Koolhaas and SANAA in Tokyo. She always imagined starting her own studio though. In 2010, after several years in Japan, she returned to the Netherlands and founded Studio MAKS.
The studio now has ten employees and has completed projects throughout Europe and Asia. This year, Kums is the only Dutch architect on the '40 under 40 young emerging architects' list by the European Centre for Architecture Arts Design and Urban Studies. The design for the visitor centre in Park Vijversburg, in the north of the Netherlands, was recently nominated for the Dutch Building of the Year award and the European Mies award. "We tried to create a subtle and transparent design that gently blends into its vulnerable surroundings. The glass facades not only reflect nature, but also serve as the building's main structure. An inventive natural ventilation system contributes to a low energy balance," explains Kums.
"Architecture can be very exciting. We do not stop designing after the concept stage, but we keep evolving our ideas throughout the design and construction process, bringing nature, design and technology together. That is how you create magic," she smiles.
Subscribe to Our Newsletter
Receive our monthly newsletter by email