Canal Plus+
TEXT: LUCY SHRIMPTON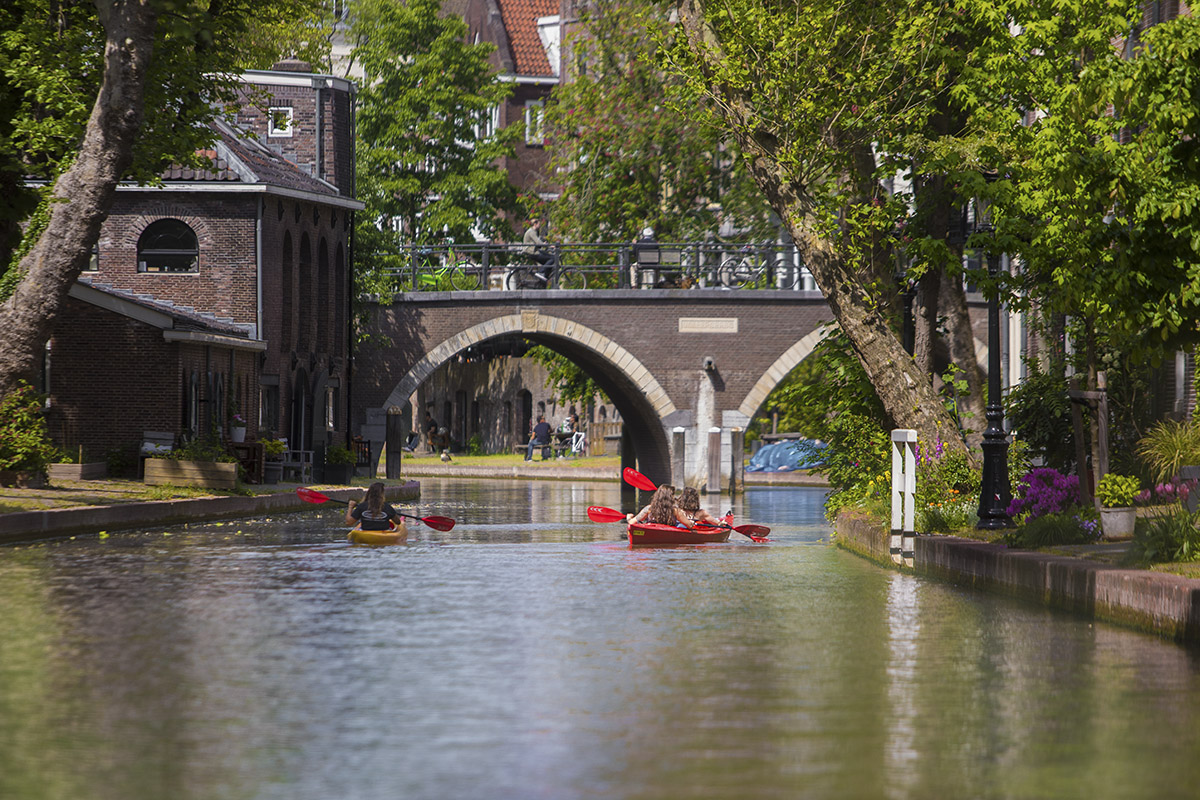 Beyond the Netherlands, few seem to realise that there are canal views every inch as historic and evocative as Amsterdam's. Take Utrecht, for example, situated a little over 25 minutes by train from the capital. With its unique and charming dual-level wharves, it's little wonder the place frequently ranks as one of Europe's most beautiful canal cities.
Just as a French person knows his Camembert from his Chaource, show a Dutch person a Netherlandic canal at close range, and the native eagle eye will likely identify which city it is in a heartbeat. Whatever the clues might be – from the water level, colour or current, to the trees or brick – the Netherlands' historic urban arteries are all subtlety different.
But there are no prizes for identifying Utrecht, since its point of difference is the easiest of all to spot: the city's Oudegracht ('Old Canal') and Nieuwegracht ('New Canal') boast unique-in-the-world, split-storey streets meaning that you can not only explore at the same level as the gorgeously gabled townhouses' front doors (as is the case in Amsterdam), but also down at the water's edge via secluded stairways.
Take a walk on the wharf side
In contrast to the vibrant city bustle and whir of bicycle wheels above, down here you'll find a quieter, tree-lined and prettily lit cobbled walkway known as the Werf ('Wharf'). Like a neighbourhood in its own right, locals make a beeline to these second streets for all manner of meaningful moments – from a tranquil hour's reading to a first kiss or canal-side cappuccino. If you're picturing lovers lounging on the banks of the Seine in Paris, well, you're not too far wide of the mark.
Punctuated by cellar doors, the wharf is also a place of fascinating hidden histories dating back to medieval times. Originally, goods arriving by boat were laboriously carried from the water level up to street level, before going through the front door, then down again to the property's cellar for storage. Carried laboriously, that is, until one clever tradesman had a simple yet genius lightbulb moment: If it's possible to keep the water level steady, he thought, why not build a tunnel straight from the boat to the cellar? It worked, others followed, and platforms were soon built to facilitate the new practice. Later the tunnel-cellars became lived in – sadly, only by those who had no choice but to put up with their dark, cold and damp conditions – yet today, by contrast, they've been regenerated into prestigious privately owned homes or wide-ranging businesses (predominantly on Oudegracht) – from bars, boutiques and places to stay, to workshops, themed-soirée attractions and art galleries. You name it, it's down on the wharf.
You can, of course, stroll along it, though some sections are only accessible on the water, so opting for a boat trip, fun water bike, kayak or paddleboard is always a neat idea.
Now go off-piste
The canals are such a major focal point in Utrecht that you'll soon be using them to get your bearings to the rest of the town's gems. While your go-to guidebook will no doubt point you to highlights such as the Dom Tower and the Museum Quarter, the city boasts wads of other fascinating facets, including the Unesco-listed Rietveld Schröder House for architecture geeks; the city library on Neude Square for bibliophiles (as much for the beauty of the building's interior and the café, too); Het Utrechts Archief for those keen to time travel through the city's history and a wealth of eye-popping street art installations for contemporary art lovers.
Subscribe to Our Newsletter
Receive our monthly newsletter by email