SANG HOON DEGEIMBRE: Crossroads of flavours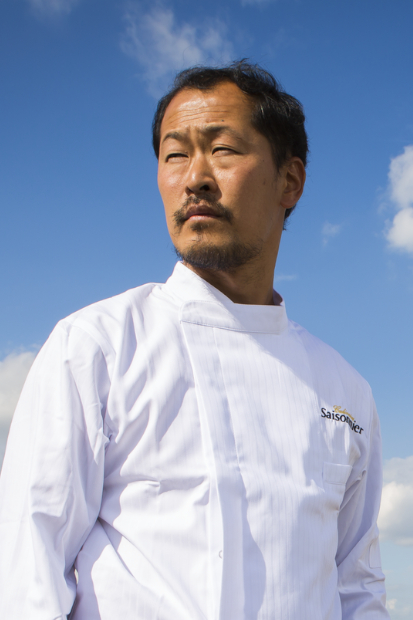 Celebrated Michelin-star chef Sang Hoon Degeimbre pushes the boundaries of gastronomy. With exceptional local ingredients from his own garden, a surprising innovative approach and heaps of culinary magic, he unites Belgian and Korean cooking.
Sang Hoon Degeimbre is considered one of the best chefs in Belgium and is frequently featured in international press such as Food and Wine Gazette, Star Chefs, and Fine Dining Lovers. In 2016, he was named Chef of the Year by the Gault & Millau restaurant guide, thanks to his poetic and creative cuisine, and his outstanding restaurant L'Air du Temps has earned two Michelin stars so far.
Described as creative, sophisticated and also atypical, Sang mixes tradition with cutting-edge, and certainly puts Belgium at the forefront of international gastronomy. The chef explains that France is still a big influence in Belgian cuisine, yet the country is at the crossroads of Europe and he works to refresh the old concepts. "Tradition is really important, as it's part of our roots," he says, and continues: "but if you don't have modernity, it's not possible to transmit that tradition."
In his surprising creations, Sang pushes the boundaries and is often praised for his approach. He focuses on fantastic produce and richness of flavours, yet with modern techniques and appearance. The self-taught chef says: "when I started cooking 20 years ago, I had to be open-minded in order to understand what cuisine was really about. I started using different methods to extract flavours, but techniques exist to serve nature and I still believe that taste is more important than looks."
The constant gardener…
L'Air du Temps is the brainchild of Sang and Carine Nosal, a gastronomic restaurant in Liernu in the Belgian countryside. In the middle of the fields, the restaurant sits on a property with five hectares of garden, an old barn and a few luxury rooms for guests to stay the night in, if they so wish after an unforgettable dining experience. Here, Sang expertly fuses farm-to-table cuisine with contemporary culinary techniques.
Under the guidance of chief gardener Benoît Blairvacq, a dedicated team of gardeners cultivate vegetables and herbs for the restaurant. "When I started this restaurant 20 years ago, I was amazed by the terroir. But it's a big challenge to have an all-year-round garden," admits Sang. "In this part of the world, we have six months without vegetables. So we harvest from June to November, and then complement by foraging and picking wild herbs and vegetables, as well as preserving for the months without harvest."
The restaurant has around 1.5 tonnes of fermented vegetables, a necessity and, according to Sang, also in line with his South Korean heritage. "It was a really poor country some 20 years ago and we had to take care of the richness of the ground, so preserving and fermenting was reality." The chef also highlights the importance of consciousness, sustainability and anti-waste, and explains that the restaurant uses new cooking methods, something he also discussed when invited to do a TED talk a few years ago. "Every month, we cook for more than 1,000 people and want to produce our own energy. For instance, we use old leaves from the garden, which contain 80 per cent water, for steaming lobster and meat."
To mark its 20th anniversary, the two Michelin-star restaurant has been transformed and a new chapter has begun for Sang and his talented team. The new dining room oozes tranquillity and calmness, with a view of the surrounding fields. There is a closer connection between the garden and the restaurant, bringing the guests even closer to nature. "We want people to actually see the garden and be able to understand how our work respects the seasons."
…and citizen of the world
Sang certainly is a modern man, with an international outlook inspired by his diverse roots. Born in Korea, at the age of five he was adopted by a Belgian family. "I'm Korean born, a Belgian man and a citizen of the world," he says. Having first trained as a butcher, Sang worked as a wine sommelier for many years – which he believes has shaped his culinary identity and sensitivity – before eventually starting his own restaurant, L'Air du Temps.
Often invited to speak about cooking in different parts of the world, over the years Sang has also explored different approaches and produce. A way of mixing elements from his Asian roots with experiences from travelling was through SAN, now in three different venues. The concept is more approachable with dishes served in bowls, yet still with focus on quality produce and the same cooking techniques. "The content of the bowls is an homage to my trips' influences."
With four restaurants and some 50 employees in total, Sang returns to the garden concept to explain his management style. "My teacher is my garden," he says and elaborates further on the metaphor. "When you have a garden, you mix different plants and spices. Each plant can be useful for the others. It's the same in the kitchen, we are all different plants with different characteristics. In the same way that the gardener has a good eye and understanding of every plant, a chef needs to understand each and every member of his staff." Sang smiles and admits: "working with a young team of chefs, you really need to put your ego to the side."
With the latest transformation of L'Air du Temps, the chef and his team are in a good position to claim a third Michelin star, which would be a historic event in Wallonia. "Our work is important every day, regardless of stars, but this would of course be a fantastic honour for the team and their motivation, but also for Belgium."
Follow Sang Hoon on Instagram for more on his culinary adventures around the world: @degeimbresanghoon
TEXT: MALIN NORMAN
Subscribe to Our Newsletter
Receive our monthly newsletter by email