Salient Tours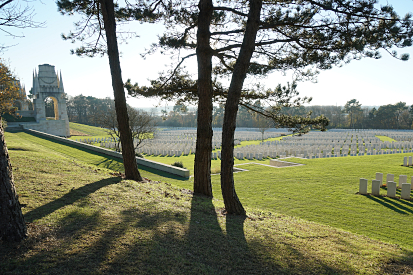 A tour into the rich history of Ypres
TEXT: ELLA PUT | PHOTOS © STEVE DOUGLAS
With award-winning tour guides and a rich history of the area, Salient Tours promises to give its visitors a memorable tour of the region.
Salient Tours is one of the oldest and most respected independent tour companies in the region of Ypres. Since the early 90s, the company has built a reputation for providing memorable tours in the area that take in some of Europe's most incredible, historical landmarks along the Ypres Salient, the Somme and the Vimy Ridge.
With great knowledge of the area's heritage, the tour guides of Salient Tours are happy to take their guests on an adventure. "I think the success of Salient Tours lies in the passion of our guides," says owner of Salient Tours, Steve Douglas. "They have a thorough understanding of the regional history as well as a love for showing others the war history of the area."
The tour guides are not only knowledgeable and passionate, but also very friendly and approachable, willing to accommodate the guests where and whenever they can. There are several options available and when booking a tour along with a guide, Salient Tours will help decide which ones are suitable. According to Douglas, "we have guests from all over the world. It's wonderful to see the enthusiasm of people and to read up on their reviews online."
For instance, there are tours around the former battlefields and cemeteries surrounding the region of Ypres as well as a day tour to the nearby Somme region, but explorers can also book a tour to visit both the Vimy and Somme regions in one day. Furthermore, there is also a special Canadian tour as well as an Anzac day tour. On request, tours to Normandy can also be arranged. All tours can be taken in the air-conditioned and comfortable minivan, and the tour guides speak Dutch, French and English.
Salient Tours also has its own shop, called The British Grenadier Bookshop, with a wide range of military history books – this is therefore the perfect place to read more on the topics of World War I. The shop also offers unique souvenirs and jewellery. But the real hit amongst visitors remains a rare war machine, a Vickers machine gun, dating back to the time of World War I, in the shop's front window.
Subscribe to Our Newsletter
Receive our monthly newsletter by email