Royal Buisman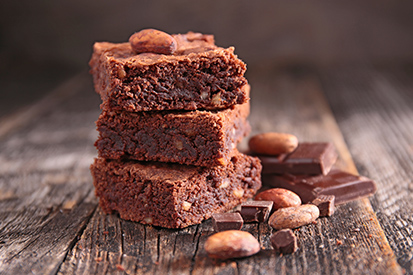 Conquering the globe with caramel craftsmanship
TEXT: MYRIAM DIJCK | PHOTOS © ROYAL BUISMAN
Celebrating a 150-year history, Royal Buisman has always maintained the entrepreneurial spirit with which they were founded. In the 1950s, they became a household name, but while the characteristic blue tin will still conjure up feelings of nostalgia among the older generation of the Dutch, Royal Buisman is not one to linger in the past. Today, they are fast becoming one of the world's leading producers of brown food colouring based on natural caramel ingredients.
Thanks to their long track record, Royal Buisman knows the ins and outs of producing caramels like none other. The core process, based on using high-quality raw ingredients, careful timing and controlled application of heat, has remained unchanged, but over the years Royal Buisman has greatly expanded and professionalised itself.
Managing director Robert Hoopman says: "We are unique in the world because we produce our caramels without any additives of catalysts. Our intense flavours and deep colours set us apart from the competition. The natural caramel ingredients can greatly enhance a product, from sweet to savoury, both in taste and colour."
Simple beginnings
The company was founded in 1867 in Zwartsluis by Herman Buisman. In his father's back yard, he had done careful experimentation to perfect the caramelisation process, and the powder it produced turned out to be a hit with consumers. Over the years, the company positioned itself as the ideal accompaniment to coffee, which remained a premium commodity throughout most of the 20th century.
Priding themselves on enhancing the flavour of coffee without needing to use more of the expensive coffee beans, Buisman became a staple in nearly three-quarters of households in the Netherlands. In 1951, Buisman was rewarded for their endeavours and received the royal approval for their high-quality product and contribution to Dutch industry. "That was of course a very proud moment for the company, and from then onwards, we were called Royal Buisman," Hoopman adds.
A business shift
When, by the 1970s, the quality of coffee gradually started to enhance, Royal Buisman moved away from the consumer market and began to focus on industrial food producers. Their unique portfolio of natural caramel ingredients captured a niche market, and today, they are an unmissable ingredient in many (fine) baked goods, instant coffees and sauces.
Hoopman: "Whether it is a gravy or a brownie, consumers want them to have an attractive, deep brown colour. Our caramels can improve both flavour and colour in a great number of food products in a most cost-effective way."
In order to show the numerous applications, Royal Buisman has an in-house research and development department where they help food producers improve existing recipes or develop new products. "These are real bespoke projects, where they come up with custom-made solutions for our clients. Some of these projects take up to three years before the client is ready to transfer to the new recipe."
Clean labelling
Royal Buisman produces two key varieties; first is the traditional caramelised sugar, or TCS. Made from molasses, it offers dark, rich and bitter tones. Royal Buisman is the only renowned producer in the world of this product. Secondly, they also make natural caramelised sugar, or NCS, produced directly from beet sugar.
Over the years, they have fine-tuned the process in their state-of-the art factories, which are in operation round the clock. They now produce powders as well as liquids ranging from light caramel brown in colour with a delicate, sweet flavour, to deep (red) brown products with bitter, roast notes.
Hoopman adds: "Consumers have become suspicious of products that contain a lot of E-numbers. Even though these are all safe and approved additives by EFSA – the European Food Safety Authority – society is moving towards more transparency in food labelling. Using 'caramel' as flavour enhancer is a solution in order to have so-called clean labelling."
International growth markets
With the rising popularity of meat replacements, Royal Buisman has entered a new growth market of savoury products. Plant-based proteins from soy or milk, or products made from mushrooms, are often naturally much paler in colour than meat. "We work together with renowned meat-replacement brands to give their products an attractive look that more closely resembles meat."
Another product that has become increasingly popular, brings Royal Buisman right back to their roots. Throughout Asia, the coffee culture is advancing, mostly in the shape of three-in-one instant coffees that includes sugar and a milk creamer. "Adding our natural caramel ingredients allows for more intense and complex coffee flavours while using less coffee, and also a better, deeper colour," Hoopman explains.
Thanks to continuous innovation over the last 150 years, Royal Buisman is still uniquely positioned to expand across the globe with their natural caramel ingredients, made with Dutch craftsmanship.
Subscribe to Our Newsletter
Receive our monthly newsletter by email