Plombières-les-Bains Christmas Market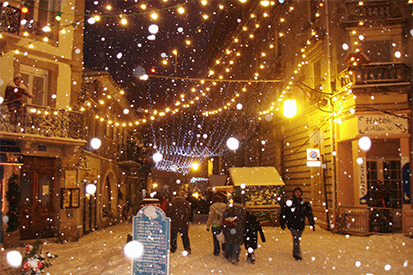 We wish you a crafty Christmas
TEXT: CHÉRINE KOUBAT | PHOTO © MAIRIE DE PLOMBIÈRES-LES-BAINS
Over the centuries, the picturesque spa town of Plombières-les-Bains has attracted the favour of Montaigne, Lamartine and even Napoleon. But for the last two decades, it is the nostalgic charm of its traditional Christmas market that has had 120,000 visitors flocking. Nestled in the lush greenery of the Vosges regional nature park, the small but idyllic Plombières-les-Bains Christmas Market is as authentic as it gets.
"Our motto is 'all things local'. You'll never find anything shop-bought here, from our festive decorations to the items we sell in our chalets," says Sandrine Lecomte, head of the Christmas Market Association. Every year, she and her team of 25 volunteers devote a full 12 months to hand-making ornaments, recycling, painting and sewing their way to Christmas. An army of 30 whimsical elves (up to 1.50 metres tall) is among the latest addition to the market's handcrafted decor.
The 100 food and craft stalls are in the same spirit and include homemade clothes, hand-carved wooden bird houses and jewellery made out of recycled coffee pods. Foodies will find plenty to sample, from cheese, saucisson and mulled wine sourced from small producers, to escargots and locally grown saffron. Live music, a petting farm, a carousel, a living Nativity scene and a baking station with Mother Christmas add to the merriment. On the weekend of 15 December, sky lanterns adorning the local gardens will set the night alight for a truly magical evening.
The market runs every weekend in December, and daily from 26 December until 30 December.
Subscribe to Our Newsletter
Receive our monthly newsletter by email