Pàu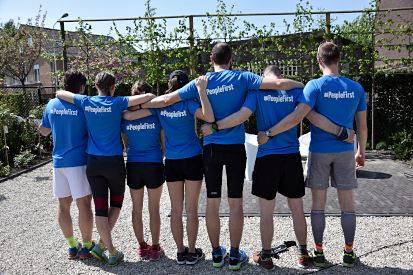 The perfect match for online success
TEXT: KARIN VENEMA | PHOTOS © PÀU
More and more businesses and governmental institutions are choosing Pàu as their partner for developing a digital environment that connects their customers. Pàu is a growing business that works with big names like BNP Paribas Fortis and Colruyt, but thanks to their internal studio, they can also serve smaller enterprises with the newest technologies.
Pàu was founded in 2011 as a competence centre for online and digital professionals. After a few years, they added user experience to their services and the business started to grow further. Recently, Pàu has complemented their portfolio of consultants with 3D engineers and Blockchain specialists. The Antwerp-based company is known for its knack of understanding their clients as well as the personal development of its consultants. "We believe that our people are our biggest asset, they come first," says Pieter Rahier, manager at Pàu. "We all work in a team, keep a healthy work-life balance and have an individual development plan and personal coach. This way, we can provide the best possible match between a consultant and the job at hand."
Rahier explains how a project takes shape: "When a client requests our help, we first analyse the business profile thoroughly. What's the story behind the request and what is really needed? After this, we look at which consultant would be the best fit. The client then chooses from a number of proposed candidates and meets them face to face. Only when all parties involved are convinced of the match, we start working with the client towards online success."
The consultants spend most of their time in the client's office, to be able to work closely together with their in-house staff. At Pàu, they are organised in so called 'tribes', where the consultants discuss the latest in design, front-end development or agile technology. At the in-house studio, teams develop projects for smaller businesses, so they can benefit from the same techniques that large companies use.
According to Rahier, there is still a lot of work to do "The B2B, health and transport sector have been lagging behind in making their online business user friendly, and now it's time for them to catch up! Customers expect modern websites and apps to make interactions simple and intuitive." Pàu is ready to help businesses face those very challenges.
Subscribe to Our Newsletter
Receive our monthly newsletter by email