Passion d'Art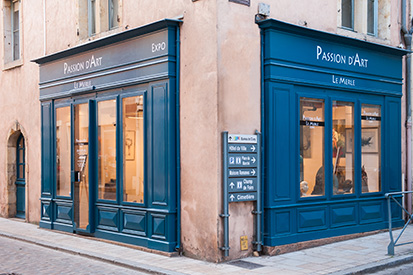 "I believe every child possesses an innate curiosity and love," says Dominique Ferraglia, owner and founder of the Passion d'Art gallery in Cluny. "And I believe art provides a bridge between the two. Art is a living, breathing thing."
The gallery was born from Ferraglia's intense and positive personal experience during a drawing course. So moved was she, that she threw herself into a new venture – and Passion d'Art was born.
Situated on the ground floor of a 17th century building in the picturesque town of Cluny, Saone et Loire, the atmosphere is welcoming and relaxed. Ferraglia prides herself on the wonderful variety – watercolours, oil paintings, ceramics, bronze sculptures, pottery and more are tastefully displayed across two floors. Paintings by Swiss German artist Stéphanie Bucher, Jan Van den Driessche and photographs by Jean Noel Reichel are currently on show and, from July, works by poet and painter, Martine Lenormand can be viewed at Passion d'Art.
Ferraglia's dream is to provide a space for local talent to be seen and appreciated by all. She has plans to extend and involve artists from further afield, moulding the dynamic and enhancing the harmony of the entire Cluny community, thereby creating a place where locals and tourists can mingle and enjoy a creative ambiance that embraces all the arts.
"I want my gallery to become the beating heart of the artistic community here, a place for meetings, talks, performances and music. I want people to come and exchange ideas and feed their soul. My gallery is an extension of all of my loves." Ferraglia's passion for the arts ensures a fresh approach and a fascinating turnover of works to attract all art lovers. And the town of Cluny is the focal point.
"Cluny is a city of history, character and ideas. When you come here, you can feel it emanating from the streets, the Roman churches, the Abbey and just the whole feel of the place. I see my gallery as linking past and present, a path leading from our rich multi-layered history towards a colourful and equally rich future, and one I want to share with the public."
Subscribe to Our Newsletter
Receive our monthly newsletter by email