Paradise for nature lovers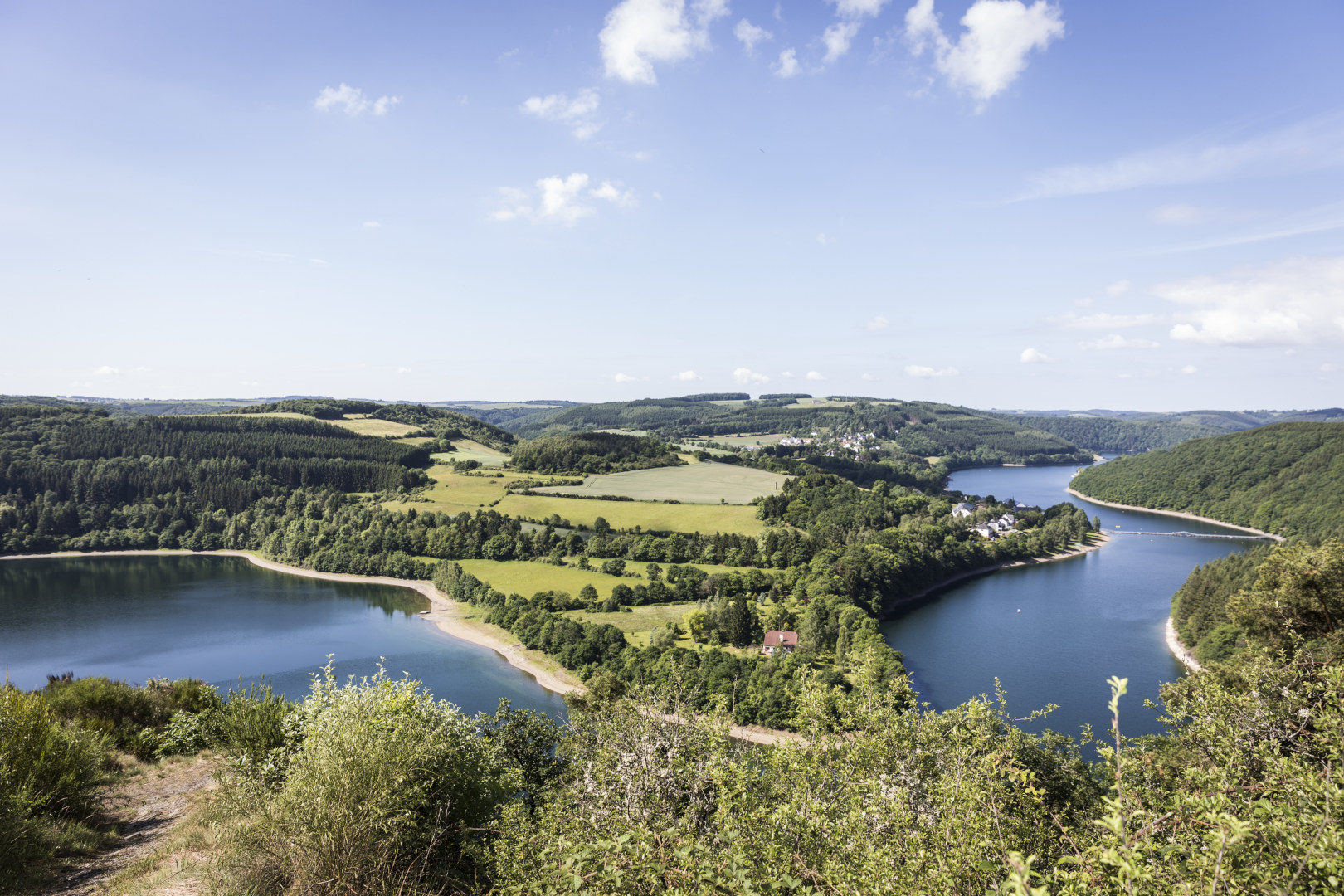 Situated amid the ancient highlands of the Ardennes, in the northwest of Luxembourg, the Upper Sûre Nature Park is not only a haven for nature lovers – it is also a place where tourism, culture, environmental protection, and economic and social development are all promoted.
TEXT: ANNA VILLELEGER | TOP PHOTO © GUY KRIER
"The Upper Sûre Nature Park is not a typical park with an enclosure," explains ecologist Patrick Thommes. "It is an entire region which combines work and recreation in an ecologically useful way."
Set amid breathtakingly beautiful countryside, the park boasts deep valleys, wet meadows, steep forested slopes and a high farmland plateau. At its centre is a reservoir supplying around 70 per cent of Luxembourg households with drinking water. Visitors can discover more about this by taking a guided nature tour via a solar-powered boat.
"You'll learn about the flora and fauna in and around the Upper Sûre reservoir, not to mention interesting facts about the history of the lake and the surrounding regions. It's a great experience and the views are superb," enthuses Thommes.

DUCHFABRIK. PHOTO © CAROLINE MARTIN
As well as being Luxembourg's largest drinking water reservoir, in the summer months the Upper Sûre reservoir is a bathing paradise, and a popular spot for sailing, surfing and other water sports – just bring your own equipment! Prefer to stick to dry land? A network of hiking trails covering more than 700 kilometres of natural beauty awaits.
Foodies will be happy to discover the range of' 'Vum Séi' (meaning 'from the lake') products, comprising everything from tea (Téi vum Séi) to meat (Véi vum Séi) and much more. These come exclusively from producers whose farms are located in the Upper Sûre Nature Park.
Culture vultures will not want to miss the ancient cloth factory, Duchfabrik, in the village of Esch-sur-Sûre, which has been restored and acts as a testament to the art of textile production. There is also a permanent interactive exhibition offering an overview of the landscape and sites of the Éislek region. Also popular for its museums is the picturesque town of Wiltz.
The Upper Sûre Nature Park boasts a brimming cultural calendar too. The Festival de Marionnettes (Puppet Festival), which takes place every two years, is coming up in the village of Tadler from the 19 – 21 May.
Start planning your visit now at; www.naturpark-sure.lu

PHOTO © GUY KRIER
Subscribe to Our Newsletter
Receive our monthly newsletter by email