Oproer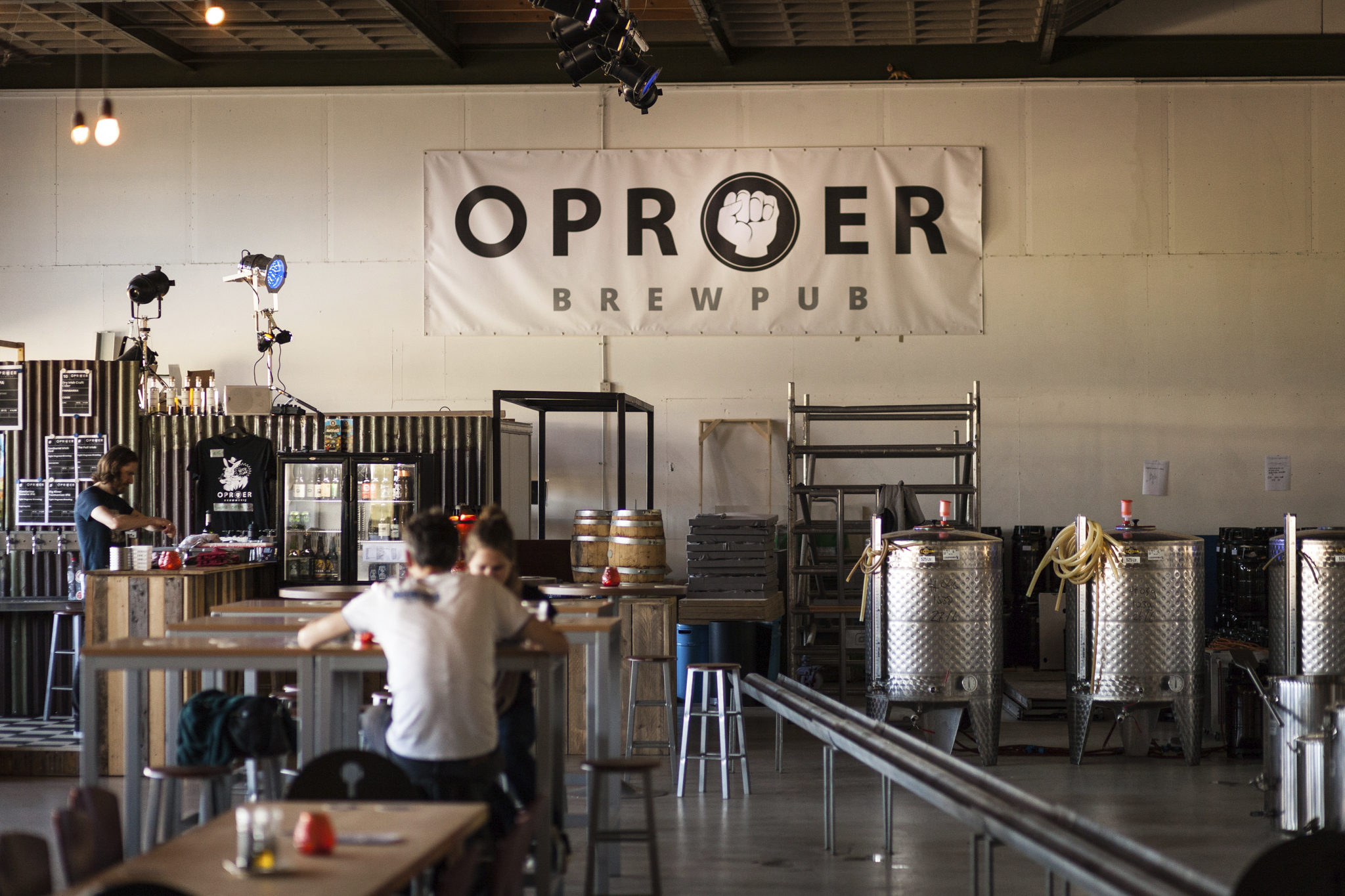 Brewing togetherness
TEXT: CHARLOTTE VAN HEK | PHOTO © Vuk Begovic
What is better than exceptional beer? Exceptional beer served alongside delicious food and a welcoming atmosphere, naturally. Brewery Oproer combines all these wonderful luxuries.
Formed by the two breweries Rooie Dop and RUIG bier, Oproer opened its doors in early 2016. The brewpub is helmed by Mark Strooker, Bart-Jan Hoeijmakers, Carlos Kok and Eelco Bosman – all sharing a passion for beer. "The brewery business is a friendly one. We know we can learn from each other and inspire each other," Strooker enthuses.
Oproer continuously serves three of its own beers alongside beers from other breweries and various of their 'one-off beers', of which some make it into the permanent collection. "We constantly experiment with flavours. Our Cascadian Dark Ale Black Flag started out as a one-off, but is now a permanent member of the family." In the short term, Oproer will expand its brewery to fulfil the growing demand.
So how does a new beer come to life? "We always start with an idea of how a beer should taste. The style and name automatically follow after experiencing the taste, smell, and heaviness." Collaborations with other (international) breweries are frequent, to gain fresh inspiration or brainstorm interesting approaches together.
Oproer loves good food. From the pub food to their three-course menu, all dishes are vegan and reflect the chefs' varied background. "People often think that vegan food is plain vegetables – that is definitely not true! Our menu changes monthly: Mexican, French, Asian…" Oproer's cuisine perfectly complements its welcoming and non-exclusive atmosphere. The tables in the brewpub invite strangers to sit together, resulting in sharing beer, food, and conversation. Strooker: "Oproer is a spot where people come together. We brew and cook with respect for humans and the environment. We know our priorities: society, environment, beer, and beer!"
Subscribe to Our Newsletter
Receive our monthly newsletter by email