National Trust Dutch Masters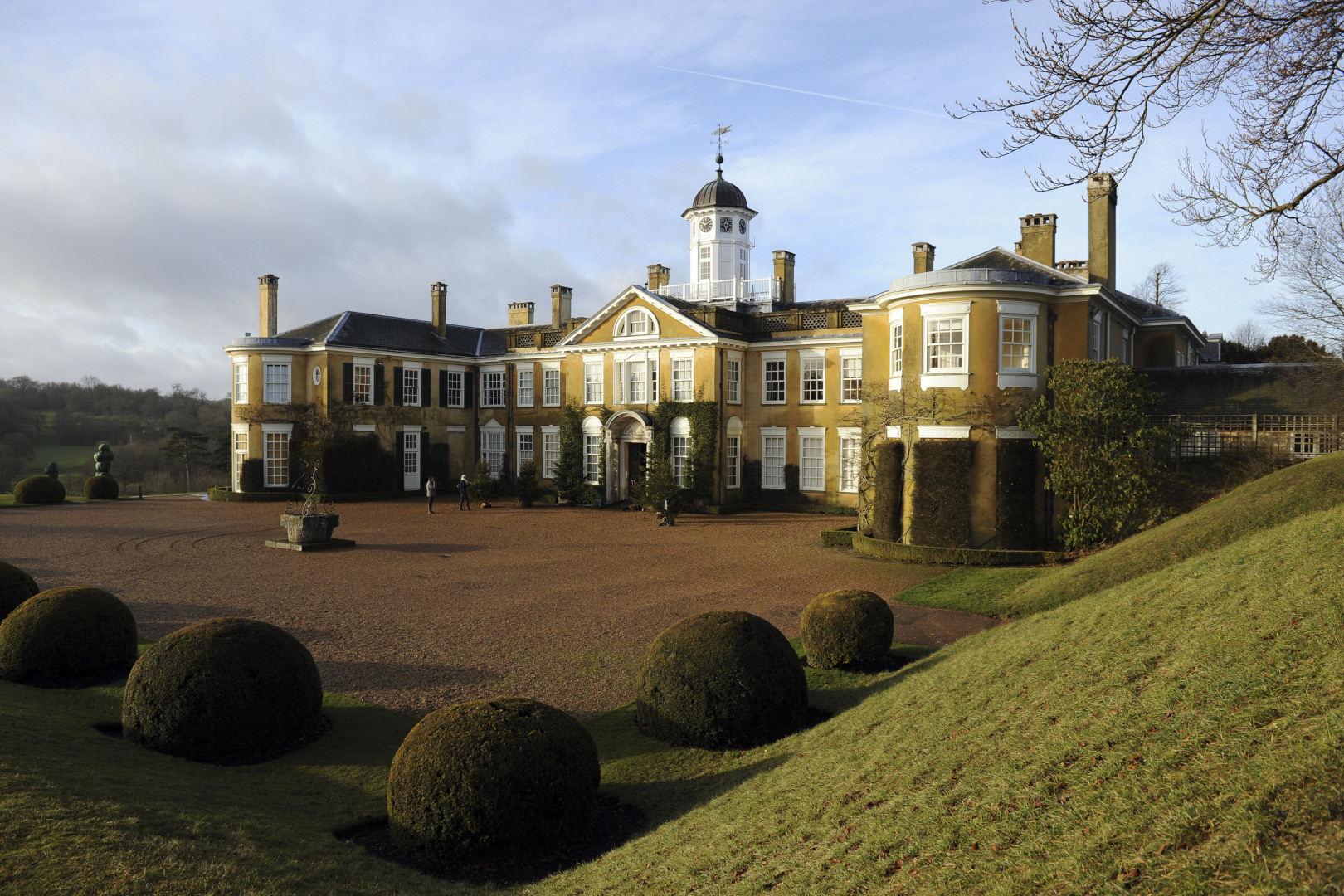 Pride of place: The cultural exchange of England and the Netherlands
TEXT: ISA HEMPHREY | PHOTOS © NATIONAL TRUST IMAGES JOHN MILLAR
At the Holburne Museum's Prized Possessions exhibition, you are summoned by a roar of colour in the far-right corner. Dutch painter Cornelis de Heem's vanitas Still Life of Flowers and Fruit Arranged on a Stone Plinth in a Garden (circa 1685) shows a tangled labyrinth of flowers slumped on a stone floor surrounded by decaying fruit and inquisitive insects. Away from its usual spot at Dyrham Park, the bursting flora demands attention outside of its opulent home. Accompanied by other 17th-century Dutch paintings from National Trust properties, a touring exhibition explores the presence that Dutch Golden Age artists have had in these large British estates.
The 17th century was turbulent for the Netherlands. Winning independence from Spain in 1648 brought prosperity, and the wealthier Dutch Republic's middle class began collecting and commissioning art. Ergo, Dutch artists flourished throughout this Golden Age. But in 1672, 'the year of disaster', France led an invasion of the republic and the good times ended. Fortunately, the British monarchy and aristocracy had been captivated by Dutch art for many years and had been inviting the artists to settle in England. "With the economic malaise in the Republic, it was an offer seized by many painters and members of their families," says Quentin Buvelot, chief curator of the Mauritshuis, where the exhibition will travel to next. While the Dutch had previously immigrated to England for religious refuge, now they were arriving to advance their careers. Consequently, a colony of Dutch artists had established themselves in London.
Cornelis de Heem; A Still Life of Flowers and Fruit arranged on a Stone Plinth in a Garden; circa 1685; oil on canvas; 921 x 775 mm; Dyrham Park. Photo: National Trust Images John Hammond.
Great and small
Soon after the year of disaster, Dutch painter Willem van de Velde the Elder was taking on commissions for Charles II and had established a London studio. When the Third Anglo-Dutch War began, one would assume the exchange of art between the Netherlands and England would falter. Yet Van de Velde the Elder was hired to portray the war, resulting in The Battle of Texel (circa 1673) that hangs at Felbrigg Hall. "One moment they were working as 'war reporters' on the Dutch side, soon afterwards they were accompanying the English fleet to picture the various naval engagements," says Buvelot. The artist's large seascape of a swarm of ships, sails torn and vessels choked by smoke, is one of the widest paintings in the exhibition next to Aelbert Cuyp's View of Dordrecht from the North (circa 1655). It swamps smaller landscapes like Frans Post's A Village in Brazil (circa 1675).
Measuring only around 24 centimetres wide, this is an example of a 'cabinet piece'. "Where large Dutch paintings were seen at their best in grand reception rooms or special galleries, cabinet pieces were lost in these vast spaces and could be better enjoyed in the rooms in which people lived and went about their day-to-day business," says Buvelot. In the 17th century, Frans Post accompanied artists and scientists to Brazil to record its people and scenery. A Village in Brazil is one of the first painted views of the new world by a European artist and can be found at Ham House. This foreign landscape would have displayed its owner's importance. Indeed, Dutch Golden Age art attracted important collectors like Anthony de Rothschild who owned Cuyp's painting of a busy Dutch dock, which remains at the family's Ascott estate.
Pieter Jansz Saenredam; 'The Interior of the Church of St Catherine, Utrecht'; circa 1660; oil on panel; 1168 x 959 mm; Upton House. Photo: National Trust Images Christopher Hurst.
A story to tell
While Post's landscape mesmerised with its unfamiliarity, Cornelis van Poelenburgh infused his landscape with biblical stories. His piece Landscape with Tobias and the Angel (circa 1625), from Osterley House, presents the story of the angel Raphael accompanying Tobias to catch a fish that will cure his father's blindness. Van Poelenburgh has placed the painting's observer as a sort of voyeur beside dense undergrowth behind the figures. His teacher Abraham Bloemaert has placed the viewer in the middle of an abundance of idealised bodies of saints and devotees clambering for a view of their messiah in The Baptism of Christ (circa 1598-1600). Meanwhile, in Jan Lievens' A Magus at a Table (circa 1631), the viewer creeps up on a lone holy man bending over a sacred tome in a softly lit room.
These religious scenes are familiar to us, yet there are three paintings in the exhibition that are more conversation pieces as they present a story that is open to interpretation. For example, Gerard ter Borch the Younger's painting The Introduction (circa 1662), found at Polesden Lacey, shows a courtesan dressed in a shimmering white dress, being greeted by a soldier. It is up to the viewer to elicit the meaning of the scene and the intentions of the characters. For Gabriel Metsu's piece The Duet (circa 1660), from Upton House, the exhibition suggests that the dog is a symbol of fidelity and is warning the woman of the man's hidden and perhaps sordid purpose. The exhibition also attempts to decipher Jan Steen's The Tired Traveller (circa 1660-1661), also found at Upton House, suggesting that the upside-down rose on the table between an inn waitress and a male traveller symbolises a blossoming romance.
Two paintings displayed show figures playing a role, a form of portraiture called 'tronies'. The first of these is Rembrandt van Rijn's Self-portrait, Wearing a Feathered Bonnet (1635), which was only attributed to the famed Dutch artist in 2014. The other 'tronie' is Jan Lievens' An Unknown Woman in a Green Velvet Hood (circa 1622-1632), who was believed to have shared a studio with Rembrandt. The piece, found at Castle Ward in Northern Ireland, depicts a woman lost in contemplation who has the appearance of a holy figure bathed in light.
Sir Peter Lely; 'Elizabeth Murray, Countess of Dysart, later Duchess of Lauderdale (1626-1698)'; 1648; oil on canvas; 1219 x 978 mm; Ham House. Photo: National Trust Images.
A shared history
As this exhibition moves to the Netherlands, one wonders how the interpretation of these paintings will change when viewed by a different audience perhaps unfamiliar with the National Trust. Buvelot states that hopefully the exhibition will change this. But the paintings reveal a shared history of England and the Netherlands. For example, Pieter de Hooch's piece The Colf Players (circa 1658-1660) shows two children playing a Dutch sport that is a forerunner of present-day golf. Another example is a portrait of Dutch stadtholder William III who, during the Glorious Revolution (1688-1689), overthrew James II and became the next King of England. Jan de Baen's portrait of William presents him clad in gold and red so he appears as a strong leader.
Dutch painters also bore witness to English history by painting some of its notable figures. After the English Civil War (1642-1651), when King Charles I was executed and England temporarily became a republic, Simon Pietersz Verelst painted a portrait of one of the war's military leaders Prince Rupert of the Rhine. He wears an elaborate costume that is so painstakingly detailed you can see the weight of the two thick tassels hanging from his chest. Meanwhile, Cornelius Johnson's career as a painter for Charles I's court was hindered by the civil war when he decided to return to the Netherlands. His painting of Duke William Hamilton and Duke John Maitland can be found at Ham House.
Patronage
Many of the exhibited paintings are from Ham House, where Elizabeth Murray, Duchess of Lauderdale, accumulated an immense art collection. Peter Lely painted a portrait of her strolling through a woodland in a powder-blue dress. They were acquainted with both sides of the English Civil War, with Murray entertaining Oliver Cromwell at Ham and supporting Charles I's Stuart monarchy, while Lely painted their portraits. The patronage of Dutch Golden Age art from estate owners is a key part of this exhibition that Buvelot points out: "The presence of so many 17th-century Dutch paintings in England is not simply explained by the great passion for collecting evinced by the British in centuries past, it is also the result of direct patronage − a fact often overlooked on the European continent." At Dunham Massey, for example, art was used to display the magnificence of the estate. Adriaen van Diest's topographical bird's-eye view of the estate was commissioned while he resided in England.
Another Dutch topographical painter, Pieter Jansz. Saenredam, was interested in how natural light floods interiors, and painted The Interior of the Church of St Catherine, Utrecht (circa 1660). David Taylor, the National Trust's curator of pictures and sculpture, explains that this exhibition is an opportunity to observe the works up close and away from their houses where the lighting is imperfect and they compete to be seen with other pictures and furniture. "I think they have a very different impact by being in that museum space because they're seen as museum objects, they are lit beautifully, interpreted individually, and people can get very close to them," he says. Many details in the paintings become more apparent because of this. In the case of Saenredam's piece, Taylor points out that there is a tiny white dove in the roof of the church that perhaps would not be seen by the viewer while exploring its usual home at Upton House.
Willem van der Velde the Elder; 'The Battle of the Texel'; circa 1673; oil on canvas; 1570 x 2260 x 110 mm; Felbrigg Hall. Photo: National Trust Images.
In the detail
Another detail one could miss wandering around a National Trust property is a tiny fly in the bottom right-hand corner of Ambrosius Bosschaert the Younger's still life Blackbird, Butterfly and Cherries (circa 1635). This was a typical motif Bosschaert used in his work, as well as the highly detailed vegetation comparable to the precision of a botanical drawing. The meticulous and masterful brushwork is what both curators of the exhibition agree was key to why the English loved Dutch Golden Age art. "One can only conclude that the English have always been impressed by these painters' observational powers and the astounding technical skills of their realistic compositions," says Buvelot. "This is of a quality that they would be proud to live with and be seen with," says Taylor. "It was a huge status symbol to be seen to be so fashionable that you could buy and display Dutch art."
Accumulating these paintings away from their country homes highlights an Anglo-Dutch cultural exchange that has persevered. While some of these paintings were commissioned in the 17th century, others were collected throughout the 18th and 19th century. Now, a new exchange will occur once this collection crosses the North Sea to the Mauritshuis and is shown within its walls for the first time. Typical English National Trust country estates with their well-trimmed gardens, lavish rooms, expensive furniture, and manicured facades are familiar to the British and this exhibition could widen their image to the art lovers of the Netherlands. "This is still a strong and visible part of the British cultural landscape and I think Dutch visitors will be absolutely fascinated by it," says Taylor.
Cornelis de Heem's still life with its rotting fruit was about the reality of death and worthlessness of worldly possessions. An odd painting for a large mansion. But it has an intriguing place in this exhibition, because it shows that this cultural exchange is about more than the decadence of these properties or the status of the painting's owners and patrons. It is about the admiration of another nation's masterful craftsmanship and the will to support and welcome its artistic community. As Taylor sums up: "They're expensive, they're beautiful, they've been loved, they've been desired, they've been cherished and we just want to share that with different people."
The exhibition will be showing at the Mauritshuis, in The Hague, from 11 October.
Subscribe to Our Newsletter
Receive our monthly newsletter by email