National Sports and Culture Centre d'Coque: 'A temple devoted to culture and sport'
Text: Chérine Koubat | Photos: Christof Weber
A sprawling complex combining state-of-the-art leisure and business facilities, the National Sports and Culture Centre d'Coque is a polyvalent space with multigenerational appeal. The futuristic building, set in the financial district and within touching distance of Luxembourg City centre, hosts prominent sporting and cultural events, as well as private corporate functions.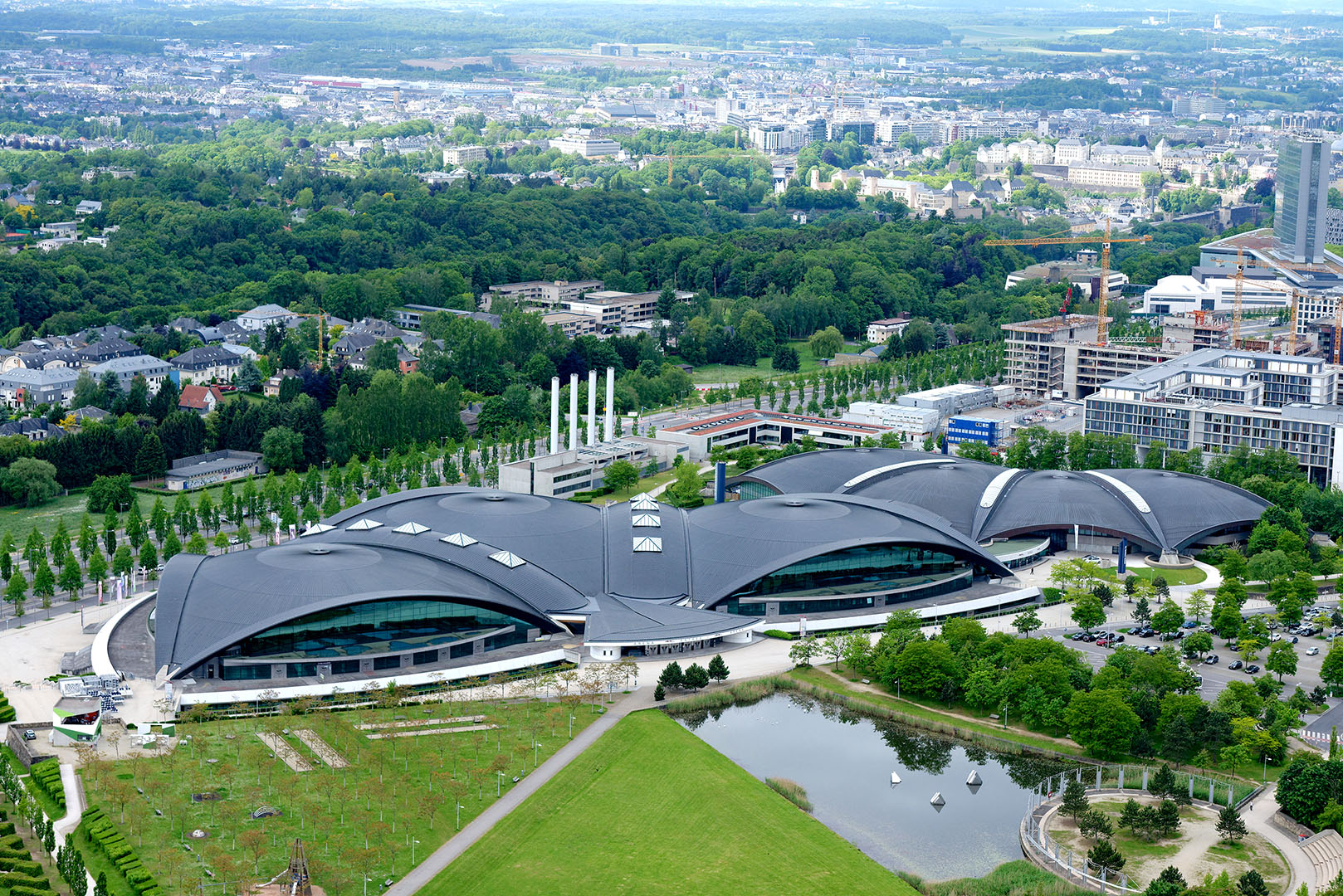 The modern and elegant building was designed by famed French architect Roger Taillibert, the man behind the Parc des Princes in Paris and the Olympic Stadium in Montreal. Seamlessly blending with its urban surrounds, it boasts an organic design with a futuristic edge, and owes it name 'Coque' – meaning hull – to the shell-shaped spans of prestressed concrete that make up its roofline. The Olympic-sized pool, the centre's initial undertaking, was inaugurated in 1982, and later developments turned it into the extensive, 60,000-square-metre venue it is today.
Faster, higher, stronger
Along with the additional infrastructures encompassed in the aquatic centre (including sauna, Turkish bath, hammam, solarium, outdoor relaxation area and massage suites), the pool welcomes 400,000 visitors each year, and for good reason. Raphaël Stacchiotti, three-time Olympian and national swimming champion, states: "I've travelled around the world and I can honestly say that d'Coque is the best. Very few athletes know the luxury of practicing every sport in one place. There is everything you need here, from training to recovery."
Mixing business with leisure
The centre's amenities attract businesses of all sizes and sectors, from multinationals to local firms, and can accommodate groups of 20 as easily as a 5,000-strong party. The centre boasts compact and well-equipped training and meeting rooms, a larger amphitheatre with 215 seats, an impressive arena, which can hold up to 5,000 people, as well as numerous additional spaces. Highly modular and benefiting from ultramodern equipment, they can adapt to conferences, product launches, workshops, fairs, exhibits, galas, corporate parties and seminars.
But most importantly, the centre caters to the unique needs of each customer, with project managers offering tailored-made, creative solutions. The ever popular team-building solutions are a perfect example: what better way to increase your willpower and boost team spirit than to partake in a wall-climbing, trampoline or diving workshop? For easing professional tensions, d'Coque focuses on a playful approach and recreational activities, such as Zumba, group cycle, yoga or outdoor running.
Food is also provided, with a number of options to choose from. La Coquille restaurant offers a French gastronomic experience while the more informal La Perla serves Mediterranean fare. Coffee breaks, cocktails, after work drinks, walking lunches or banquets can be organised on request.
More than a sports and corporate centre
It comes as no surprise that d'Coque has been organising a plethora of first-rate sporting and cultural events over the years. Aside from the numerous facilities available, the National Sports and Culture Centre d'Coque also houses a three-star superior hotel comprising 36 elegant, contemporary double/twin rooms, including two family rooms. The hotel rate includes one free admission to the swimming pool a day and a discounted admission to the wellness centre – an ideal way to unwind after exploring the city or attending an on-site conference or event.
The centre is set a stone's throw away from a park with petanque strips and is in close proximity to a large cinema complex and a shopping mall. Strategically positioned near the city centre, the financial district, European institutions and the international airport, the National Sports and Culture Centre d'Coque is also easily accessible for all neighbouring countries.
Web: www.coque.lu
Subscribe to Our Newsletter
Receive our monthly newsletter by email