Museum MORE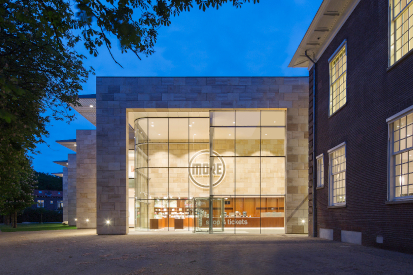 Experience the largest museum for Dutch modern realism
TEXT & PHOTOS © MUSEUM MORE
A cultural surprise awaits you in Gorssel, near the medieval city of Deventer, where a spectacular building is home to the largest museum for Dutch modern realism.
Museum MORE is an initiative of the art collectors Hans and Monique Melchers. The museum contains more than 200 works by leading Dutch realists from the last 100 years, ranging from 20th century masters to young emerging talent. From Carel Willink to Pyke Koch and from Erwin Olaf to Marlene Dumas. Art aficionados and casual observers alike, are invited to come and be amazed by the technical perfection and original realism.
In addition to the wealth of the museum's own permanent collection, there are always temporary exhibitions showing the endless spectrum of realist art. This autumn, there are no fewer than three exhibitions for you to enjoy at Museum MORE in Gorssel. These include not only the idiosyncratic portrayal of people and animals painted by artist Kees Timmer, but also Johan Polets' sculptures from the 1920s that are among the rare good examples of Dutch expressionist sculpture. The latest works by Paul de Lussanet, where the pure joy of painting leaps from the canvass as never before, will also be on show.
The Museum MORE building in Gorssel is an attraction in its own right. The design by the renowned architect Hans van Heeswijk emanates intimate grandeur. Hans van Heeswijk was also responsible for the renovation and adaptations of the Hermitage Amsterdam and the Mauritshuis in The Hague, as well as the new entrance of the Van Gogh Museum.
In the richly wooded Achterhoek region of the eastern Netherlands, lies Ruurlo Castle, the second location of Museum MORE, which now houses the museum founders' Carel Willink collection. The life and work of this master artist now takes pride of place in this princely building that dates back to the 14th century. And guests can combine top-quality art with a walk through the beautifully landscaped grounds of the castle. Magic, history and the beauty of nature all come together in Ruurlo Castle.
Museum MORE
Hoofdstraat 28
7213 CW Gorssel
Open Tuesday to Sunday 10:00 till 17:00
www.museummore-kasteelruurlo.nl
Subscribe to Our Newsletter
Receive our monthly newsletter by email