Museum Helmond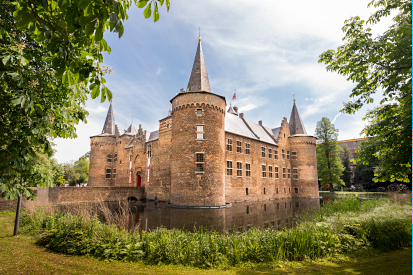 A combination of art and cultural heritage
TEXT: XANDRA BOERSMA | PHOTOS © MUSEUM HELMOND
When approaching Museum Helmond, visitors will be rewarded with an impressive view from the very start, as the museum is partly housed in a 700-year old castle. Inside, expect fascinating stories as well as outstanding exhibitions.
Kasteel Helmond is the biggest castle in the Netherlands and visitors can learn about its fantastic heritage. "Recently, we have renewed the exhibition inside the castle," says museum director Marianne Splint. "Now, you can read all about the families that used to live here. Every generation has its own stories and struggles, which are interesting for kids to learn about, as well as adults."
Splint explains that the castle is only one part of the museum and that the second part is Kunsthal Helmond, the art hall next door, with multiple art collections. "On the ground floor, we alternate between two exhibitions: one with a focus on modern art and the other one is themed 'humans and work'."
The second floor is for temporary shows. As of 16 October, there will be a remarkable display of Czech–French photographer Josef Koudelka's work of industrial landscapes. "It really is quite impressive; his photos are over three metres wide. And Koudelka takes his time with photographs, something we're not used to anymore in these days of fast-paced social media. It will be the first time his work is shown in the Netherlands."
Museum Helmond houses an ideal combination of modern art, cultural heritage and impressive displays. The perfect getaway for a day.
Subscribe to Our Newsletter
Receive our monthly newsletter by email