Musée de la Photographie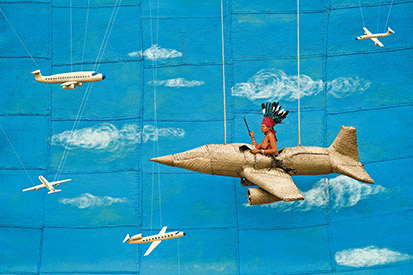 A journey through the history of photography
TEXT: NDÉLA FAYE | PHOTOS © PATRICK WILLOCQ
The Museum of Photography, located in Charleroi, is a centre for contemporary arts of the Wallonia-Brussels federation. Situated where the old convent of Mont-sur-Marchienne once stood, today, it is one of the largest and most important photography collections in Europe, displaying over 80,000 photographs.
The museum takes visitors on a journey covering the entire history of photography, from the 19th century to the present day. "The museum's collection is more historic in the ancient neo-gothic Carmelite convent building, and more thematic in the new contemporary wing. The museum features big names in Belgian and international photography," says Cécile Druart, the museum's communications manager.
Alongside the museum's permanent exhibitions, there are also temporary ones; two of which have recently opened. Patrick Willocq's Songs of the Walés, is a visually and aurally immersive exhibition into the world of the Walés, which is a 'breastfeeding mother' ritual and celebration of motherhood, practiced by the Ekonda and Ntomba people in the north of the Democratic Republic of Congo, where Willocq lived during his formative years. The exhibition is composed of portraits, installations and a documentary film, all interspersed with the songs of the Walés.
Olivier Cornil's Dans mon jardin les fleurs dansent (In my garden flowers dance) is a narrative exhibition, illustrated through writing and photographs. The very personal work is focused and based around Cornil's mother and the family circle, set in Corrèze in south-western France, between 2002 and 2018. The exhibition tells a story of breakups, bereavements, tears, laughter and longing.
Both exhibitions, alongside Jacques Meuris' L'expérience photographique will run until 12 May 2019.
Subscribe to Our Newsletter
Receive our monthly newsletter by email