Mulhouse Christmas Market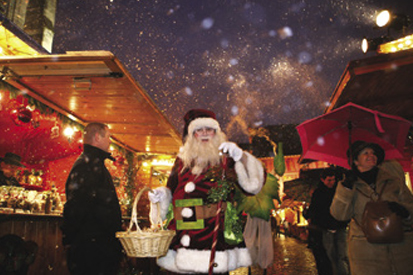 A magical Christmas experience in Alsace
TEXT: LIDIJA LIEGIS | PHOTOS © VILLE DE MULHOUSE
Set in France's beautiful eastern region, the Mulhouse Christmas Market sets the city alight. The market has over 90 chalets situated in the downtown historical square. Highlights include the big wheel – with a puzzle which can only be solved by seeing the chalets from above – and the array of stunning, local textiles adorning the city.
Mulhouse has a history as one of Europe's printed textile capitals, and last year, over 7,000 metres of fabric were sold at the market. It is the only French city to create a brand-new Christmas fabric annually. "The city wanted to keep the link between the textile industry and creation, which is why we highlight these in the Christmas market," explains Nathalie Motte, Deputy Mayor in charge of the event.
This year's market gives pride of place to the Nativity saints, and events include guided tours, storytelling, carol singing, Advent concerts plus a treasure hunt. New events include a workshop to make Christmas elves, family photoshoots (which is free on Saturdays), and a seven-step gourmet tasting tour.
The market places emphasis on locals' involvement, and over 30 artisans, including clothing, jewellery and textile designers, present their collections. The entire city gets involved, with several artists decorating buildings. One such example is the residents of skyscraper Tour de l'Europe organising for the building to be lit up to look like an Advent calendar.
The city is easy to reach due to its proximity to EuroAirport, which serves Mulhouse, Basel and Freiburg. The Christmas Market runs until 27 December, from 10am to 8pm on Sunday to Thursday, and until 9pm on Fridays and Saturdays. Please check the website for full details of events.
Subscribe to Our Newsletter
Receive our monthly newsletter by email