Miraeus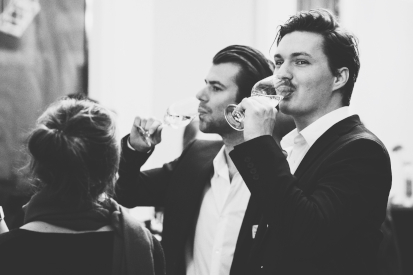 Classy cocktail catering
TEXT: KARIN VENEMA | PHOTOS © MIRAEUS
When a bride-to-be approached Miraeus and asked them if they could cater her wedding with an apple theme, the mixologists had a challenge on their hands. To match the festive decorations and food, they served a delicious, fresh apple cocktail, served in hollowed-out apples. It was a unique and gorgeous-looking drink to top off a beautiful wedding.
Six years ago, friends David Vanheesbeke and Nicolas Oorts turned their dreams into reality and started Miraeus. Based in Antwerp, Miraeus specialises in concept cocktail catering, spirit tastings and cocktail workshops. As students, Vanheesbeke and Oorts lived in the Miraeusstraat in Antwerp, where they were first bitten by the cocktail bug. After they finished their studies in economics and law respectively, they both worked in the corporate world for a few years, before they decided to follow their passion and start their own business.
"Our slogan is 'drinks and memories', because that's the service that we provide, for receptions, business conventions, company events, birthday parties, weddings and other happenings. Our bespoke service is always tailored to the wishes of the client. We can do age-old classics or create something more contemporary − cocktails that match the business values, in the colours of the logo, or with a certain theme… whatever the client can think of. We can fully customise to their needs and wishes," says Vanheesbeke.
Many high-end events have a Miraeus-touch to them, like a recent Max Mara fashion show where Miraeus served classic cocktails in classy glasses. The secret of their success is in the details: using qualified, smartly dressed bartenders, highest quality products, exquisite display materials, and custom-made menus and coasters. Everything fits the style of the event to create a special atmosphere.
When a client approaches Miraeus, they will first discuss the brand or business, the event and the atmosphere the client is after. Then the creative juices start flowing and the Miraeus team will design a concept and matching cocktails. The client also gets involved in the development process and tasting of the creations. Obviously, creating cocktails involves a lot of tasting for the mixologists. "Working is not a punishment for me, I love all our creations! Small sips only, though," laughs Vanheesbeke.
Subscribe to Our Newsletter
Receive our monthly newsletter by email